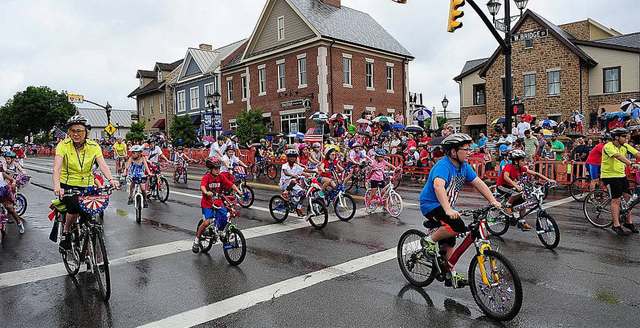 Dublin, Ohio, USA, is a progressive, well-educated and innovative city surrounding the Scioto River in the northwest area of metropolitan Columbus.
Approximately 25 square miles and home to 41,000 people, the city annually hosts Jack Nicklaus' PGA Tour Memorial Tournament at Muirfield Village and one of the country's largest Irish festivals. Dublin is known as a leader in municipal innovations, including tax increment financing, underground fiber optics, Wi-Fi deployment and green initiatives.
All three Dublin high schools were named to Newsweek's 2012 list of top high schools in the country. With 25 institutes of higher learning in Central Ohio, including The Ohio State University, the region offers a pipeline to 115,000 college students and 20,000 annual graduates.
Dublin has long been recognized as a premier community, not only locally, but also internationally. Home to Ohio's largest corporation, Cardinal Health – 21 on the Fortune 500 list, Dublin also is the headquarters of Wendy's International, Ashland Inc. and OCLC – the Online Computer Library Center.
The mission of the City of Dublin is to preserve and enhance the unique high quality of life offered to those who live or work in our community by providing the vision, leadership and performance standards, which allow for managed growth and development with an emphasis on quality and innovation.
Dublin's diverse and sound economic base provides the foundation for the present and future stability of the city. The city's continued economic vitality is the result of quality development, strategic planning and aggressive efforts to attract and retain high-quality commercial development.
Dublin's largest source of funding is income tax revenues, which are allocated 75 percent to the General Fund and 25 percent to the Capital Improvements Program (CIP). Dublin's healthy tax base provides the resources necessary to keep pace with the city's growth and underwrite the high quality of life enjoyed by Dublin's corporate and residential citizens.
The CIP establishes a fiscally sound plan for Dublin's future investment in capital infrastructure and provides financial guidelines that identify available revenue sources, debt capacity and policy for projecting revenues and designating reserves to be maintained.
The City of Dublin Hotel/Motel Tax Fund was established to improve the quality of life for residents, corporate citizens and visitors. Dublin generates funds from a six percent tax on overnight hotel stays. This revenue is invested back into the community through designated projects and special events that enhance visitor appeal and encourage overnight stays. The Dublin Convention & Visitors Bureau and Dublin Arts Council each receive 25 percent of the annual revenues generated by the hotel/motel tax.
Dublin's fiscally sound stewardship has earned the city the highest available bond ratings – Aaa from Moody's Investors Service and AAA from Fitch Ratings – a distinction carried by approximately 3 percent of rated cities nationwide. These ratings reflect the cooperative efforts of private citizens, civic leaders, government officials and business representatives.
Such widespread commitment to the community ensures that Dublin will remain one of the most desirable suburbs in Central Ohio and the Midwest.