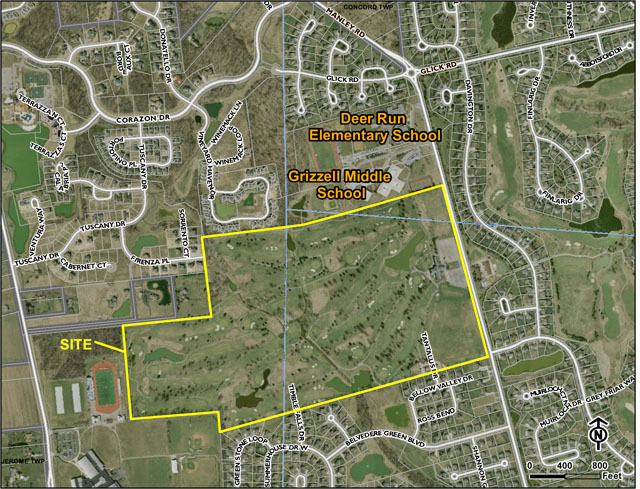 Riviera Club – (Previous Concept Plan)
13-114CP
This is a proposal for a potential new subdivision with 284 single-family units and associated site improvements on 168 acres located on the west side of Avery Road north of the intersection with Belvedere Green Boulevard. This is a request for review and feedback of a concept plan under the provisions of the Zoning Code Section 153.050.
Applicant: Charles J. Ruma
Planner: Claudia D. Husak, AICP, Planner II | 614.410.4675 or chusak@dublin.oh.us
Application | Area Photo | Concept Plan
Planning and Zoning Commission- March 13, 2014
Planning Report | Overview | Attachments
Commission took the following action at their March 13, 2014 meeting
The Commission reviewed and provided non-binding feedback on a Concept Plan application for a potential new subdivision with approximately 284 single-family lots, 58 acres of open space and associated site improvements on 168 acres.
A large number of adjacent residents provided comments of concerns regarding this proposal on loss of green space, school overcrowding, and increased traffic and congestion.
The Commissioners complimented the residents for their initiative, coordinated efforts, professionalism and preparedness for this public meeting.
The Commission discussed whether the proposed land use is appropriate and some agreed that given the current zoning allowing single-family residential as a permitted use, a Planned Unit Development governing the site would be preferred to development under the existing standard district zoning. Other Commissioners felt that the site is best used as a golf course.
Regarding the proposed project density of 1.7 units per acre, the Commissioners suggested the applicant lower the density to be more in line with the lower end of the adjacent neighborhood densities.
The Commissioners commented that the relationship of development areas to surrounding uses need to take the adjacency of existing schools into account and provide buffers to shield light and noise as much as possible. Some Commissioners suggested the applicant incorporate direct routes to school into the proposal not just from the site but also from the adjacent neighborhoods and contemplate the needs of the neighborhood serving services. Other suggestions included incorporating more diverse housing into the plan.
The Commissioners suggested that the applicant provide more open space and more usable open space, and create a natural open space along the Avery Road frontage.
The Commission suggested the applicant take the comments from the residents and work with them to address as many of their concerns as possible.