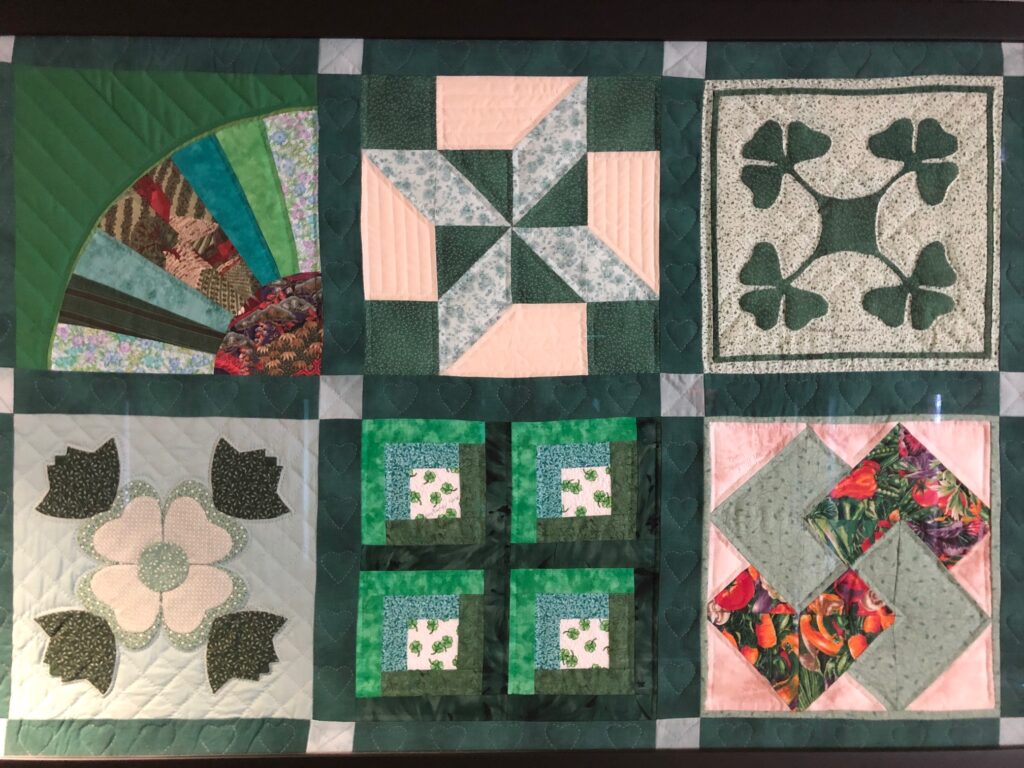 (Photo DCSC Quilters Corner)
 "Families and friendships are like quilts — each person intricately connected to the other." ~Vannetta Chapman
DCSC Organization
Mission Statement
The purpose of the DCSC is to provide its members with opportunities to enjoy fellowship and pursue interests in a wide range of recreational, educational and social activities and to serve the community. Anyone 55 or older who shares in the mission of the organization is invited to become a member.
2021 DCSC Advisory Board Executive Committee
President: Bruce Book
Vice President: Tony Burchard
Secretary: Joan Margard
Treasurer: Pat Breading
Past President: Bob Seredick
Dues
Annual dues are $15 for Dublin residents and $20 for Dublin school district/non-residents per person for the 2021 calendar year. Membership privileges include participation in all general and special activities listed within the monthly DCSC newsletter. Sign up for membership in person at the DCRC, 5600 Post Road or by phone at 614-410-4550.
DCSC Member Connection
The DCSC Member Connection provides monthly updates, programs and class offerings to DCSC members.
Activities & Presentations
When the World Health Organization declared COVID-19 a pandemic, a new reality took hold. The City of Dublin puts the health and safety of its community above all else and continues to work with local and state officials to monitor this ever changing situation. Older adults, 65 years and older, and persons with pre-existing medical conditions or compromised immune systems are at a higher risk for COVID-19.
In an effort to provide safe programming for DCSC members, we are developing creative ways to engage our participants while at home or while social distancing. Social distancing doesn't have to mean social isolation. Stay connected…
We All Scream for Ice Cream!
National Ice Cream Month is celebrated each year in July. Bring your chair and cool off by enjoying the Nation's favorite frozen treat. The Dublin Retirement Village ice cream truck offers a variety of ice cream novelties. Gary and Linda Sclafani perform their cool sounds for all to enjoy. You must bring your own chair for outside seating.
Date: Friday, July 9
Time: 2 p.m.
Fee: Free with advanced registration and must be a DCSC member.
Register: Registration opens July 1. Pre-registration is required by calling the front desk at 614.410.4550 using program #355189.01.
Location: Coffman Park Amphitheater (Rain location: Community Hall)
Movie Madness
A first-run movie is shown each month with a limit of 30 patrons at each showing for social distancing. Your DCSC Member Connection highlights which movies are to be shown and includes pertinent movie details. DCSC members must be registered to attend each movie. Closed captioning is available.
Box Lunch Wednesdays
Box Lunch Wednesdays returns this spring/summer on the third Wednesday of each month. Drive up/pick up a goodie bag and a box lunch at no charge. Specific information on sponsors, restaurants and registration will be emailed to members of the DCSC organization at the beginning of each month. Registration begins the first of each month.
Date: July 14 and Aug. 18
Time: 11:30 a.m. – 12:30 p.m.
Fee: No charge; pre-registration required
Limit: 200
Location: Community Hall at the Dublin Community Recreation Center; 5600 Post Rd.
DCSC Drive-In Bingo
Let's get out of the house and play some BINGO. Park your car in the designated northeast corner of the Recreation Center parking lot starting at 12:30pm. All participants will remain in their cars and need to wear masks when anyone approaches. Tune into 89.3FM to hear announcements and numbers being called. If you are lucky enough to win a game, then honk your car horn to receive a prize. The last game is coverall for a grand prize. Additional information provided in the monthly DCSC Member Connection email.
The Readers Group
Calling all bookworms! The DCSC is hosting a book club for all adults. This is not a lecture series, but a group discussion encouraging individuals to share their views. Join us as we broaden our literary horizons. Additional information provided in the monthly DCSC Member Connection email.
Nature Programs
Are you looking for outdoor programs to explore nature, discover the great parks in the area, or take a class with Barbara Ray, the city's Nature Education Coordinator? Please follow this link for more information.
DCSC Golf League
Calling all golf enthusiasts. It's time to hit the greens for nine holes of "tee-rific" play. The league is open to both men and women. League roster and information is sent to participants before the first week of play. Initial fees include a $20 registration fee paid to City of Dublin and membership to the DCSC organization ($15 residents, $20 school district/non-residents). A $24 weekly nine-hole greens fee with cart rental is paid to Safari Golf Club located at 4850 Powell Road, Powell OH 43065. Ages: 55 & up. Wednesday, May 12 – Sep 15, 7:45-11:45am.
You must be a current member of the DCSC to participate.
Not a Dublin Community Senior Citizens member? Join us by calling 614.410.4550! The $15 Dublin resident annual membership ($20 non-resident) gives you access to dozens of free programs throughout the year.
Let Us Hear From You
During the COVID-19 health crisis, the DCSC programming office and lounge are closed until further notice. If you or your family are Dublin residents and want to provide support or you need support, please contact the City of Dublin division of Outreach and Engagement.
To learn more about how you can request help, share resources with those in need, or volunteer to help support our local social service providers let us know HERE or call 614.410.4753.
Contact Us
Wanda Kamler, Senior Adult Program Supervisor
wkamler@dublin.oh.us
614.410.4559
Stacie Neilan, Senior Adult Program Specialist
sneilan@dublin.oh.us
614.410.4578