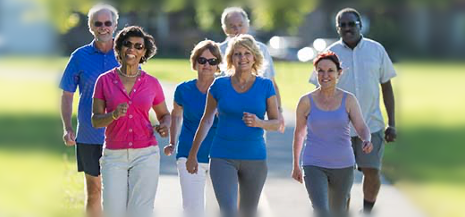 "You are never too old to set another goal or to dream a new dream."  — C.S. Lewis
Recreation & Leisure Opportunities for Adults Ages 18 & Older
Continue to learn, value time, and enrich yourself—mind, body and soul. Email jvosters@dublin.oh.us to receive a monthly e-newsletter for adult program opportunities.
In addition to the programs available on the Adult Programming webpage, here are a few more recreation & leisure opportunities geared specifically for older adults:
Senior Yoga:  Designed especially for adults 55 years and older, this 60-minute yoga program helps you feel connected, vibrant and healthy. Open to both new and current participants of all ability levels.
Register now: Mondays | July 11–Aug. 22 | 1-2 p.m. | 55 years & up
Register now: Wednesdays | July 13–Aug. 24 | 10:45-11:45 a.m. | 55 years & up
Senior Lounge Hours
Monday–Friday, 9 a.m.–4 p.m.
Closed Saturday & Sunday
Stop in the lounge for current program information and the schedule of monthly activities.
CURRENT SAFETY PROTOCOL:  Please do not enter the lounge if you are ill or experiencing symptoms of illness. Masks are optional for employees and the public while in City facilities. Wearing a mask will be a personal choice. If you choose not to wear a mask, please be mindful of those around you. We support and respect everyone's preferences.
The Dublin Community Recreation Center reserves the right to change and update guidelines as necessary to stay within the established guidelines of the CDC and local health department. 
SENIOR LOUNGE GUIDELINES:  
Coffee, Tea, Hot Chocolate may be available to DCSC members during lounge hours.
DCSC members are welcome to enjoy the space when program/gameplay is NOT scheduled. Please see staff for more information on availability.
Conversations are welcome and encouraged in the lounge; however, please be respectful of active program/gameplay when entering and utilizing the lounge space.
COMPASSION, KINDNESS, PEACE & RESPECT for each other is required at all times.
ARE YOU IN NEED OF ONLINE ASSISTANCE TO CONNECT WITH US? Stop in Wednesdays between 10:45 a.m. and noon for DIGITAL CONNECTION SUPPORT with our staff. NO appointment is needed. Please bring your device with you for the best support and we will work with you so you can find our program information online and register from the comfort of your home!
To learn more about how you can request help, share resources with those in need, or volunteer to help support our local social service providers let us know HERE or call 614.410.4753.
DCSC Membership
Mission Statement
The purpose of the Dublin Community Senior Citizens (DCSC) is to provide its members with opportunities to enjoy fellowship and pursue interests in a wide range of recreational, educational and social activities, and to serve the community. Membership is available to any resident 55 years of age and older.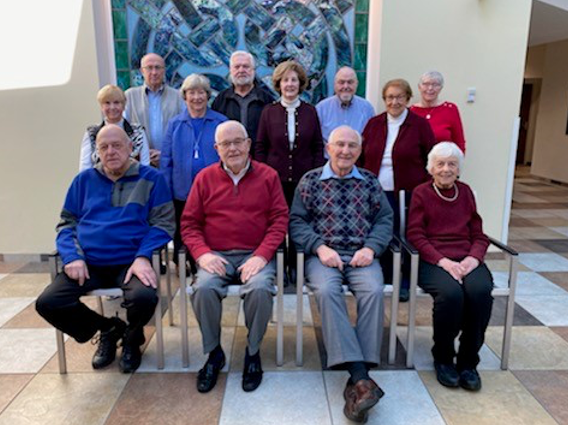 2022 DCSC ADVISORY BOARD EXECUTIVE COMMITTEE
President: Bruce Book
Vice President: Tony Burchard
Secretary: Joan Margard
Treasurer: Pat Breading
Past President: Bob Seredick
Charity: Dolores Morris
Food Service:
Larry & Leslie Herchline
Ronda Pharazyn
Goodwill: Barbara Mirbach
History: Jerry Boone
Hospitality: Donna Book
Membership: David Peterson
Annual Dues
Annual dues are $15 for Dublin residents and $20 for Dublin City Schools district residents and non-residents. We collect dues in January of each year, and membership is valid for one calendar year. Registration remains open throughout the year, at the rate listed above (no pro-rate).
Sign up for membership:
In-person at the Dublin Community Recreation Center, 5600 Post Road, Dublin, OH 43017.

DCSC Senior Lounge (during operating lounge hours)
DCRC Front Desk

Online – Click Here
By Phone

Shannon Bauer, Adult Program Specialist, 614.410.4579
DCRC Front Desk, 614.410.4550
Membership includes:
A photo ID card for program entry
Participation in all general and seasonal activities listed in the monthly DCSC newsletter | Some programs may require a nominal fee and advanced registration to secure your spot
DCSC Member Connection Newsletter (monthly sent via email)
Activities & Presentations
Please check the monthly DCSC Member Connection Newsletter for specific program offerings available.
No Charge (included in DCSC membership)
Fee-Based*
Weekly card and game play (Mexican Train Dominoes, Bridge (learners group and regular play), Duplicate Bridge, Pinochle, Bunco, Mahjongg, Rummikub, Euchre)
Craft classes ($3) available only to DCSC members
Weekly Digital Connection Support
Bingo ($2) available only to DCSC members
Weekly Color Your Way to Calm
Monthly Meet-Up ($5 – $7) available only to DCSC members
Military Roundtable
DCSC Golf League – May – September ($20) available only to DCSC members
Coffee Concerto
Senior Yoga ($80)
Monthly history/event lectures
Trip and travel (varies)
Monthly movies

(Movie Madness & Matinee and a Meal)

Additional adult, family, fitness and swim programming through Dublin Community Recreation Center (varies)
Monthly educational talks
December Holiday Get Together ($20-$25) available only to DCSC members
Monthly theater talks
Monthly nature talks
Special interest groups

(Quilters Corner, Birding, Readers Group)

Quarterly Meet-Up (includes food and entertainment)

2022 months = February, May, August, November
*Current fees as of April 2022. Fees are subject to change.
Connect with Us
Jennifer Vosters, Adult Recreation Program Supervisor
jvosters@dublin.oh.us
614.410.4571
Stacie Neilan, Senior Adult Program Specialist
sneilan@dublin.oh.us
614.410.4578
Shannon Bauer, Adult Recreation Program Specialist
sbauer@dublin.oh.us
614.410.4579