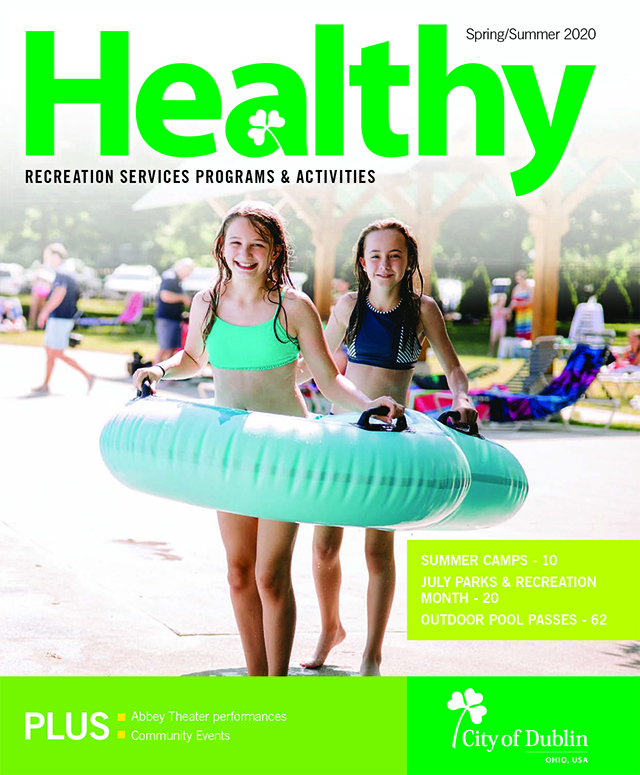 Dublin Recreation Center Closed Starting March 14
In an effort to limit the spread of the coronavirus (COVID-19), the Dublin Community Recreation Center (DCRC) will close until further notice after regular business hours ending Friday, March 13, 9:30 p.m. Registration is still available online or by phone. Click here to learn more.
Recreation Services Programs & Activities Guide
Find a Program for You Register Now
Spring/Summer Registration Schedule
Click here for swim lesson registration dates.
Tuesday, March 17
6 a.m. Online registration for Dublin and Dublin City School District residents for DCRC and DCS programs
Tuesday, March 24
6 a.m. Online registration for non-residents
10 a.m. Phone registration for Dublin and Dublin City School District residents for DCRC and DCS programs
Monday, March 30
6 a.m. Teen Camps online registration for Dublin and Dublin City School District residents
Tuesday, March 31
6 a.m. Wyandot/Jr. Kidzone summer camp online registration for all 9 weeks for Dublin and Dublin City School District residents
Thursday, April 2
6 a.m. My First Camp/Discovery Camp/Wyandot Camp weekly registration for Dublin and Dublin City School District residents
Tuesday, April 7
8 a.m. Teen Camps/My First Camp/Discovery Camp/Wyandot Camp weekly registration for non-residents

Recreation Services Programs & Activities Guide