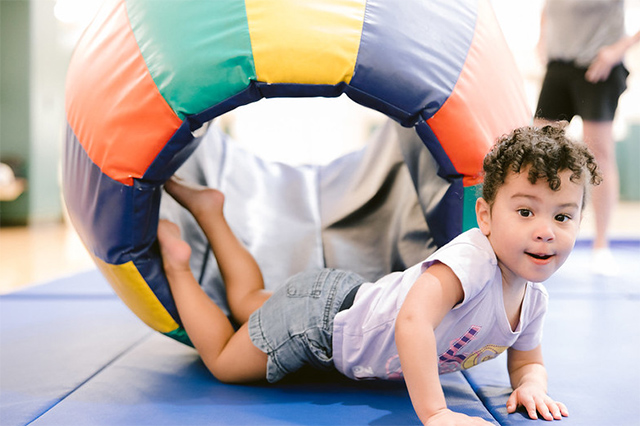 Complete List of Activities & Events
Preschool Open Gym
Our gym is set up with age-appropriate toys and equipment for you and your child to play and have a safe, fun time.
Mondays & Fridays, September 9-December 16 / Ages: 6 mos – 6 yrs
Preschool Open Gym Update for November 11, 2019
This is Home
Visit the new Ferris Wright Park, site of Adena-Hopewell ceremonial mounds while we explore the family home, and see/touch artifacts and replicas from the archaeological digs by OSU over the years.
Tuesday, October 15 / All Ages Welcome
Saturday Preschool Programs
Join us for Splat Art or PS Story Stretchers and experience all the fun of programming offered during the week…but on the weekend!
Saturdays, October 19-November 9 / Ages: 2-5yrs
Preschool Sports
Engage in a variety of age appropriate athletic movements in this fun Bally Sports program, perfect for parents and their toddlers!
Wednesdays, October  23 – November 20 / Ages: 2-3yrs
Tumble Time
Join Dublin Dance Centre & Gymnastics in developing and improving your child's coordination and movement skills through basic tumbling techniques.
Thursdays, November 7 – December 12 / Ages: 2-3yrs
Little Ninjas
Sensei Dave facilitates proper techniques of basic karate exercises while parents work with their child to encourage engagement and assist with appropriate posture and practice.
Wednesdays, October 30 – December 11 / Ages: 3-5yrs
Intro Ballet/Jazz
Join Dublin Dance Centre & Gymnastics for an introductory program for young dancers that combines fundamentals of ballet and jazz through music and movement.
Thursdays, November 7 – December 12 / Ages: 6-10yrs
Ceramics 1
Learn three basic hand-building techniques and proper glazing methods to create ceramic pieces based on personal interests utilizing low fire clay and glazes (non-functional pieces).
Tuesdays, October 29 – December 10 / Ages: 6-12yrs
Ceramics 2
This project-based class is designed to expand on the knowledge gained from Ceramics 1, and includes an opportunity to learn wheel-throwing ceramic techniques.
Thursdays, November 7 – December 12 / Ages: 8-14yrs
Saturday Art Club
Designed for both beginner and intermediate artists, engage in a variety of techniques in drawing and painting to create authentic works of art.
Saturdays, November 9 – 23 / Ages: 7-13yrs
Kids Café
At the Kids Café, participants are involved in creating a sampling of foods based on the theme, and then take home the recipes to make and share with their family.
Saturday, October 19, November 16, & December 14 / Ages: 8-12yrs
Art Barn Escape Room
Discover clues, solve puzzles, and accomplish tasks within the confines of the Coffman Park Art Barn before the 45 minute time limit runs out. Do you have what it takes to escape the room?
Friday, October 25 / Ages: 8-14yrs
Ancient Ohio Survival
Learn ancient skills needed for survival at an archaeological site, Ferris Wright Park. Utilizing American Indian tools used 2000 years ago, participants are actively engaged for a true ancient history experience.
Saturday, October 26 / Ages: 8-12yrs
OMG Art
Based on the popular summer camp of the same name, Ms. Aisha now offers a fall version of this crazy art experience. Think outside the box and create art in a way that you might not see in everyday life.
Tuesdays, November 5-December 3 / Ages: 6-12yrs
Shooting Stars 1 & 2
Learn the fundamentals of basketball with Bally sports Group. Each week incorporates instruction on the fundamentals of dribbling, shooting, passing, rebounding, defense, and the concept of game play.
Saturdays, November 2 – December 14 / Ages: 7-12yrs
Preschool/Youth Program Updates Mailing List:
If you would like to receive monthly e-mail updates on preschool/youth programs, please join our e-mail mailing list. Contact Jennifer Vosters at 614.410.4573, or jvosters@dublin.oh.us to add your address to the list.
Program Evaluation
All of our preschool/youth programs can now be evaluated by logging on and providing us meaningful feedback without the hassle of filling out and mailing back a paper survey. We love to hear from you so make sure to log on and let us know how we are doing: http://www.surveymonkey.com/s/KPH2R5C
Volunteer
If you're available one day per week between 9 a.m. – 12 p.m., our preschool classes need volunteers to help make programming possible. Days and opportunities vary. Email Shannon at volunteer@dublin.oh.us if you can help.
Special Needs Participants
Parks & Recreation Services promotes an inclusive policy for all of our programs. To provide the best overall experience for your child or to carry over IEP accommodations, an appointment must be made for an inquiry of needs. Contact Jodi Shealy, Adaptive Recreation Coordinator, at 614.410.4574. An accommodation plan MUST BE COMPLETED PRIOR TO your child's program or camp registration. This plan is required for each seasonal enrollment.