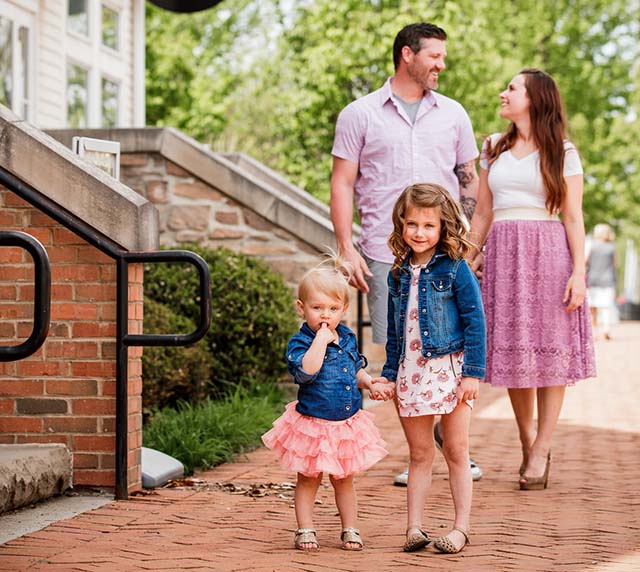 Complete List of Activities & Events
PRESCHOOL OPEN GYM
The gym is set up with age appropriate toys and equipment for you and your child to play and have a safe, fun time! This program is designed for children 6 months – 6 years of age. Parents are encouraged to place children younger than 6 months or older than 6 years in our Wee Folk Room.
Family Holiday Program Highlights
FAMILY HOLIDAY DRIVE-IN NEW IN 2018

Time to begin a new holiday tradition at the DCRC with the Family Holiday Drive-In! Join us in the Community Hall "garage" to rent your "car" and begin customizing it to show your family holiday spirit (cars are manufactured from cardboard boxes). Once complete, everyone piles in to enjoy the "drive-in movie", complete with popcorn concession stand. Fee is per family.
Preschool Program Highlights
WEJOYSING'S HOLIDAY HEART STRINGS
Come share the joy of music making with a variety of delightful holiday songs, rhymes, games and instruments.  Parent participation is required.
WHIRLYGIG
Have fun with your child while singing songs together and playing with age appropriate musical instruments. Parents have the opportunity to learn new songs and revisit familiar songs from their childhood for use at home and on the go. Parent participation is required.
OOEY GOOEY CREATIONS
Children have the opportunity to create fun art projects by exploring with many different materials. Get ready to have a real messy time! Parent participation is required.
WIGGLE, GIGGLE, DANCE
It's time wiggle and giggle your way to fun in this entertaining dance class perfect for a preschooler. Age-appropriate music and props, along with easy to follow dance steps keep dancers engaged from start to finish, allowing them to develop a transition of movement to music.
Preschool/Youth Sports Program Highlights
TOT SPORTS
Join Jump Start Sports staff for a unique program combination of sports and music to develop motor skills and introduce toddlers to a wide variety of sports in an age-appropriate atmosphere. Parent participation is required.
SPORT STARS
Jr. Sports Stars provides positive, age-appropriate introduction to a wide variety of sports in a fun learning environment.
Youth Program Highlights
HIP HOP JAZZ
Join Drake Dance Academy for an energizing dance program that engages dancers in a variety of hip hop and jazz steps while listening to upbeat music. This class is a great form of exercise and helps participants strengthen their dance skills and development in flexibility, agility, and rhythm.
PUMPKIN CREATIONS
Join Ms. Heidi to design a pumpkin for the upcoming spooky holiday. Each participant receives a small pumpkin to decorate (no carving) and take home to display.
ART BARN ESCAPE ROOM
In January 2018, the Art Barn was taken over by a crazed made scientist and general evil-doer, Doctor Heath Charles who has been haunting the area ever since. Dr. Charles is well-known for his devious nature and love for science puzzles of all kind. Can you look into his mind and find the secrets necessary to solve the twisted puzzles and escape before time runs out? Do you think you have what it takes to escape the ART BARN ESCAPE ROOM?
CRAFTY SCIENCE
Join Ms. Heidi once a month and discover your Einstein Picasso! Using both sides of your brain, discover how science is an art, and art is in science. Each month offers new projects.
PINTEREST PRODUCTIONS
Join Ms. Aisha for a creative crafting and cooking class inspired by DIY projects and fun ideas from Pinterest. Each session includes craft time and cooking time. September: Owl Cupcakes & Owl Pillows.
BEGINNER CERAMICS
Learn the basic hand-building techniques and proper glazing methods to create ceramic pieces based on personal interests utilizing low fire clay and glazes.
INTERMEDIATE CERAMICS
Take the basics of ceramic hand-building to the next level! This projects-based class is designed to expand on the knowledge gained from Beginner Ceramics, and includes an opportunity to learn wheel-throwing ceramic techniques.
WILD ART IN THE PARK
Enjoy the wild, wonder of nature as we examine nature's patterns and textures to create art using found items surrounding the Coffman Art Stable.
PREMIER CHESS
Premier Chess provides participants the opportunity to learn one of the most historic, complex games in a casual, entertaining environment.
Preschool/Youth Program Updates Mailing List:
If you would like to receive monthly e-mail updates on preschool/youth programs, please join our e-mail mailing list. Contact Jennifer Vosters at 614.410.4573, or jvosters@dublin.oh.us to add your address to the list.
Program Evaluation
All of our preschool/youth programs can now be evaluated by logging on and providing us meaningful feedback without the hassle of filling out and mailing back a paper survey. We love to hear from you so make sure to log on and let us know how we are doing: http://www.surveymonkey.com/s/KPH2R5C
Volunteer
If you're available one day per week between 9 a.m. – 12 p.m., our preschool classes need volunteers to help make programming possible. Days and opportunities vary. Email Shannon at volunteer@dublin.oh.us if you can help.
Special Needs Participants
Parks & Recreation Services promotes an inclusive policy for all of our programs. To provide the best overall experience for your child or to carry over IEP accommodations, an appointment must be made for an inquiry of needs. Contact Jodi Shealy, Adaptive Recreation Coordinator, at 614.410.4574. An accommodation plan MUST BE COMPLETED PRIOR TO your child's program or camp registration. This plan is required for each seasonal enrollment.