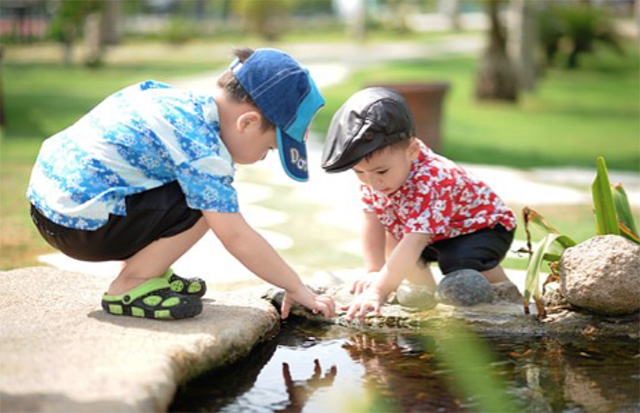 Complete List of Activities & Events
Preschool Open Gym
The gym is set up with age appropriate toys and equipment for you and your child to play and have a safe, fun time! This program is designed for children 6 months – 6 years of age. Parents are encouraged to place children younger than 6 months or older than 6 years in our Wee Folk Room.
Mondays and Fridays, January 7 – May 24
WeJoySing's Heart Strings
Discover how your child learns and grows through joy-filled musical play. Together, you and your child share in a wealth of musical activities that stimulate their emotional, cognitive, and social development. Parent participation required.
Wednesdays, June 5-26 / Ages: Birth-5yrs
Hummingbirds Soccer
Have fun and learn the basics of soccer with Jump Start Sports staff. Each week includes instruction in all aspects of the game with fun drills and low-key, non-competitive games.
Thursdays, June 6 – July 11 / Ages: 3-6yrs
Karate
Beginner, Intermediate, and Advanced levels are available and include practice and weekly work in self-defense, break falls, rolls, and proper techniques in katas.
Tuesdays & Thursdays, June 11 – August 8 / Ages: 6yrs & Up
Intro Lacrosse
Learn the fundamentals of lacrosse with Jump Start Sports through weekly instruction and fun, non-competitive games.
Wednesdays, June 5 – July 17 / Ages: 6-10yrs
Cookies & Canvas
Create your own work of art on canvas while enjoying a cookies and juice break midway through each session. Each month design a new seasonal painting with instruction by Mr. Ben.
Saturday, May 4 / Ages: 6-12yrs
Preschool/Youth Program Updates Mailing List:
If you would like to receive monthly e-mail updates on preschool/youth programs, please join our e-mail mailing list. Contact Jennifer Vosters at 614.410.4573, or jvosters@dublin.oh.us to add your address to the list.
Program Evaluation
All of our preschool/youth programs can now be evaluated by logging on and providing us meaningful feedback without the hassle of filling out and mailing back a paper survey. We love to hear from you so make sure to log on and let us know how we are doing: http://www.surveymonkey.com/s/KPH2R5C
Volunteer
If you're available one day per week between 9 a.m. – 12 p.m., our preschool classes need volunteers to help make programming possible. Days and opportunities vary. Email Shannon at volunteer@dublin.oh.us if you can help.
Special Needs Participants
Parks & Recreation Services promotes an inclusive policy for all of our programs. To provide the best overall experience for your child or to carry over IEP accommodations, an appointment must be made for an inquiry of needs. Contact Jodi Shealy, Adaptive Recreation Coordinator, at 614.410.4574. An accommodation plan MUST BE COMPLETED PRIOR TO your child's program or camp registration. This plan is required for each seasonal enrollment.