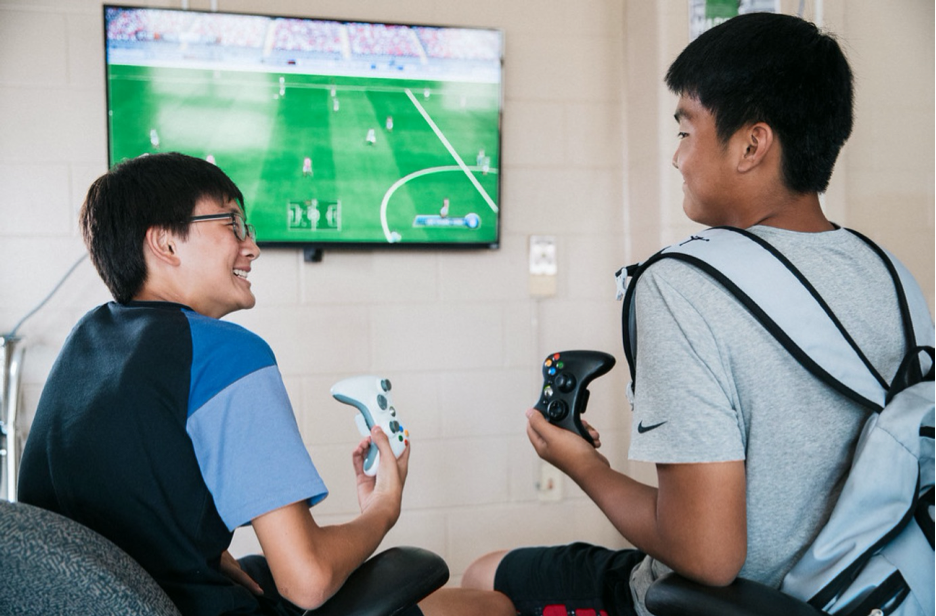 Teen Lounge
At this time, the Teen Lounge is currently closed. The Teen Lounge is a place for youth grades, 6-12 to hangout and enjoy amenities such as a big screen tv, juke box, stereo, table tennis, Xbox 360 and board games. Participants do not need to be DCRC members. Teens must sign in when entering the lounge.
Hours:
Monday – Friday: 4 – 8 p.m.
Saturday – Sunday: Noon – 8 p.m.
Complete List of Activities & Events
Special Interest
Adventure Trip: What's better than a day off from school? Spending that day on an awesome adventure with your friends! This program is just for teens and includes a field trip and time spent at the DCRC for food, games, activities and swimming. Gather your friends and sign up today!
*NEW: 'Tis the Season: Come enjoy a one-of-a-kind holiday event! Create holiday crafts, listen to music with your friends, and enjoy some snacks. Get into the holiday spirit and spend your Thursday night with us!
*NEW: Zombie Apocalypse 2021: Breaking News!! The DCRC is under a ZOMBIE apocalypse … Come join the zombie fun and transform yourself into a zombie for the night! Participate in different types of games, dancing and so much more!
*NEW: Teen Movie Night: Join the DCRC staff for a teen movie night! Bring your friends, kick back, relax and enjoy a fun movie night. We provide the popcorn, candy and refreshments. Hope to see you there!
 Creative Expressions: Come and unleash your creativity at the Dublin Community Recreation Center. Creative Expressions offers teens a hands-on environment to come together to create works of art using different mediums including painting, drawing, sculpting, photography.
REGISTER NOW: Nov. 19 – Dec. 10 | Friday | 5:30 – 7 p.m. | Ages 11-17
Table Top Fridays: A club that celebrates intelligence, creativity, strategy and fun! Table Top Fridays provides a variety of board games that will test your thinking skills. Participants will learn an array of games, including, but not limited to: Settlers of Catan, Munchkins, Clue, Yahtzee, Apples to Apples and Risk. Game rules are taught at each session and new games are continuously introduced. Enjoy pizza and beverages at every game night!
*NEW: Teen Cooking Series: This workshop series separates essential parts of cooking week by week so you can learn how to cook! Each week introduces a different topic and we work through the steps and techniques of making breakfast, bentos, breads, soups, roasting and baking! Sign up for the whole series or just one class.
Test Preparation
ACT Introductory Workshop: The ACT Introductory Class provides college-bound students with in-depth instruction on all parts of the ACT. This is an excellent course for students who are looking for a thorough introduction to the ACT. Students learn the latest proven strategies as they work with practice tests created by ACT, as well as rigorous practice exercises created by BWS Education. With 12 hours of instruction, students can be assured that their individual concerns on everything from test anxiety to time management will be thoroughly addressed. The class reviews and builds upon what is covered in the Turbo Workshop, but can stand alone as well. The class fee includes all in-class and homework materials.
REGISTER NOW: Nov. 29 – Dec. 8 | Mondays/Wednesdays | 6 – 9 p.m. | Ages 13 & Up
ACT Advance Workshop: The ACT Turbo Workshop provides college-bound students with an introduction to strategies and content for all parts of the ACT. This is an ideal option for students just starting their ACT preparation, and who have little time to prepare prior to the test. Each workshop is uniquely tailored to meet the learning needs of all the students in the class. Each class will be offered online using Zoom. Contact BWS Education Consulting at www.bwseducationconsulting.com if you have additional questions.
REGISTER NOW: Oct. 11 – 20 | Mondays/Wednesdays | 6 – 9 p.m. | Ages 13 & Up
ACT Turbo Workshops: The ACT Turbo Workshop provides college-bound students with a comprehensive overview of strategies for all parts of the ACT. This is an ideal option for students with little time to prepare prior to the test. The Turbo Workshops are each scheduled shortly before an ACT. Students work with the latest materials, all of which are provided. Each workshop is uniquely tailored to meet the learning needs of all the students in the class.
Sports
Family and Youth TKD: Tae Kwon Do is a Korean martial art that incorporates self-defense moves, hand techniques and a variety of kicks. Ji Do Kwon is one of the oldest forms of Tae Kwon Do, dating back 2,000 years. Traditional Ji Do Kwon training focuses on discipline through formal practice in a non-contact format. Ji Do Kwon Tae Kwon Do includes kicking, punching, striking, blocking and formal patterns called forms. Training is continuous from white belt through black belt rank. Martial artists learn discipline and respect while they are exercising, having fun and making new friends. Students progress to increasing belt levels at their own pace. When ready, they have the opportunity to participate in promotional tests (for an additional fee) to increase their rank and qualify to learn advanced techniques. Uniforms can be purchased from the instructor for an additional fee.
REGISTER NOW: Sept. 13 – Dec. 13 | Monday | 7:15 – 8:25 p.m. | Ages 14-19
REGISTER NOW: Sept. 13 – Nov. 1 | Monday | 7:15 – 8:25 p.m. | Ages 14-19
Teen Tennis Lessons: An introduction to basic tennis skills, including racquet handling, forehand and backhand ground strokes, rallying, sportsmanship and rules knowledge, and an introduction to more volleying and serving. All skill levels are welcome.
Teen Program Updates Mailing List
If you would like to receive monthly e-mail updates on Teen programs, please join our e-newsletter mailing list. Contact Matthew Rice at 614.410.4557, or mrice@dublin.oh.us, to add your email to the list.
Volunteer
The City of Dublin has a wide variety of volunteer opportunities for teens throughout our community. For more information, contact Community Outreach & Engagement at 614.410.4404.
Accommodation Requests
Parks & Recreation Services promotes an inclusive policy for all of our programs. To provide the best overall experience for your child or to carry over IEP accommodations, an appointment must be made for an inquiry of needs. Contact Adaptive Recreation Coordinator Jodi Shealy at 614.410.4574. An accommodation plan MUST BE COMPLETED PRIOR TO your child's program or camp registration. This plan is required for each seasonal enrollment.