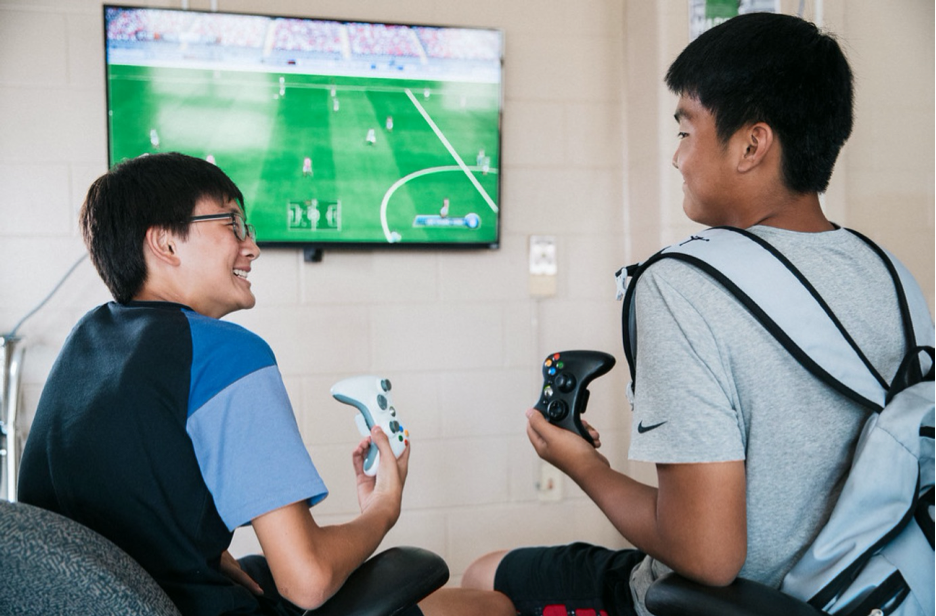 Teen Lounge
The Teen Lounge is a place for youth grades 6-12 to hangout and enjoy amenities such as a big screen tv, jukebox, stereo, table tennis, Xbox 360 and board games. Participants do not need to be DCRC members. Teens must sign in when entering the lounge.
Hours:
Monday-Wednesday: CLOSED
Thursday-Friday: 4-9 p.m.
Saturday-Sunday: 2-8 p.m.
*Teen Lounge hours may vary on non-school days for Dublin City Schools
Complete List of Activities & Events
Camps
NEW! Spring Break Camp: Spend your spring break taking part in some awesome adventures! Meet some new friends or sign up as a group. This program is just for teens and includes a different field trip each day, along with games and activities. From mini-gold and ninja courses to the iconic OSU Stadium, you won't want to miss this week!
Special Interest
NEW! Teen Night: Come for an evening of FUN with your friends. Teens will have access to the Teen Lounge, Gym, and Pool. Pizza, snacks and refreshments along with music and games will be provided.
Creative Expressions: Come and unleash your creativity at the Dublin Community Recreation Center. Creative Expressions offers teens a hands-on environment to come together to create works of art; painting, drawing, sculpting, photography.
NEW! Beginner & Intermediate Chess: Students learn the rules and concepts of chess, tournament procedures and etiquette, and the knowledge to participate in a casual or competitive game with family or friends. This is the perfect class for a new player or novice player looking to increase confidence in his or her game. In the first half of each class, world champion openings, ideas in the middle game, endgame patterns, tactical motifs and elements are examined and discussed. For the remainder of the class, students will be given the opportunity to play against one another in our weekly club tournament. Program Goals/Objectives: 1. To teach students the rules and strategies of chess 2. To embrace our core values: respect, diversity, effort, and teamwork/sportsmanship 3. To build friendships while conducting a safe environment to learn, ask questions, and grow Virtual Program Opportunity: Yes. Students may join via Zoom. All virtual students will be muted (questions will be accepted via private chat and/or at the end of the class) while the Kyle displays his lesson on the demonstration board. If there are two or more virtual students, he will provide them with his private online chess club room to play against one another.
 Teen Cooking Series: This workshop series separates essential parts of cooking week by week so you can learn how to cook! Each week is a different topic and we work through the steps and techniques of making eggs, burgers, baking, pasta, pastries, and stir fry! Sign up for the whole series or individual.
Table Top Games: A club that celebrates intelligence, creativity, strategy and fun! Table Top Fridays provides a variety of board games that will test your thinking skills. Participants will learn an array of games, including, but not limited to: Settlers of Catan, Munchkins, Clue, Yahtzee, Apples to Apples and Risk. Game rules are taught at each session and new games are continuously introduced. Enjoy pizza and beverages at every game night!
NEW! Exploring and Affirming LGBTQIA+ Identities: Allyship, Inclusion, and Cultural Responsiveness
Gender and Sexuality 101. Explore the complexity and depth of gender, including gender identity, gender expression, and sex assigned at birth; along with sexuality and the LGBTQIA+ acronym. Participants will practice using personal gender pronouns correctly (and the importance of doing so), and what words to avoid.
February 9: Gender and Sexuality 101
February 23: Allyship 101 for Youth, Parents and Caregivers
Test Preparation
ACT Turbo Workshops: The ACT Turbo Workshop provides college-bound students with a comprehensive overview of strategies for all parts of the ACT.  This is an ideal option for students with little time to prepare prior to the test. The Turbo Workshops are each scheduled shortly before an ACT. Students work with the latest materials, all of which are provided. Each workshop is uniquely tailored to meet the learning needs of all the students in the class.
Sports
Family and Youth TKD: Tae Kwon Do is a Korean martial art that incorporates self-defense moves, hand techniques, and a variety of kicks. Ji Do Kwon is one of the oldest forms of Tae Kwon Do, dating back 2,000 years.  Traditional, Ji Do Kwon training focuses on discipline through formal practice in a non-contact format. Ji Do Kwon Tae Kwon Do includes kicking, punching, striking, blocking, and formal patterns called forms. Training is continuous from white belt through black belt rank. Martial artists learn discipline and respect while they are exercising, having fun, and making new friends. Students progress to increasing belt levels at their own pace. When ready, they have the opportunity to participate in promotional tests (for an additional fee) to increase their rank and qualify to learn advanced techniques. Uniforms can be purchased from the instructor for an additional fee.
Basketball Skills Training: Our basketball skills training program will prepare basketball players for their upcoming season. We will focus on shooting mechanics, one on one defense, scoring, ball handling, passing, mental preparation, fitness, conditioning, speed, agility training and much more. A key objective in our academy is to ensure that every athlete is challenged in an intense and fun atmosphere that will enable them to increase their basketball skills, maximize their performance and achieve peak condition. One of the most exciting parts of our academy is the implementation of daily nutritional education, personal growth homework, mentoring activities in decision making, leadership, communication skills, self-image and team building with others.
Teen Program Updates Mailing List
If you would like to receive monthly email updates on Teen programs, please join our e-newsletter mailing list. Contact Matthew Rice at 614.410.4557, or mrice@dublin.oh.us, to add your email to the list.
Volunteer
The City of Dublin has a wide variety of volunteer opportunities for teens throughout our community. For more information, contact Community Outreach & Engagement at 614.410.4404.
Accommodation Requests
Parks & Recreation Services promotes an inclusive policy for all of our programs. To provide the best overall experience for your child or to carry over IEP accommodations, an appointment must be made for an inquiry of needs. Contact Adaptive Recreation Coordinator Jodi Shealy at 614.410.4574. An accommodation plan MUST BE COMPLETED PRIOR TO your child's program or camp registration. This plan is required for each seasonal enrollment.