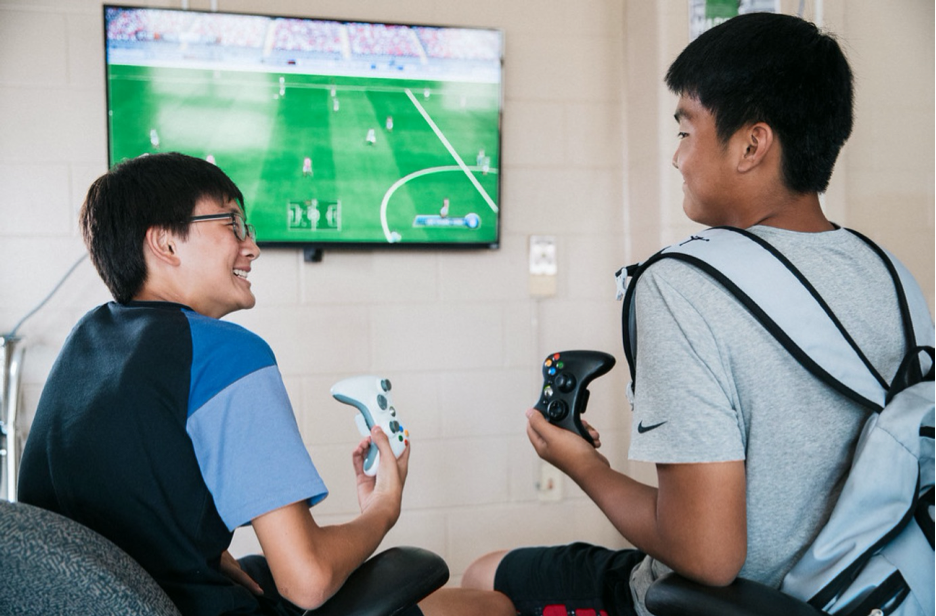 Teen Lounge
At this time, the Teen Lounge is currently closed. The teen Lounge is a place for youth grades, 6-12 to hangout and enjoy amenities such as a big screen tv, juke box, stereo, table tennis, Xbox 360, and board games. Participants do not need to be DCRC members. Teens must sign in when entering the lounge.
Hours:
Monday – Friday: 3:30 – 8 p.m.
Saturday – Sunday: 2 – 8 p.m.
Complete List of Teen Activities & Events
Teen Programs
Beyond Driver's Education: This course is designed for new drivers to enhance their abilities and increase their awareness of safe, defensive, driving habits. This class is primarily for high school age drivers who currently are in their first years of driving.
Table Top Fridays: A club that celebrates intelligence, creativity, strategy and fun! Table Top Fridays provides a variety of board games that will test your thinking skills. Participants will learn an array of games, including, but not limited to: Settlers of Catan, Munchkins, Clue, Yahtzee, Apples, to Apples, and Risk. Game rules are taught at each session and new games are continuously introduced. Enjoy pizza and beverages at every game night!
Teen Ceramics: Discover how shapes and forms can be created from clay! We will learn both hand-building and wheel throwing techniques. We will explore clay decorating techniques such as stains, underglazes and glazing.
Creative Expressions: Come and unleash your creativity at the Dublin Community Recreation Center. Creative Expressions offers teens a hands-on environment to come together to create works of art; painting, drawing, sculpting, photography.
ACT Turbo Workshop: The ACT Turbo Workshop provides college-bound students with an introduction to strategies and content for all parts of the ACT.  This is an ideal option for students just starting their ACT preparation, and who have little time to prepare prior to the test.  Each workshop is uniquely tailored to meet the learning needs of all the students in the class.  Each class will be offered online using Zoom. Contact BWS Education Consulting at www.bwseducationconsulting.com if you have additional questions.
SAT Turbo Workshop: The SAT Turbo Workshop provides college-bound students with a comprehensive overview of strategies for all parts of the SAT. Since the PSAT is so similar to the SAT, this workshop will also prepare students for that assessment. This is an ideal option for students with little time to prepare prior to the test. The workshop is scheduled shortly before the SAT. Students work with the latest materials, all of which are provided. Each workshop is uniquely tailored to meet the learning needs of the students in the class.
Flag Football & Speed Training: This program is designed specifically to teach proper techniques and fundamentals of football to all athletes. This is a noncontact program, emphasizing running, receiving, throwing, kicking and blocking and the proper tackling technique. We will focus on sports performance training that will help increase their agility, hand & eye coordination, lateral movement and much more. Each athlete will receive a football evaluation form at the end of the program.
Elite Sports Performance Training: The sports performance program will be sports specific and separated by age groups. Our program will focus on mental preparation, speed, explosion, agility, fitness, increasing strength, power conditioning training and much more. A key objective in our program is to ensure that every athlete is challenged in an intense and fun atmosphere that will enable them to learn, maximize their performance and achieve peak condition.
Youth Tennis Lessons: An introduction to/review of tennis basics, beginning with racquet handling, forehand and backhand ground strokes, rallying, sportsmanship and rules. More advanced skills, including serving and volleying, singles and doubles play, are also covered. Instructor will group together players of matching skill levels.
Teen Program Updates Mailing List
If you would like to receive monthly e-mail updates on Teen programs, please join our eNews mailing list. Contact Matthew Rice at 614.410.4557, or mrice@dublin.oh.us, to add your email address to the list.
Volunteer
The City of Dublin has a wide variety of volunteer opportunities for teens throughout our community. For more information, contact Community Outreach & Engagement at 614.410.4404.
Accommodation Requests
The City of Dublin's Parks & Recreation Department promotes an inclusive policy for all of our programs. To provide the best overall experience for your child or to carry over IEP accommodations, an appointment must be made for an inquiry of needs. Contact Adaptive Recreation Coordinator Jodi Shealy at 614.410.4574. An accommodation plan MUST BE COMPLETED PRIOR TO your child's program or camp registration. This plan is required for each seasonal enrollment.