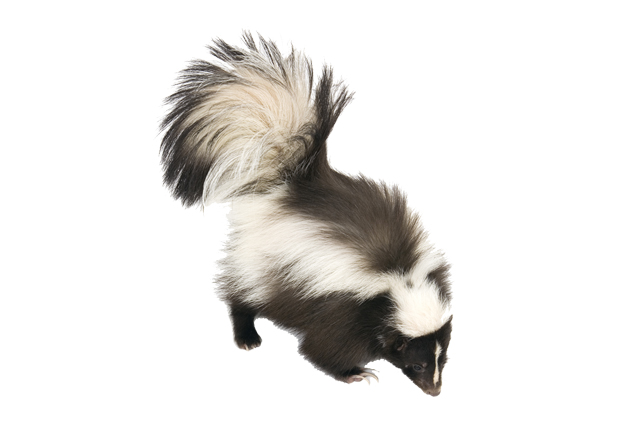 Active: February | March | July | August | September | October
The striped skunk is about the size of a house cat, with a large deep body, small head, and short legs. The hair is long and black, with a broad patch of white on its head and shoulders. Two white lines forming a "V" from the shoulder area may extend part way or all of the way to the base of the bushy tail. Color variations include brown, white, cream, black, and, occasionally, albino. Males and females are colored alike with males being slightly larger in size. Each foot has five slightly webbed toes with the forefeet having long, curved claws designed for digging. The rear feet have shorter, straighter claws.
Helpful links: Know the Signs of Distemper
Once thought to be more closely related to Weasels (Mustelidae), skunks now have their own family, Mephitidae, a small Group of 12 species of omnivorous mammals known for their defensive odor. Skunks are shy, passive animals by nature. The key to not triggering a skunk to spray is to move slowly and do NOT startle. Skunks will remain calm when we move slowly and quietly around them.
Distinctive white stripes on a black coat warn of the skunk's defense which makes the skunk one of the most known mammals in the United States. Although many color variations exist with brown, white, grey, and black reported, the majority of skunks have two white stripes that form a "V" at the neck and extend down the back. Common throughout the United States and found in all 88 counties in Ohio, the Striped Skunk is adaptable and eats a variety of foods. Striped Skunks are active primarily at night foraging for worms, insects, fruits, eggs, plant matter, small rodents and easy meals left by humans such as trash and pet or bird food. They can weigh from 4 to 14 pounds.
Although they do store fat and stay in winter dens for long periods of time, Striped Skunks do not hibernate and sometimes roam about on warmer winter nights in search of food. Mating occurs in late February through March. This is a typical time of year to smell skunk spray as they are more active. 2 to 10 kits are born after a gestation of 63 days. Kits are born blind and hairless. Young typically emerge from the den around six weeks of age; usually this is in late July. They are often seen following the mother in single file and learning foraging techniques. Late summer is another time when it's typical to smell skunk spray.
Skunks most often do not feel threatened by humans and therefore rarely use their defense against us. However, they do see dogs and cats as predators. Skunks aim and spray with amazing accuracy usually hitting the olfactory senses where the spray burns the eyes and overwhelms the nose. Skunks can hit their target easily from 10 or more feet away. This defensive tactic works and again, this is why skunks advertise their ability with their bold color pattern. They have no need to camouflage into the landscape like other animals.
Skunks are preyed upon by many animals including coyote, fox, and hawks. However, Great Horned Owls are the skunk's primary predator. Because the owl attacks its prey from the air and also because of its poor sense of smell, it is not as deterred by a skunk's defensive spray.
What makes skunk musk so stinky?
If you wear perfume, you have a lot in common with skunks! The very chemical that makes skunk musk and spray so intense- a thiol, which is 1 sulfur atom hooked to 1 hydrogen atom – is used in perfume (in MUCH smaller concentrations of course!) as odor enhancer. Even if you're not into chemistry, you might be pleased to know that it's chemistry that allows us to wash our dog after he's been skunked and get rid of most of the smell.
Skunks produce "Essence of Putrification" Chemicals called "thiols" and thioacetates make up skunk musk. A thiol is simple: one sulfur atom hooked to one hydrogen. Thiols are volatile, which means they disperse easily in the air, and they're easily picked up by the human nose. These are the same chemicals in our sweat (less of them!) in garlic and onions which give them their eye-watering capacities (but also their good taste in the right concentrations!) and in decomposing food or flesh.
Most mammals have a natural repulsion of thiols, which keeps us from eating things that could harm us. Thiols are the sulfur analogue of alcohols (that is, sulfur takes the place of oxygen in the hydroxyl group of an alcohol).We might be surprised to know that "skunk musk" makes up many of our favorite fragrances and perfumes we use routinely in our homes and on our persons: many scented products contain thiols…it's just that the molecules are in low concentrations where they act as odor enhancers or "promoters" of the intended fragrance.
How do we avoid conflicts with skunks in the first place?
Skunks are shy, calm animals by nature and they don't spray on a whim. They take a good scare or a lot of provocation. Generally they give fair warning with a little line dance that includes foot stomping, tail flagging, forward and back maneuvers and finally, turning their bodies in a "U" shape to prepare to spray. And line dance is accurate, because if there is a brood of two or more skunks, they will all do this little dance just about in unison, perhaps while grunting a rhythm to keep the beat. Skunks can spray accurately at about 15', the length of two tables, so it's important to keep your distance. Move slowly around them and don't spook or threaten them, and you won't get sprayed. Dogs did not get that memo, and often bark at the skunk and scare him and they get sprayed.
The main complaints with skunks are the smell and that they may be living under a deck, porch or shed. There's not much we can do about the smell except close the windows and turn on the air. Skunks don't spray much while out and about, but they do emit musk to communicate. We would know if they have actually sprayed in an area because the scent will be intense and last for days or weeks.
Skunks have adapted to the loss of their woods, fence rows, wetlands and creek buffers where they normally forage by accepting that houses and lawns are now where they have to make their living. We can discourage them from choosing our neighborhood to feed and den by not providing food or shelter. This means not leaving human or pet food outside, keeping bird feeders cleaned up and not watering lawns more than needed, since moist, wet soil encourages the worms and grubs and other insects they love to eat.
Leave about a 12" buffer between shrubs and buildings to reduce their traffic right next to the home. Avoid planting a lot of fruit and berry producers, but if you do, be prudent to keep fallen fruit picked up off the ground. Skunks do like fruits and berries, but fallen fruit also attracts a lot of insects, their favorite things to eat.
A hardware mesh barrier can be installed under porches, sheds and decks. Using an "L" shaped barrier buried 12" deep will keep skunks, woodchucks, rabbits, squirrel and foxes out from under. If a skunk is already living under a porch, wait until he leaves at night to forage, then install a 1-way door. SCRAM Wildlife service is a non-lethal company contracted with the City of Dublin to assist us with sick and injured wildlife on public land, but they can also be contacted for tips or contract work to humanely and permanently solve "nuisance" situations, repair holes and install barriers and 1-way doors. Visit SCRAMwildlife.org.
We can also gently haze skunks…skunks get a little nervous about predator activity near a den and often will move…placing human-scented items like old sneakers or a sweaty t-shirt, or a towel that your dog sleeps on, disturbing the soil or placing used kitty litter in the entrance, can get a skunk to move. You may have to persist with these tactics for 4-5 days. Once you think the animal has left, stuff newspapers in the entry holes. If nothing moves the papers out for 3 days, you can be sure the animal has abandoned the den and you can safely close it off.
What about skunks you see in broad daylight?
In July and August, mother skunks will take their broods out during the day to forage. Sometimes they do this because they are hungry and sometimes they do this to avoid predators. Their main predators are cars, coyotes and great-horned owls. Two of those 3 threats are not very active during the day. Like most urban small mammals, skunks have figured out human activity during the day keeps the predators at bay.
Don't be alarmed by skunks waddling about in daylight unless the skunk:
Appears to be confused
Doesn't move away if you start to approach
Has unkempt fur or its tail is dragging
Is staggering and unsteady in its gait
Is biting at the ground or other objects in its path
These are signs of a sick skunk. If you see one, call the Dublin non-emergency police line at 614.889.1112 and they will arrange with SCRAM for the animal to be picked up and taken to the Ohio Wildlife Center for evaluation and treatment.
DeSkunking Formulas for Pets and Home
Salk conquered polio. Einstein unraveled relativity. And Krebaum? In the early 90's, Lisle chemist Paul Krebaum decided the way to combat the thiols in skunk musk, since it doesn't wash out, was to change it to a chemical that did not smell bad. The peroxide/baking soda mixture works best because it is an oxidizer. The solution adds oxygen atoms to the sulfur, taking away its ability to smell awful.
As you probably know washing that dog, skunk spray does not wash off. In fact, water intensifies the odor! But what we can do is change its chemical makeup so it can't smell bad. We can do this with deskunking shampoos or homemade peroxide mixes that add oxygen molecules to the sulfur, rendering it neutral.
Best Deskunking Products for Pets:"Skunk-Off" or similar shampoo
Homemade DeSkunking Shampoo:
Wash with 2 T Dawn dish soap (dawn is best because it cuts through oils in the musk that the thiols stick to) with 4 C of hydrogen peroxide and ¼ C baking soda. Use immediately. Do not try to store. Be aware that peroxide can lighten the coat on black or dark dogs. For black dogs, dilute 2 C of peroxide with 2 C water. May not cut out all the odor but less risk of color affect. May need to shampoo 2-3 times.
Rinse with 1 C of citrus Listerine diluted with 2 C of water. For spots on the face/around eyes that you can't shampoo, use regular, original formula Crest toothpaste and rub paste onto smelly areas of fur and skin. Like a mask, this will dry and flake off or can be brushed off the next day.
Reapply as needed for 2-3 days until smell is denatured. DO NOT GET ANY TREATMENT IN EYES OR NOSE.
For quick and immediate deodorization, wet dog down with 4-8 cups of peroxide (dilute with some water if worried about lightening coat color on a dark dog) and rub in 1-2 cups of baking soda.
For wood or concrete surfaces:
1 C bleach to 1 gallon of water and rinse/wash
For clothing:
Use the deskunking formula IN the washing machine only (do not apply directly to clothing) OR use bleach in wash cycle for items that can handle bleach.
Time and resurgence:
Volatile chemicals like thiols will simply disperse over time. Thiols become activated in the presence of water, so a dog or clothing that got skunked, may have some residual odor any time they get wet or in high humidity conditions.
Barbara Ray | Nature Education Coordinator | City of Dublin
614.410.4730 | bray@dublin.oh.us