Progress update:
South High Street remains open to southbound and northbound traffic. There should be limited interruptions to on-street parking during normal work hours as crews finalize the streetscape between 7 a.m. and 4 p.m.
Southbound South High Street may experience temporary parking spaces closures 7 a.m. to 4 p.m.
Stonewall caps and street signage are currently being manufactured and will be installed once received.
The following work will take place in the spring:
Landscaping around the new stone walls including plantings and mulch
Pavement repairs along the west side of South High Street will be completed in the near future
Project History:
Crews will begin mobilizing to begin construction on the South High Street Streetscape Enhancement Project. August 11, the southbound lane of South High Street from West Bridge Street/S.R. 161 to John Wright Lane will be closed. This will include the on-street parking spaces on the west side of the road and intermittent sidewalk closures.
Northbound traffic will remain open! Southbound traffic will be routed west to Frantz Road, then south to Rings Road, and east back to South High Street. The lane closure is expected to remain during the duration of the project, which is anticipated to be completed in early November (weather depending). Work hours are 7 a.m. – 7 p.m., but the lane closure will be in effect 24/7 for the duration of the project.
Access to side streets and City parking lots will remain open from South High Street.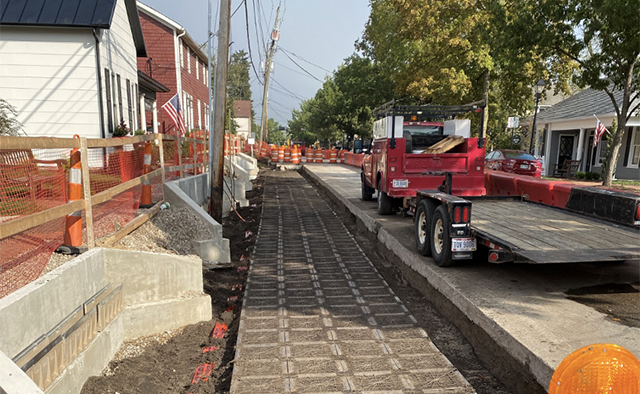 During non-work hours, construction barrels and signage will be placed along the work zone for safety while northbound traffic continues to travel through the work zone. Schedules are subject to change due to weather or other unforeseen circumstances. Should the project extend beyond November 24, a City representative will deliver another notification to your residence or business.
The project will include excavating parking spaces along west side of South High Street to John Wright Lane and installing a Suspended Pavement System, which will provide the proper soil and rooting for the new street trees that will be installed. 30 inch-high single and double well, stone retaining walls will be installed between the existing sidewalk and street to accommodate the new trees which also includes slot drains to ensure the sidewalk will drain behind the short walls. The project will repave the width of South High Street from West Bridge Street south to beyond John Wright Lane 0.07 miles, as defined by Dublin's Engineering Division's repaving program.
We will make every effort to reduce the amount of inconvenience to you, and we thank you for your cooperation during these necessary and important infrastructure improvements.
Should you have questions, please contact Shawn Krawetzki, Landscape Architect Manager, at 614.410.4707 or skrawetzki@dublin.oh.us or Brian Gable, Deputy Director of Engineering, at 614.410.4641 or bgable@dublin.oh.us.