Request for Proposals
The City of Dublin, Ohio, is issuing two Requests for Proposals (RFPs) for workforce shuttle and senior/disabled/local transportation services. The Dublin City Council has identified the need to provide more transportation options for residents and businesses as the City grows and becomes more diverse. Both RFPs have two components: the first is outreach to the target rider groups; the second is providing the transportation services. Respondents are encouraged to team where appropriate to ensure they can provide all of the required components. Proposals are due by 4 p.m. September 28. Questions may be emailed to jshelly@dublin.oh.us no later than September 21 and all responses will be shared.
Purpose
The purpose of this study, as commissioned by City Council, is to provide our increasingly diverse community access to a range of transportation options, which will connect more people to more places.
The Mobility has three phases:
Phase 1. Engage, Study & Recommend
Phase 2. Analyze, Review, Engage & Advise
Phase 3. Design & Implement
Currently, the majority of residents and employees rely on personal vehicles for their mobility needs. Phase 2 of this study will identify specific transportation options and provide City Council with a recommendation for short and long term transportation services to improve the mobility and connectivity for Dublin residents, our business community and visitors.
Mobility Goals
Identify and analyze circulator options; and identify implementation options.
Develop a Dublin specific Complete Street policy
Engage a Technical Advisory Committee from our residential and business communities to review, evaluate, and advise.
Provide City Council with Complete Streets policy for adoption.
Provide City Council with recommendations for a circulator implementation strategy that will provide connectivity and accessibility for residents, employers, employees, and visitors.
Objectives
Support economic development: Keep Dublin competitive as a global choice city to live, work and do business.
Promote equitable access to mobility: Americans with Disabilities Act (ADA), improve access to jobs, aging in place, safe routes to schools etc.
Expand multimodal options: Provide safe and effective walking, cycling and multi-person options in more places.
Improve public health: Reduce emissions, increase walking and cycling, and reduce social isolation.
Preserve our environs by focusing future growth: Focus new growth in walkable, mixed-use centers, which will preserve low-density lifestyles and protect the natural environment.

Engagement
Community stakeholders are the central focus of the process. In addition to our workshop and online surveys, we are holding one hour Focus Forums. We are asking members of our business community and neighborhoods to contact us if they would like to hold a forum with a group of friends, neighbors, colleagues or students.
Interested in a workshop or focus forum? Contact Joanne L. Shelly, Urban Designer for the City can be contacted with any questions at jshelly@dublin.oh.us or 614.410.4677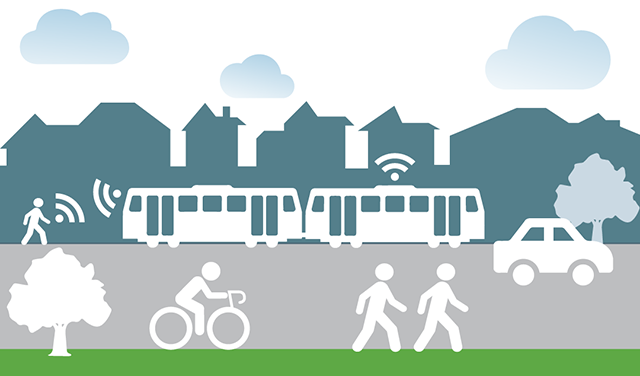 What is Mobility
Mobility vs. Transportation
Transportation is moving people and goods from Point A to Point B.  Mobility is about quality of life, updating land use policies, complete streets policies, healthy communities, and economic development. Mobility solutions means providing alternatives so people have choices and can safely and conveniently access their home, their places of work and nearby amenities.
More people have more opportunities to go more places
Multimodal transportation is access to a range of mode options for traveling between locations and destinations.  Use of multimodal transportation reduces personal (financial) commitment to private vehicles, providing equitable transportation.   Multimodal transportation options typically include:
Mass transit (trains, streetcars, circulators or buses)
Personal vehicles (taxi, car service, car share, car pool or single occupant)
Bicycles (motorized bikes, electric bikes, bike share, personal bike)
Walking.
Placemaking is the creation of inspiring and quality public places that promote community health, well-being, and aesthetics. Placemaking is not just about amenities, banners and furniture; it is about highlighting the essence of what makes a place unique and genuine. Placemaking strives to understand the context and draw inspiration from the community to provide solutions that are authentic and 'of the place.'
Walkability
Physically accessible places within close proximity to each other.  Sidewalks, crosswalks, benches and tree canopy, closely located destinations and a visually interesting built environment help make a community a great place for people of all ages to walk.  A street that's safer for an older adult to cross is also safer for a child, a parent pushing a stroller a bicyclist and a jogger according to AARP Livable Communities.
Multimodal transportation supports walkability by making places accessible to those that are mobility challenged by reducing travel times and obstacles.  Multi-person transportation options reduce the number of single occupancy, personal vehicles on the road and improves the walking experience.
Mobility Hub
A mobility hub serves as a local transportation center for trip destinations and transfer points between mode types.  Users arrive at the hub using one form of transportation transfer to a different mode to continue.  It is typically a connection between the point of origin using a local mode, such as a personal vehicle and a further destination in a multi-person vehicle.
Sustainable Communities
Sustainable Communities focus on environmental and economic sustainability, and culturally inclusive societies, this is referred to as a Triple Bottom Line.
Environmental Sustainability
Environmental Sustainability is protecting and repairing the natural environment and implementing responsible resource consumption.  The use of multi-person and non-motorized transportation modes helps reduce the negative impacts of travel on the environment.
Sustainable Economic Development
Sustainable Economic Development meets the needs of the present without compromising the ability of future generations to meet their own needs.  Developing alternative transportation options builds on the existing excellent street and path network, providing additional choices for future needs.
Our cultural identity and sense of place are established through heritage, shared spaces and public art.  Multi-modal transportation options provide equitable access to these public spaces, employment districts, educational facilities and food sources for all genders, races and ages.
Density:
How is it measured and why does it matter?
Dwelling unit density
Dwelling unit density is the preferred measurement when planning a community, as it provides a better understanding of the number of people to the amount of area they occupy.  High dwelling unit density requires less space per person where as low dwelling unit density requires more space.  Higher densities result in a lower cost per person for transportation infrastructure. Conversely lower densities result in a higher cost per person for infrastructure and maintenance.
Population Density
Population Density is the number of people per a unit of land, typically used by the Federal Government for Census data, or schools for funding allocation.
Dwelling Unit Density
Dwelling Unit Density is the number of dwelling units per unit of land, typically used for master planning to access traffic and other development impacts.
Building Density
Building Density (FAR : Floor Area Ratio) is the area of a building compared to the area of land it covers, typically used by local government to control buildable area on a particular site. Typically applied to commercial properties.
Aging in Place
The U.S. Centers for Disease Control and Prevention defines aging in place as "the ability to live in one's own home and community safely, independently, and comfortably, regardless of age, income, or ability level.  This includes access to goods and services (or other support) they might need over time as their needs change.
Safe Routes to School
Safe Routes to School empowers communities to make walking and bicycling to school a safe, convenient and routine activity, decreasing traffic and associated pollution and increasing the health of children.  http://www.saferoutesinfo.org
Equity & Equality:
Equity is providing services based on need; Equality is providing everyone the same service.
ADA
The Americans with Disabilities Act (ADA) of 1990, prohibits discrimination and guarantees that people with disabilities have the same opportunities as everyone else to participate in the mainstream of American life — to enjoy employment opportunities, to purchase goods and services, and to participate in State and local government programs and services.
Reports & Surveys
Complete Streets
Complete Streets are roadways designed to safely and comfortably accommodate all users, including, but not limited to motorists, cyclists, pedestrians, transit and school bus riders, delivery and service personnel, freight haulers, and emergency responders. Read more
Questions
Contact Joanne L. Shelly, Urban Designer for the City can be contacted with any questions at jshelly@dublin.oh.us or 614.410.4677