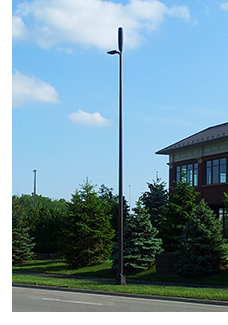 The City of Dublin is required to adopt local regulations and design guidelines for the permitting of small cell facilities and wireless support structures within the public right-of-way. These regulations are mandated under Ohio Revised Code provisions originally adopted in 2017 (SB331) and amended in 2018 (HB478).
Under state law, municipalities are required to permit these facilities to be installed and maintained by one of the four major cellular phone service carriers (AT+T, Sprint, T-Mobile and Verizon). State law allows municipalities to establish design guidelines that ensure the installation of these facilities has minimal impact on local communities.
The code mandated by HB 478 and the design guidelines do not affect macro facilities (cell towers) or installations of macro or micro facilities on private property, which continue to be governed by the separate sections of Chapter 99 Wireless Communications Facilities, which are already in effect.
Two work products are to be considered by City Council. The first are the regulations, which serve as an amendment to Chapter 99 Wireless Communications Facilities, and the second are the design guidelines themselves. Based on the current schedule, the code amendment is scheduled for first reading on June 11, 2018 and the second reading on June 25, 2018.
Final Materials – July 5, 2018
Cover Memo Amended 41-18 | Small Cell Design Guidelines – FINAL | Small Cell Code – FINAL
Additional information regarding this meeting is available on the zoning application webpage listed here: Case 18-017 – Small Cell Wireless Facilities Code Amendment.
Once adopted, permitting for small cell towers will be managed by the Department of Public Works with support from the Division of Planning. For further information:
Please contact Vince Papsidero, FAICP, Director of Planning at vpapsidero@dublin.oh.us or 614.461.4682 with questions regarding the code.
Please contact Tina Wawszkiewicz, Civil Engineer II at twawszkiewicz@dublin.oh.us or 614.460.4636 with questions regarding the location, design, or right-of-way permits.
This is a joint project of the Division of Planning, Department of Public Works, Law Director's Office and Ice Miller.