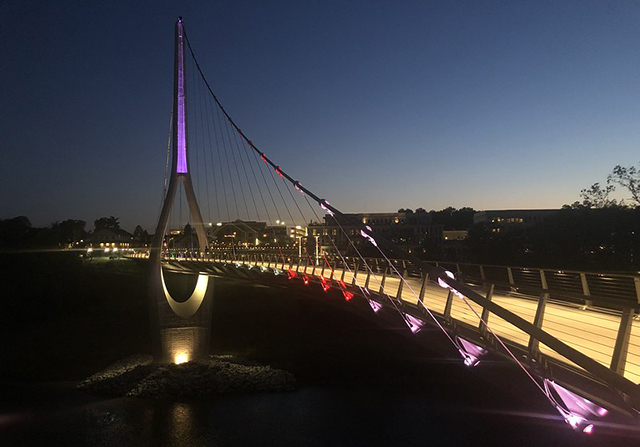 The City of Dublin supports and celebrates initiatives and causes that align with the City's values and vision. By lighting the Dublin Link, the City can visually demonstrate the City's support and promote awareness for various initiatives that impact our community. The following lighting schemes/program will help us celebrate together and build community spirit in Dublin.
The Dublin Link is equipped with a multi-color LED lighting system that illuminates several elements of the bridge including the hanger cables, upper and lower keyhole, and the pylon needle and base.
Use the calendar below to see when The Link will change colors. Share your photos of the illuminated bridge using #TheDublinLink!
2022 Lighting Schedule
| | | |
| --- | --- | --- |
| Dates | Holiday/Event/Cause | Color Scheme |
| Jan. 18 | Martin Luther King Jr. Day | Red, White and Blue |
| Jan. 19-31 | Winter Holidays | White and Blue |
| Feb. 1 | First Day Chinese Lunar New Year | Red and Gold |
| Feb. 12-15 | Valentine's Day | Red and White |
| Feb. 21 | Presidents Day | Red, White and Blue |
| Feb. 26 | National Eating Disorders Awareness Week | Blue and Green |
| March 1-9 | In Support of Ukraine | Blue and Yellow |
| March 10-17 | St. Patrick's Day Celebration | Green and White |
| March 18-April 1 | In Support of Ukraine | Blue and Yellow |
| April 2 | First Night of Ramadan | Green and White |
| April 25 | National Crime Victims Rights Week | Purple |
| April 29-30 | World Wish Day | Blue |
| May 1 | Mental Health Awareness Month | Green |
| May 13 | Celiac Awareness Month | Blue |
| May 14 | National Eosinophil Awareness Week | Magenta |
| May 15-20 | Light Ohio Blue honoring law enforcement | Blue and White |
| May 28-30 | Dublin City Schools High School Graduation | Green and White |
| May 30 | Memorial Day | Red, White and Blue |
| May 31-June 5 | the Memorial Tournament | Green and White |
| June 10-13 | Pride Celebration | Rainbow |
| June 14 | Flag Day | Red, White and Blue |
| June 19-22 | Juneteenth | Red, White and Blue (for the American experience of Juneteenth); and Red, Yellow and Green (to represent the Pan-African flag) |
| July 1-5 | Fourth of July Celebration | Red, White and Blue |
| July 9-10 | Eid al-Adha | Green |
| Aug. 3-6 | Dublin Irish Festival | Green and White |
| Aug. 7 | Purple Heart Day | Purple and White |
| Aug. 12 | Pakistan Independence Day | Green and White |
| Aug. 15 | Indian Independence Day | Orange, White, Green |
| Sept. 2-5 | Labor Day | Red, White and Blue |
| Sept. 10-13 | Patriot Day | Red, White and Blue |
| Sept. 14-17 | National Hispanic Heritage Month | Red, Blue, Yellow and Green |
| Oct. 1 | National Liver Awareness Month | Green |
| Oct. 23-24 | Diwali | Orange and Purple |
| Oct. 27-31 | Halloween | Orange, Purple, White |
| Nov. 10-11 | Veterans Day | Red, White and Blue |
| Nov. 23-25 | Thanksgiving | Orange |
| Nov. 26-Dec. 17 | Winter Holidays | White and Blue |
| Dec. 18-22 | Hanukkah | Blue and White |
| Dec. 23-25 | Christmas | Green, Red and White |
| Dec. 26-Jan. 1 | Kwanzaa | Red, White and Green |
*Schedule is subject to change