Welcome to the City of Dublin's Culture Corner. The City will recognize several holidays and observances at the Dublin Community Recreation Center (DCRC) and on the City's social media channels. The selected holidays and observances are reflective of Dublin's diverse population.
Dublin is a global city. Census estimates (2017 American Community Survey) indicate 18.3% of Dublin residents are of Asian descent, the highest concentration of any Ohio city. Dublin is home to the second largest population of foreign-born residents in the state, with 17.9% of residents born outside the US. The top languages spoken in Dublin include Arabic, Chinese, Gujarati, Hindi, Japanese, Korean, Telugu and Urdu. Dublin City Schools is one of Ohio's most diverse school districts, with students from more than 70 countries speaking more than 60 languages.
The DCRC's Culture Corner is an activity table and bulletin board display celebrating and educating guests about a variety of holidays. Additionally, these holidays are celebrated on the City's social media channels. Additionally, The Dublin Link pedestrian bridge may also be lit as part of the celebrations. View the lighting schedule for more information.
2021 Culture Corner Calendar
Jan. 12: Chinese/Lunar New Year
Jan. 18: Dr. Martin Luther King Jr. Day
February: Black History Month
March 17: St. Patrick's Day
March 28 to 29: Holi
April 12 to May 12: Ramadan
May 5: Golden Week/Children's Day
May 12: Eid al-Fitr
July 7: Tanabata Festival
Aug. 1: Lughnasadh
Aug. 9: Hijri New Year
Aug. 22: Hungry Ghost Festival
Aug. 26: Women's Equality Day
Sept. 6 to 8: Rosh Hashanah
Sept. 15 to 16: Yom Kippur
Oct. 3: Mid-Autumn Festival
Oct. 11: Indigenous Peoples Day
Nov. 4: Diwali
Nov. 28 to Dec. 6: Hanukkah
Dec. 25: Christmas
Dec. 26, 2021 to Jan. 1, 2022: Kwanzaa
Jan. 1, 2022: New Year's Day
Culture Corner Displays
The Tanabata Festival display at the Dublin Community Recreation Center July 2 – 9, 2021.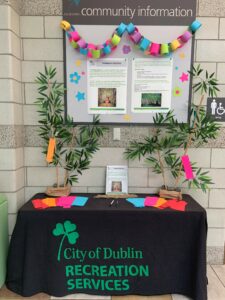 The Mid-Autumn Festival display at the Dublin Community Recreation Center Sept. 19 – Oct. 3. Dublin teens from the Ohio Contemporary Chinese School joined together to share their creativity and information on this special Chinese celebration.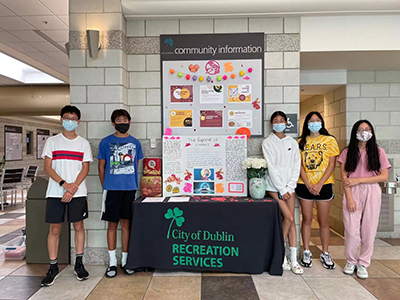 Our goal is to highlight a variety of holidays and cultural traditions to embrace Dublin's diverse demographic and create a sense of awareness and pride for the differences within our community.
Volunteer
Help celebrate Dublin's diversity by teaming up with volunteers and staff to create educational and creative displays highlighting the many cultural holidays celebrated in Dublin. The Culture Corner is on display at the Dublin Community Recreation Center as well as digitally on the City of Dublin social media sites. Email the City's Outreach & Engagement division at volunteer@dublin.oh.us to get involved.