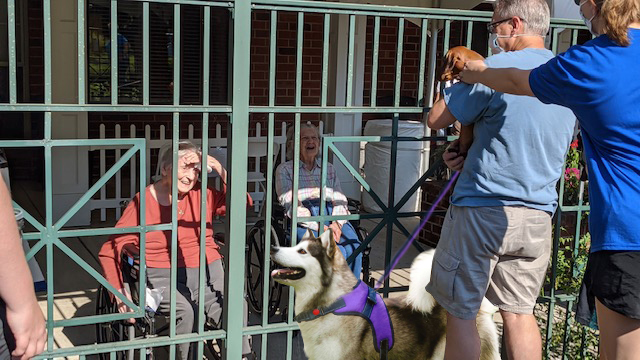 As the COVID-19 pandemic continues, now more than ever the effects of isolation have taken their toll on our seniors. To help combat this isolation and connect neighborhoods with nearby long-term care facilities, we are asking for volunteers to work with the City of Dublin to provide some fun "dog parades" for seniors to view from a safe distance. Dog parades will be organized by one volunteer leader on site for walk-bys, walkabouts, and stop and wave "barky" fun for the residents to watch. Dog Days of Summer Parades will be held on Saturdays in August from 10 to 10:30 a.m. at various senior living facilities.
When: Every Saturday starting August 8, 2020 from 10 to 10:30 a.m.
Where: Locations will be assigned based on the number of participants; however specific details will be sent beforehand.
Regulations:
Volunteers need to be 16 years or older; if 15 years or younger, a parent/guardian must handle dog
If a parent/guardian drives the volunteer to the site, but does not plan to participate, we ask they wait in the car for the volunteer to return.
There will be a maximum of 10 volunteers on site (including the parent/guardian of volunteers younger than 15 years old).
Only ONE dog per volunteer/family.
Volunteers are required to wear masks.
Volunteers are asked to bring waste bags and a water bowl/bottle for their dog.
Distance between volunteers during the parade should be at least 6 feet or more; distance from your dog to other volunteers should be at least 3 feet or more.
Volunteers will take their temperature at home and send in a picture of temperature before arriving on site, along with submitting a release form online.
Only licensed dogs will be allowed* (the license must be sent in via online form).
Dogs must be on a 6-8 foot leash (no Flexi leads or retractable leashes).
The City of Dublin and the long-term care facilities reserve the right to ask a dog to not participate or to leave early if health or behavior is in question.
This is a NON-CONTACT dog parade; Do not pet or physically interact with another volunteer's dog; this applies to both volunteers and facility staff and residents.
The parade will be held only outside; no volunteers or dogs will be allowed into the facilities.
Due to the ever-changing situation, the City of Dublin reserves the right to cancel the event in response to the COVID-19 pandemic.
*Ohio law requires dogs to be licensed in the county of residence and to be under the control of the owner at all times. License renewals are due between December 1–January 20; new licenses must be obtained within 30 days of arrival
in the county or when a puppy reaches the age of three months.
Register
Want to join in on the fun? Please sign up HERE or email volunteer@dublin.oh.us.
Media Contact:
Shirley Blaine Public Information Officer
614.230.4683 – Cell
614.410.4523 – Desk
sblaine@dublin.oh.us