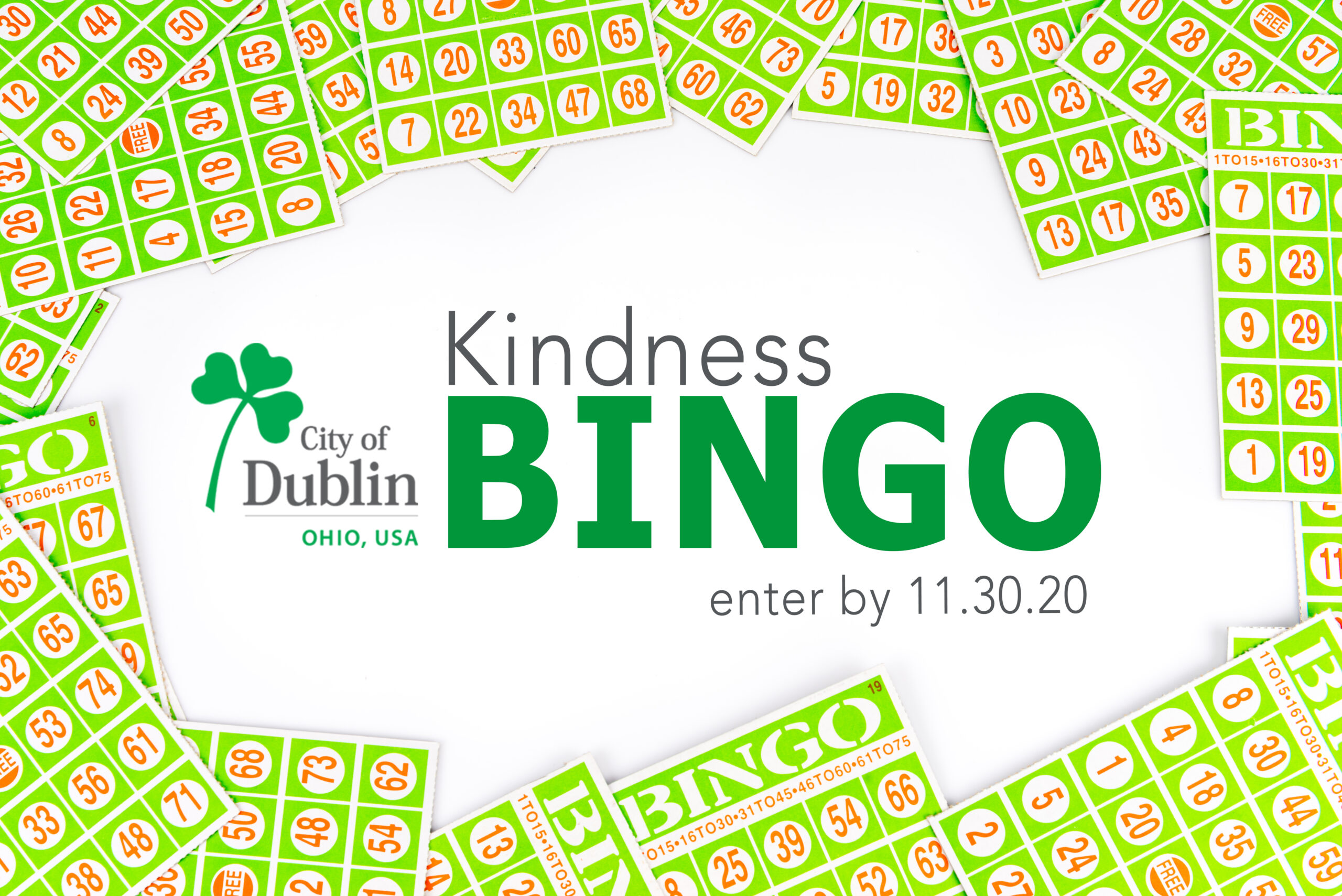 Kindness knows no bounds, and Dubliners have shown plenty of it during the COVID-19 crisis. We've seen and have been so proud of your outreach to neighbors, senior citizens, those experiencing job loss, our front-line workers, and more. Many of you have come forward to ask for ideas and offer your help. So, we've designed KINDNESS BINGO, a fun way to track your kindness measures on a bingo card.
There are three age groups: Kids (ages 5-10), Middle School (ages 11-13) and High School (ages 14-18). By playing a "bingo card" with ideas of caring gestures, participants can inspire kindness and ignite the true spirit of care.
Kindness Bingo players will print off his/her own Bingo Card and complete kind Bingo gestures square by square, offering photo evidence for some of the activities. Space is limited to 100 participants in each age group; the first 25 kind citizens to complete Kindness Bingo will receive gift cards to a local Dublin business.
To receive your BINGO card, register HERE.
Print out your card, put it up on the fridge, and challenge yourselves to complete these acts of kindness this summer!
Rules of Engagement
Good Faith: We're relying on your honesty and true kindness to self-certify that you in fact will have completed the acts of kindness you say you have.
Be Safe: If you reach out to neighbors, senior citizens, nursing homes and more, walk in a park collecting trash, etc., we'll rely on your good sense, parental, neighbor and fellow citizen permission.
Reminders: In mid-July, all registrants will be sent a Kindness Countdown reminder via e-mail.
Photo evidence: At least four (4) photos need to be sent in with each completed Bingo Card of "evidence" of kindness squares on the Bingo Card.
Completion and Recognition: If you complete six (6) of 12 squares on your Bingo card, we'll send you a "Kindness Coin." If you complete all Bingo squares, we'll list your name on our website. The first 25 kind citizens who complete a Bingo card will receive gift cards to local Dublin businesses.
Recap: Be sensible, be honest, remember to be kind, and snap/send those pictures!
Deadline: The deadline for ALL Kindness Bingo cards is Monday, November 30, 2020.
Submit your completed activities and photos online HERE.
Questions? Contact volunteer@dublin.oh.us
We also have an additional opportunity for teens ages 16 and older who want to spread kindness! Teens who are interested in connecting with a local senior citizen who is in need of a friendly phone call or video chat, Forever Dublin wants to hear from you. You can send an email to volunteer@dublin.oh.us with your interest, and our team of citizens will work to match caring teens to those in need!
#
Media Contact:
Shirley Blaine, Public Information Officer
614.230.4683 – Cell
614.410.4523 – Desk
sblaine@dublin.oh.us