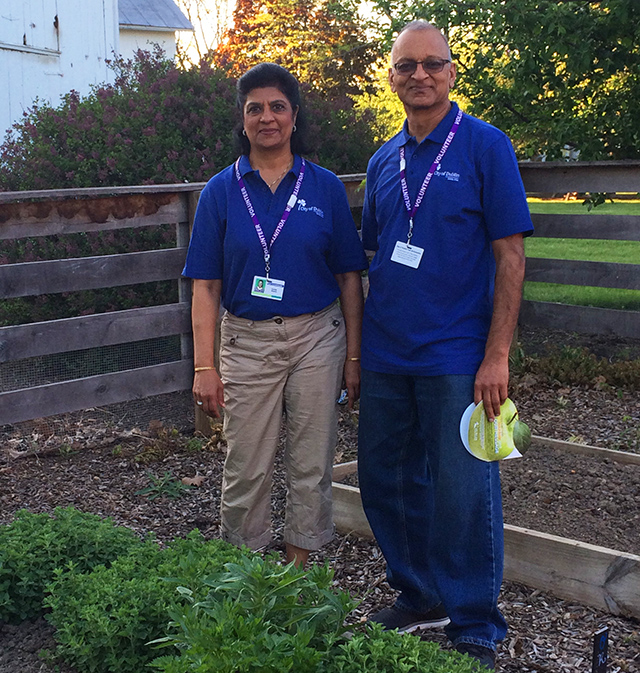 Written by Carolyn Greco, City of Dublin Volunteer
Avid gardeners, Amita and Robbie Biyani moved to Dublin from Kennewick, WA a year ago to be near their son and his family.
"We used to garden with our sons. We wanted to do something we enjoy. We were new in town and gardening gave us the opportunity to meet people—and to give back," said Amita. Robbie added, "We're retired, so we also have the time."
The Biyanis oversee eight raised beds in the Giving Garden behind the Historic Coffman Homestead next to City Hall. Located in a predator-free, fenced in area, the beds have a convenient location and water access. A nearby shed houses gardening tools.
Last year, the Biyanis and other volunteers grew mostly herbs and vegetables: peppers, tomatoes, cucumbers, carrots, lettuce, squash and green beans. The gardeners staggered plants to avoid everything needing to be harvested at the same time. The produce is picked, packaged and delivered to the Dublin Food Pantry.
"We need help planting, weeding, watering, harvesting and delivering," said Amita. "When the temperature rises the beds may need watering two to three times a week. It can be a lot of work."
The Biyani's hard work has certainly been worth the effort.
To volunteer for the Giving Garden, email volunteer@dublin.oh.us.
The Volunteer Spotlight series shines a light on the City of Dublin's valued volunteers. To recommend a deserving volunteer, or to inquire about volunteer opportunities, email volunteer@dublin.oh.us.