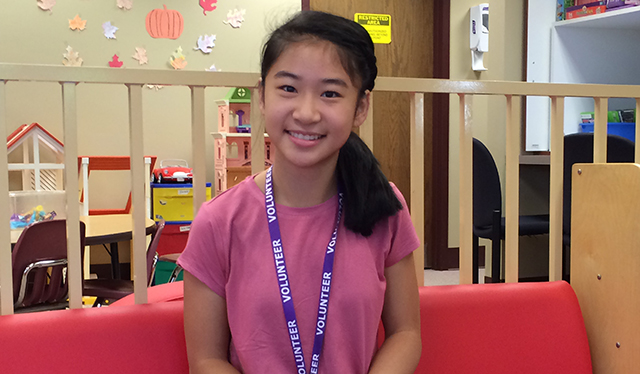 Written by Carolyn Greco, City of Dublin Volunteer
Once a week Coffman 10th grader, Emily Cheng, walks to the rec center after school to volunteer to play with preschoolers.
For the past year the teen has become enamored with the birr and babble of toddlers.
"At two-years-old they kind of talk," she says. "They have a lot of energy. They don't ever stop moving so we both have something to do. As long as they're moving, I'm moving, too!
"I volunteer because I like to work with kids and also to give back to the community. Any age is fun to work with—though I like the two to five year olds best."
The play area is open every day to allow caregivers the opportunity to use the rec center. The children are closely monitored by staff and volunteers. "Kid Paradise" describes the sunny play area with its colorful mix of toys, books, movies, imagination stations and computers.
Late afternoon may see half a dozen children in the secure Wee Folks play room. Emily plays Candy Land, Chutes & Ladders and ball with the preschoolers.
"You don't always see the same children," she says.
The teen has also volunteered at a number of youth activities. Over the summer she assisted elementary-age children to sculpt cups and figures in a ceramics class, to collect and build fairy houses in an outdoor art class and even to assemble dolmades—grape leaves stuffed with rice and meat—in a cooking class.
The cooking class was one of my favorites," Emily says. "We made our own soft pretzels and mango ice cream!
On a picturesque, warm Saturday morning Emily sat at the miniature table choosing a purple bead from a plastic tackle box for six-year-old Vivian who was concentrating on making a necklace for her mom.  Emily obtained another box of lettered beads for the child to choose from.
"I just found my favorite color and the first letter of my name!" said the girl. After a few minutes watching the child, Emily asks if Vivian is finished stringing the necklace and she offers to tie it. "Bet your mom's going to love it she says!"
The Volunteer Spotlight series shines a light on the City of Dublin's valued volunteers. To recommend a deserving volunteer, or to inquire about volunteer opportunities, email volunteer@dublin.oh.us.