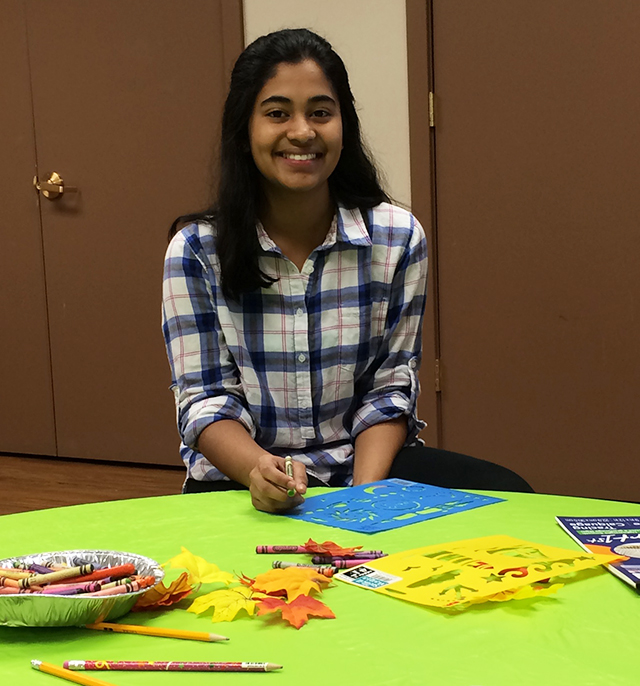 Written by Carolyn Greco, City of Dublin Volunteer
Many teenagers never seem to stop talking or giggling. Sri Adari appears quiet and reserved, but not around toddlers.
At a Super Saturday class, teacher Ms. Brittany along with volunteer assistant Sri guides parents and children with various hands-on autumn themed crafts.
Sri walked around the Kaltenbach Park Community Center encouraging one toddler to trace a sheet of cut out shapes. The boy was intrigued with a rocket; his mom demonstrated how to hold a pencil. At another pint-sized table children enjoyed painting themselves and their paper. When asked, Sri assured one mom that her child's paint-stained t-shirt was washable.
Sri's initial volunteer exposure was to bank the required 20 hours for National Honor Society. As a first year student she held the banner in the Dublin Irish Festival's parade along with her Interact Club.
The Dublin Jerome High School junior then enjoyed helping out at a children's art and cooking class over the summer.
"The cooking class did a twist on junk food," Sri explains. "It was more of a craft class than food. We made hamburgers with crackers and coconut."
"I just really like helping out with the kids," she says amidst the din of squeals and high voices. "It feels good."
Sri explained that she quickly accrued more than her required 20 volunteer hours last year. "It's easy to volunteer because the City sends me email notifications."
There are lots of fun ways to volunteer and the requests are often one-time commitments, so finding something you like instead of just volunteering for school is easy, she explained.
Sri then kneels on the floor and gets back to chatting with a three-year-old who's crayoning.
The Volunteer Spotlight series shines a light on the City of Dublin's valued volunteers. To recommend a deserving volunteer, or to inquire about volunteer opportunities, email volunteer@dublin.oh.us.