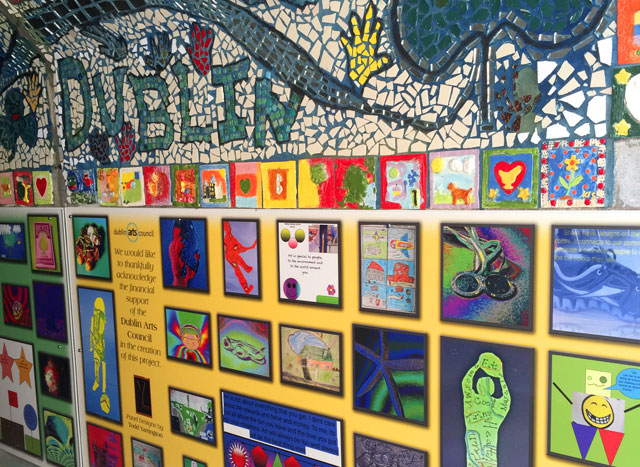 Members of the community are invited to contribute to an ongoing art installation in the bike tunnel at Emerald Parkway and Dublin Road.
Volunteers are needed to re-grout existing tiles Thursday, May 18, 6-8pm; and to place pre-cut mosaic tiles Saturday, May 20, 10am-12pm.
To register, email volunteer@dublin.oh.us
The art installation, made possible thanks to a grant from Dublin Arts Council, represents the diversity, creativity and community spirit of Dublin. Sharon Buda, Lead Visual Arts Teacher for Dublin City Schools has overseen the project since its inception in 2015.
The tiles currently being installed were created by the hands of community members ranging in age from two to 92 at the inaugural BREAD (Bake, Reconnect, Educate, Artmaking, Diversity) event in October, a festival of arts, culture and community organized by the Dublin Arts Council.
Students and families from local schools have also created tiles representing a variety of designs and techniques. The diversity of the Dublin community has been the theme for this section of the tunnel mosaic.
The project coincides with Dublin's Bike Month, a month of bicycling education and encouragement. Volunteers are encouraged to bike to the event.