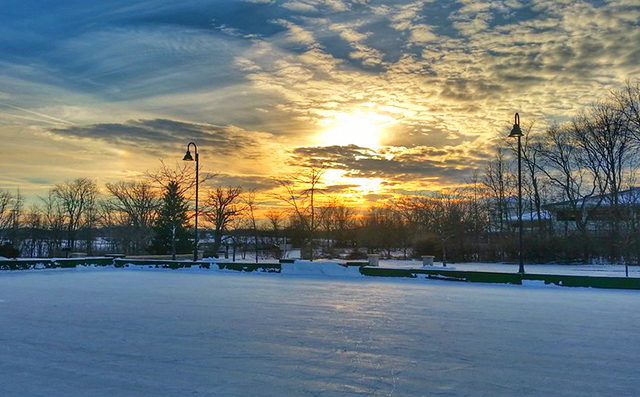 There's "snow" much fun in Dublin! We've gathered a list of fun things you can do around Dublin this winter.
Snowman Building Fun
Date: Ongoing
Do you want to build a snowman? When the ground is covered in fluffy white snow, head outside and create your very own Frosty the Snowman!
Snap a photo and submit it using the form below, and it might be featured on the City's Facebook and Instagram. Be sure to check back on this page, as we plan to suggest themes to change up your typical snowman building routine.
Feel free to leave us a comment about all the fun you had creating your snowman and let us know if he or she has a name!
Sledding
Date: Ongoing
Let it snow, let it snow, let it snow! Weather permitting, Dublin's sledding hill is available from 7:30 a.m. to dusk at Scioto Park, 7377 Riverside Drive. Safety regulations, including COVID-19-related protocols, are posted at the park and restrooms are available. Parents should supervise small children and adults are encouraged to hop on a sled and enjoy the ride themselves! Find out if the sledding hill is open.
Ice Skating
Date: Ongoing
Baby, it's cold outside! When temperatures dip below freezing for several days in a row, the City opens the ice-skating rink at Coffman Park, 5200 Emerald Parkway. Find out if the ice rink is open.
Winter Biking
Date: Ongoing
As weather permits, Dublin Bicycle Ambassadors will continue to be out on paths and roadways advocating for safe winter biking, monitoring safety and reporting maintenance issues. Check out the Bike Map and Parks Guide.
POG Goes Virtual!
Dates: Jan. 15, Feb. 2 and Feb. 26
In lieu of our traditional Preschool Open Gym, we will be shifting our program to a virtual format this winter! The POG Goes Virtual program will be a physical box filled various activities for you and your child to do together, while in the comfort and safety of your own home. Activities include age appropriate arts and crafts and activity packets. Along with your box of fun activities, you will be provided with a Zoom link to access an online classroom, where you will be provided live step-by-step instructions on how to complete your activities.Sign Up
Get Fit with the DCRC!
Date: Ongoing
Do you have a New Year's Resolution to Get Fit? Let DCRC help you succeed! Check out all the fitness offerings and sign up today.
St. Patrick's Day Parade
Date: March 13, 2021 from 11 a.m. to 1 p.m.
On Saturday, March 13, 2021, the City of Dublin will proudly present the annual St. Patrick's Day Parade. For the health and safety of all involved, the 2021 Greenest Grandest Parade will be a reverse parade held at Darree Fields from 11 a.m. to 1 p.m.
Learn more about the reverse parade.
Our Senior Neighbors
Date: Ongoing
Our residents in senior living facilities need to feel a part of their neighborhood and entire community, now during the COVID-19 pandemic more than ever.
Introducing "Our Senior Neighbors," a neighborhood matching effort to inspire residential neighborhoods to embrace a nearby senior living facility. Learn more.