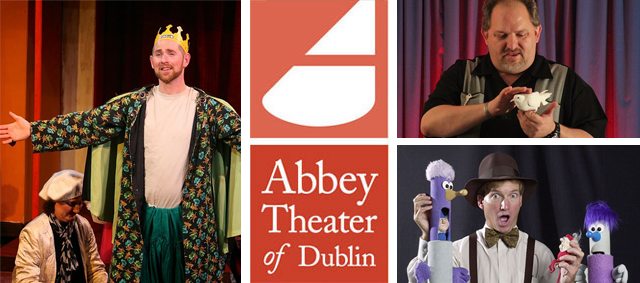 Located in the Dublin Community Recreation Center, the Abbey Theater of Dublin offers quality programs at community prices, providing outstanding entertainment variety in an intimate setting. Support the arts in your community.
Tickets are available at the door or in advance at the Dublin Community Recreation Center or by calling 614.410.4550. Checks, cash and major credit cards are accepted.
Address:
5600 Post Road | Dublin, OH 43017
Click here for rental information
Get in on the Act!
The Abbey Theater is pleased to announce three new performing opportunities for all ages: The Children's Drama Company, for ages 7-11; Park Playhouse, for ages 12-17; and The Abbey Players, for ages 18 and older. If you would to act, direct, write plays, make costumes, build sets or operate lights and sound, please contact Theater Supervisor Michael Schirtzinger at 614.410.4554 or mschirtzinger@dublin.oh.us.
Toddler Theater
Wednesdays: March 6, April 17 | 10 am

Performer Marlene Metz plays children's music and is joined by a special costumed character. Enjoy a wonderful, interactive performance designed especially for young ones. Parents are encouraged to bring cameras.
Recommended: Recommended for ages two and up
Tickets: $2 per child – Available at the door
March
Is There a Doctor in the House?
Friday, March 22 | 1:30 p.m.
Saturday, March 23 | 3 p.m.
Sunday, March 24 | 3 p.m.

Join us for a wacky courtroom comedy that asks the question: is there really a fountain of youth?
Tickets: FREE