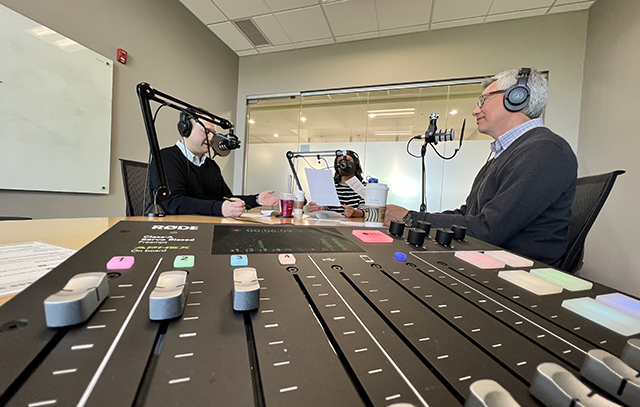 Dublin's mobility plans deliver 'concierge service' and Bird scooters!
The City of Dublin continues to bolster transportation options for all of its residents while reducing its environmental footprint at the same time.  Join this episode of Link Ahead with the city's Transportation and Mobility Planner, J.M. Rayburn. He tells Lindsay and Bruce when Bird scooters will be here, he explains the 'mobility boulevard',  more Dublin Connector services and even reveals the family name behind his initials.
He's Dublin's triple threat and dynamic leader of the Abbey Theater
He acts, sings and directs, but Dublin's Joe Bishara is much more than a triple threat. The talented Theater Supervisor is redefining The Abbey Theater of Dublin and making it a regional entertainment destination. After winning 12 Broadway World Columbus Awards for the Abbey's outstanding 2021 season, Joe shares why this season may be the best yet!
Meet the man who plans your summer, removes your snow and keeps Dublin green
In this inaugural episode of Link Ahead: the City of Dublin Podcast, Lindsay and Bruce talk to Robert Ranc, the City's Deputy City Manager/Chief Operating Officer who is in charge of everything from curb to curb snow removal to Dublin's world-class events to the City's popular pickelball courts. Find out what brought him to Dublin from the Lonestar State in 2021, what keeps him up at night and how he's making Dublin even greener.
The City of Dublin, Ohio is home to nearly 50,000 residents and more than 4,000 businesses that are at the forefront of technological innovations and advancements. Our City is full of energetic problem-solvers who make a difference, providing a broad source of expertise and talent. Join Dublin City staff as we connect conversations between our residents, workforce and inclusive community. Together we will link our commonalties and shared experiences, highlighting Dublin programs and services that support us all.
Join Dublin's Director of Communications and Public Information, Lindsay Weisenauer, and Bruce Edwards, Dublin's Digital & Brand Manager, as they introduce you to City employees and the inner workings of your Dublin government. Whether you're listening at work or in the car, you're bound to learn something new about Dublin and the staff working hard to support the best small city in Ohio.