Parking Garage Grand Opening
The public parking garage is scheduled to open Friday, April 12, 2019.
A ribbon cutting and public grand opening event is planned for 4 p.m.
Attendees may park in the new garage by using the entrance off of North Street. There will be "Event Parking" signs.
The ribbon cutting will take place near the garage entrance off of North Franklin Street. There will be signs directing attendees to the event.
The garage will add 550 spaces, with 200 of those designated for library patrons during operating hours and otherwise available to the general public. This will significantly improve parking options, making it more convenient for people to visit our Historic District businesses and other downtown Dublin destinations.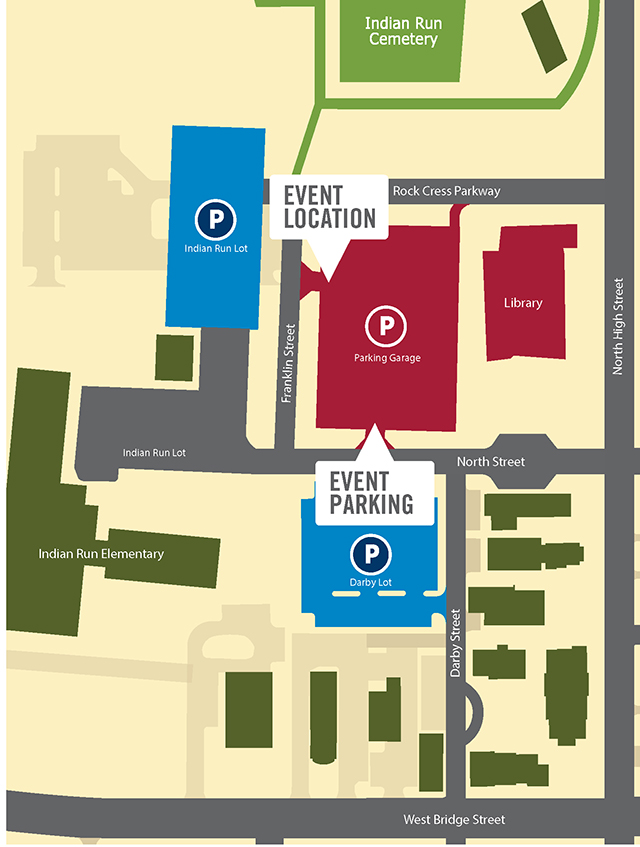 Tentative Timeline
Winter – Spring 2019
Construction activity includes:

North High Street crosswalk installation
Parking garage construction (grand opening – April 12, 2019)
Library construction (grand opening – June 6)

Paving will take place on North Street and North Franklin Street in March. Two-way, one-lane traffic will be maintained.
Rock Cress Parkway will be open except for brief lane restrictions when necessary.
*Timeline is subject to change (Updated 3.29.19)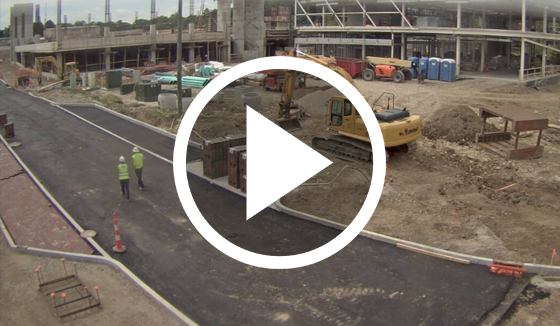 Live Camera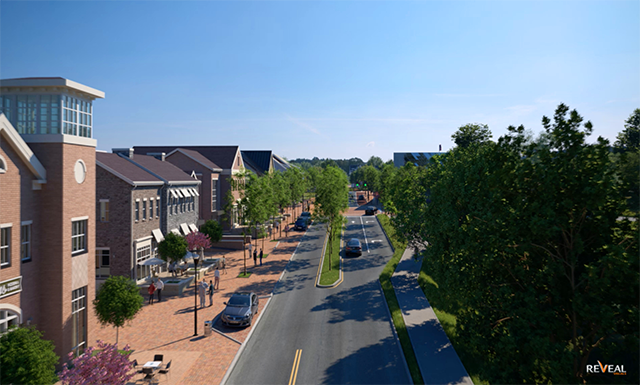 Improvements Completed in 2017
Relocation and replacement of a substandard waterline that services more than half of Dublin's population
Construction of infrastructure for the relocation of overhead utilities underground to improve reliability and aesthetics
Addition of fiber to enhance capabilities for local businesses and promote economic development
Addition of parking to the area to accommodate future development, including the planned library expansion and renovation
New sidewalk on east side of North High Street connecting the Historic District to the future riverfront park
Replacement of recreation path on west side of North High Street
Aesthetic improvements, including landscaped median, street trees, grates and lighting featuring Historic District character
Granite curb and Historic District standard brick paver sidewalk
Addition of dedicated bicycle lane as part of a future cycle track through the Bridge Street District
Complete – In 2016, a retaining wall was built on the east side of North High Street in preparation for the widening project and other improvements.
Open for Business

Oscar's

Boho 72

Funky Sissors
Presentations


VIDEO: North High Street Widening & Downtown Improvements Presentation 12-5-16
VISUALS: North High Street Widening & Improvements | Scioto River Pedestrian/Bicycle Bridge