What is the Registration Process?
Online contractor registration is currently unavailable while the system is being upgraded.
As prescribed by Chapter 150.140-150.146 of the codified ordinances of the City of Dublin, building trade contractors and subcontractors are required to obtain a Contractor's Registration prior to commencing work in the City. The following contractors do not need to register: Masonry, structural, carpentry, insulation, roofing, drywall, painting, and flooring.
The Contract's Certificate of Liability Insurance demonstrating a minimum combined bodily and property damage coverage in the amount of $300,000.00 and showing the City of Dublin 5800 Shier Rings Road Dublin, OH 43016, as a certificate holder shall be submitted with the application and maintained in full force and effect. A copy of any policy changes, including renewal, shall be forwarded to Building Standards throughout the term of the Registration.
A copy of the current qualification certificate issued by the State of Ohio shall be submitted with this application if such a certificate is required to perform work in said trade (i.e. Electrical, HVAC, Fire Protection, Plumbing, etc.)
The Certificate of Liability Insurance and any qualification Certificates must be kept current for the registration to remain valid.
No bond is required to register as a Dublin Contractor.
Fee Amount: $65.00 expires December 31 of each year.
Once a liability certificate and qualification certificate is received by the City of Dublin, then registration can be applied for over-the-counter. Your Contractor Registration must remain active until the time that the projects in which you have participated receive an Occupancy Certificate.
All registrations expire December 31 of the year issued and must be renewed if projects continue into the New Year. The undersigned agrees to comply with all applicable building codes and the Codified Ordinances of the City of Dublin.
Which Contractors Must Register?
General Contractors (including decks, basements, home builders, remodel/home improvement, swimming pools, and fences)
Excavators
Mechanicals (including electric, HVAC, fire-protection, plumbing)
Concrete
Landscaping
Contractors which are exempt from Registration: (Not required to register in Dublin)
Carpentry
Structural (framing)
Masonry
Insulation
Roofing
Drywall
Siding
Painting
Contractor Registration Form
What is a Liability Certificate Form?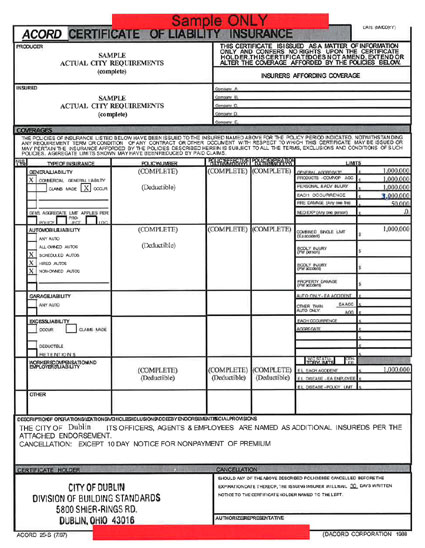 What is a State Certificate Form?
(i.e. Electrical, HVAC, Fire Protection, Plumbing, Hydraulics.)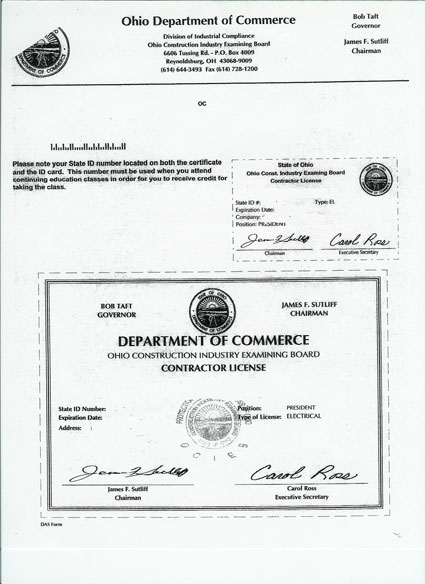 What is the fee Amount?
$65.00 Registration Fee. Registration fee will expire December 31 of each year.