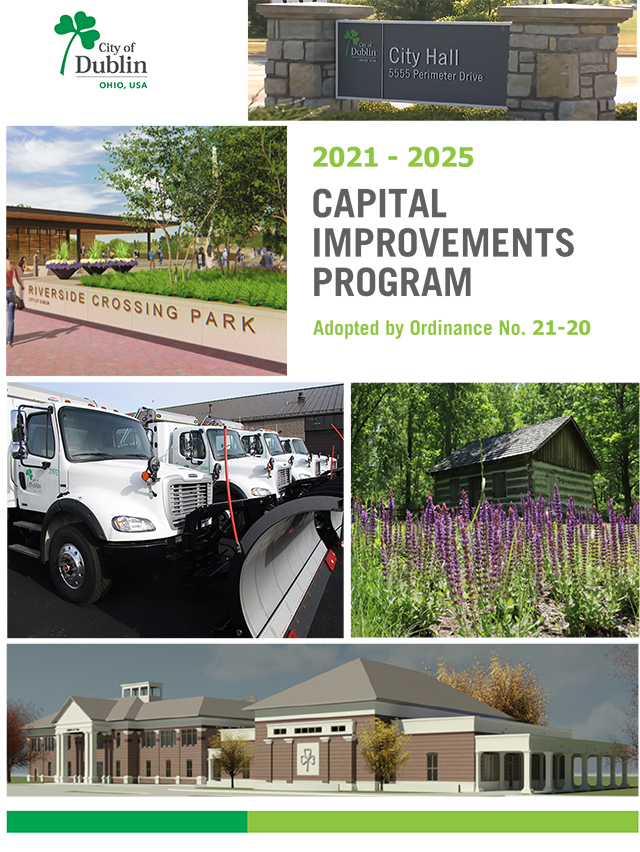 (Dublin, OH) Dublin City Council adopted the 2021-2025 Five-Year Capital Improvements Program (CIP) at their meeting Monday, September 28, 2020.
"The 2021-2025 CIP fully funds the maintenance of the City's current infrastructure and includes funding for new projects that will grow our economy, protect our environment and provide additional recreational opportunities," said Matthew Stiffler, Director of Finance.
The five-year program is updated annually.
View the 2021-2025 Capital Improvement Program
Total Estimated Project Costs: $237,600,000 over five years
Projects by Type:
Capital Maintenance: $81,580,000
Capital Enhancements/New Infrastructure & Assets: $154,020,000
Notable Projects:
Riverside Crossing Park– $5.8M (2022)
Coffman Park Expansion– $2.2M (2022)
Shier Rings Rd. realignment from Avery Rd. to Eiterman Rd. – $10.2M (2021)
Avery Rd. and Shier Rings Rd. Intersection Improvements – $7.0M (2021)
Franklin St. Extension – $2.6M (2022)
Funding Priorities:
Maintaining existing infrastructure to help maintain property values
Continuing investment in key areas of the City:

Recreation and Park Facilities
Ohio University/West Innovation District
Bridge Street District

Expanding the City's technology industry cluster and aiding job growth by investing in Smart Mobility and Smart City initiatives
About the CIP
The CIP is a five-year outlook for anticipated capital projects and is reviewed and updated annually by the City. These projects are primarily related to improvements in transportation, parks, utilities and facilities. The CIP represents a long-term financial plan, which establishes priorities, identifies project costs and phasing, identifies funding sources, and serves as a planning document for capital improvements. The projects and their timing are reviewed annually by City Council, and adopted by Ordinance. As a planning document, the CIP is a fluid document being revisited many times during the course of the year by City Council, and the City's Administration. Annual revisions to the CIP are based on many considerations, including adjustments in funding sources, construction timing, and the changing needs and priorities of the City.
In developing the Five-Year CIP, several elements are taken into consideration:
City Council goals
Community surveys
Economic development opportunities
Current economic climate
Grant funding opportunities
Commitments made by the City of Dublin
Maintenance and rehabilitation of existing City facilities and infrastructure
Technology improvements
Enhancements within the community
The 2021-2025 CIP was developed in support of the City's Strategic Focus Areas, with emphasis placed on the safety of the public and employees, the City's overall fiscal health, and promoting economic vitality.
Media Contact:
Lindsay Weisenauer
Public Affairs Officer
614.704.9742
lweisenauer@dublin.oh.us
Newsroom: https://dublinohiousa.gov/newsroom/