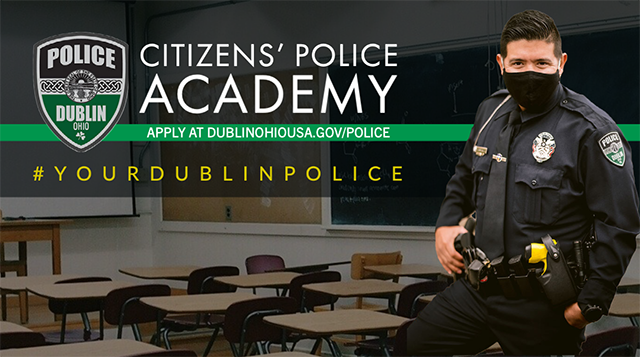 2021 Citizens' Police Academy Accepting Applications
The Dublin Police will host the Citizens' Police Academy on Wednesday evenings, 6:30 to 9:30 p.m. from Aug. 25 to Nov. 10, 2021. COVID-19 safety precautions and state orders will be followed.
This 12-week program gives participants insight into the profession of law enforcement and the operations of the Dublin Police Department. Topics during academy sessions will focus on a wide variety of policing activities, including criminal investigations, dispatching for 911 services, community outreach and engagement, the arrest process, search and seizure, traffic stops and more.
The class is open Dublin residents and non-residents; however, residents are given preference when the class roster is being selected. All applicants must be 18 years or older.
Contact Sergeant Renae Rice with questions 614.410.4809 or email rrice@dublin.oh.us.
2020 Citizens' Police Academy
Due to the COVID-19 pandemic, the 2020 Citizens' Police Academy was canceled out of safety for our residents.
2019 Citizens' Police Academy