2018 Citizens Police Academy
This 12-week program gives participants insight into the profession of law enforcement and the operations of the Dublin Division of Police. Topics during the academy sessions will focus on typical policing activities and include areas such as: arrest process, search and seizure, traffic stops, and a firearms live-shooting experience.
"We want to give residents an inside look into their police department," said Chief Heinz von Eckartsberg. "Our community is very engaged and involved. We want to continue our partnership with the community by providing a chance for them to learn more about law enforcement."
The class is open Dublin residents and non-residents, however residents are given preference when the class roster is being selected. All applicants must be 18 years or older.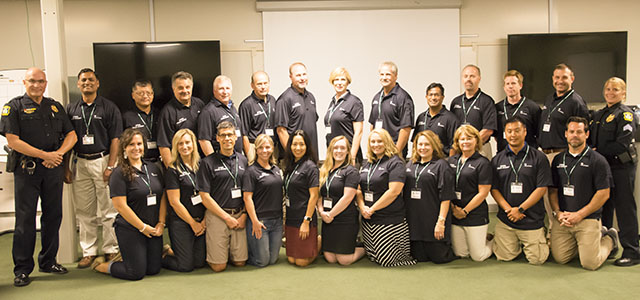 2018 Citizen Police Academy Schedule
Classes run from 6:30-9:30 p.m. on Thursdays at the Dublin Justice Center.
August 23, 30
September 9, 13, 20, 27
October 4, 11, 18, 25
November 1
Graduation November 8
Contact Sgt. Renae Rice with questions 614.410.4809 or email rrice@dublin.oh.us or Sgt. Tim Hosterman 614.410.4805
Now Accepting Applications

Applications for the current year are accepted until May 30.  Applications received after this date will be held for the following year's class.  Notice of acceptance will be made in June.
2018 Citizen Police Academy