Holiday weeks, including the weeks following Christmas, are extra busy at Rumpke's recycling centers. Their recycling centers will see a 20 to 30% increase in the amount of material collected and processed. But remember, not everything St. Nick places under your tree is recyclable. Please take a moment to review our naughty and nice recycling list before tossing an item into your recycling container. And please, break down your cardboard boxes.
Naughty
Ribbons
Tissue paper
Foil wrapping paper
Plastic bags
Plastic packaging
Plastic toys
Ornaments
Christmas lights
Aluminum pie and roasting pans
VHS tapes (when you upgrade to DVDs and Blu-Rays)
Batteries (do not belong in your trash or recycling)
Nice
Wrapping paper (not foil)
Gift boxes
Gift bags (not foil)
Wrapping paper rolls (cardboard)
Cardboard boxes
Christmas cards and envelopes
Newspapers and sales ads
Junk mail
Clean pizza boxes
Paperboard (like cracker boxes)
Plastic bottles and jugs
Glass bottles and jars
Aluminum and steel food and drink cans
Recycle it or Trash it?
For a complete list of what you can recycle in visit:
DublinOhioUSA.gov/services/recycling-collection
Lithium batteries are a fire risk at Rumpke recycling facilities and in Rumpke trucks. They should always be disposed of at a household hazardous waste facility or event. SWACO.org has information on HHW collection.
Recycle your e-waste at the Dublin Service Center, 6555 Shier-Rings Rd:
DublinOhioUSA.gov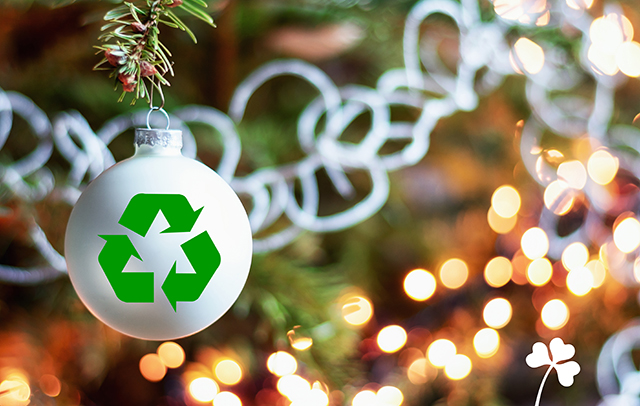 Live Christmas Tree Recycling
The City of Dublin makes it easy for you to get rid of those real trees with our curbside pickup and residential yard waste composting program.
Collection will take place each Monday in January. Please remove all decorations and place Christmas trees at the curb, free of any wrapping or bags, by 7 a.m. on Mondays. Trees should be cut to lengths of no more than 4 feet.
Christmas trees can also be composted at home or used in the backyard in a variety of ways. The branches can be cut and used to cover perennial gardens, acting as extra protection from the cold weather. Trees can also provide wild birds and animals temporary perches or resting sites with extra protection from cold weather.
The City of Dublin is committed to providing its residents with comprehensive recycling and yard waste diversion programs to reduce and recycle our waste stream and increase environmental protection and awareness.
For details of the Christmas tree recycling program or the City's recycling, yard waste diversion and composting programs, call 614.410.4750.