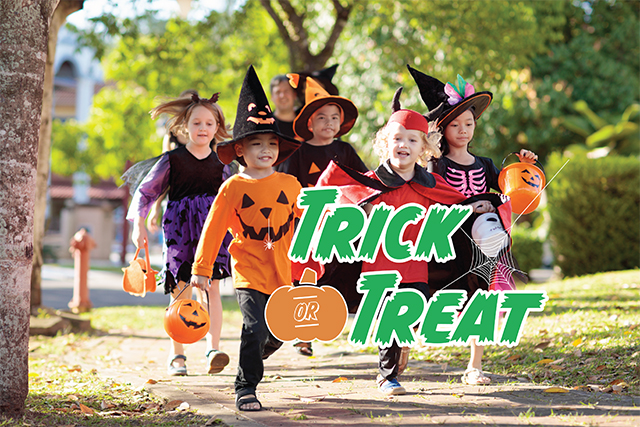 City of Dublin to Hold Trick-or-Treat from 6 to 8 p.m. on Monday, October 31, 2022
The City of Dublin, along with other Central Ohio municipalities, follows the recommended date set by the Mid-Ohio Regional Planning Commission (MORPC). When Halloween, October 31, falls on a Friday, Saturday or Sunday, Trick-or-Treat is held the Thursday prior to Oct. 31.
In the event of inclement weather, which is very common this time of year, the recommended date will not change. Parents/guardians are encouraged to exercise good judgment in allowing children to participate. This year, the pandemic plays another factor in that decision with additional health and safety protocols to keep everyone safe.
The Mid-Ohio Regional Planning Commission (MORPC) is a proponent of pedestrian safety and continues to work with the Central Ohio communities to promote the importance of safety during Trick-or-Treat – rain or shine. The MORPC algorithm was developed to provide the most convenient date for families with safety at the forefront. Friday night football games, Saturday football games and Sunday church services have been noted as well.
Some neighborhoods may choose to plan small Trick-or-Treat activities to maintain safety during the COVID-19 pandemic. Neighborhoods can schedule those on their desired time and day.
Halloween Safety Tips for Kids:
Trick-or-treat with members of your household or with a trusted adult.
Walk, don't run, and stay on sidewalks.
Look both ways before crossing streets and only cross the street at corners.
Wear reflective clothing.
Be sure your costume is not too long. You don't want to trip or fall.
Shoes should fit comfortably (even if they don't match your costume).
Carry only flexible swords, knives and props.
Wear a face covering.
Consider using "face paint" instead of a character mask. If you wear a character mask, be sure you can see out of it clearly.
Be sure your parents always know where you are going to trick-or-treat and stay in familiar neighborhoods.
Do not ride a bicycle. Your costume might get tangled in the wheels.
Keep away from candles and open fires.
Accept treats only outside of a home. Never go into a house.
Visit homes that have the porch light on.
Carry a flashlight.
Be cautious of animals.
Let parents check your treats before you eat them.
Never eat unwrapped candy, opened candy or fruit or homemade treats given to you on Halloween.
Halloween Safety Tips for Parents/Guardians:
Make sure your child eats dinner before setting out.
Children should always carry spare change or a cell phone to call home, if necessary.
When buying costumes, look for flame retardant material.
Halloween Safety Tips for Homeowners:
Keep your yard well-lit if you plan to pass out treats. Turn your lights off if you won't be home to discourage children from approaching your property.
Make sure your yard is clear of such things as ladders, hoses, dog leashes and flower pots that can trip young children.
Battery-powered jack-o'-lantern candles are preferable to using a real flame.
If you do use candles, place the pumpkin well away from trick-or-treaters.
Make sure paper or cloth yard decorations won't be blown into a flaming candle.
Healthy food alternatives for trick-or-treaters include packages of crackers with cheese,, packaged fruit rolls, mini boxes of raisins or microwave popcorn.
For non-food treats try pencils, stickers or plastic toys.
Halloween Safety Tips for Drivers:
Drive slowly, with caution, all evening.
Adult Halloween party-goers should have a designated driver.
#
Media Contact:
Madi Kregel
Public Information Officer
614.917.3080 – Cell
614.410.4509 – Desk
mkregel@dublin.oh.us