2020 Summer Camp Registration
While the Dublin Community Recreation Center (DCRC) remains closed, you can still register online for summer camps beginning Monday, March 30. The City plans to operate its 2020 summer camp program as normal, subject to change based on state recommendations or directives pertaining to the ongoing coronavirus (COVID-19) crisis.
In an effort to accommodate those who may be experiencing a financial burden, the City has decreased the required registration deposit for Wyandot Camp from 50% to 25%. Additionally, a full refund will be issued for any coronavirus-related cancellations. Should camp group sizes become limited, priority will be given in the order in which registration was received.
For questions please call 614.410.4550. The DCRC front desk will be staffed for phone calls on March 30, March 31 and April 2 from 6 a.m. to 5 p.m. For questions outside those dates and times, please leave a message and our staff who are working remotely will get back to you as soon as possible.
Registration Dates
Monday, March 30
6 a.m. Teen Wyandot Next/Adventure Camp/Country Club Teen Camps online registration for Dublin and Dublin City School District residents
Tuesday, March 31
6 a.m. Wyandot/Jr. Kidzone Youth summer camp online registration for all 9 weeks for Dublin and Dublin City School District residents
Thursday, April 2
6 a.m. My First Camp/Discovery Camp/Wyandot Camp weekly registration for Dublin and Dublin City School District resident
Tuesday, April 7
8 a.m. My First Camp/Discovery Camp/ Weekly registration for Dublin, School District residents, and Non-Residents
Coronavirus/COVID-19 FAQs
The City of Dublin is working closely with state and Franklin County health officials to monitor the spread of the virus and to take precautions to guard against further spread.
You may have some questions about Dublin summer camps related to COVID-19, such as:
How will you keep my child safe?
Will camps be limited to smaller group sizes?
What is your communicable disease management plan and procedures?
Will my child be required to have their temperature taken upon arrival?
What are your protocols if a child or staff tests positive for COVID-19?
When will you know if camp is going to take place?
Those are all great questions that we are working on answering through partnering with experts at Franklin County Public Health, Ohio Department of Health, and American Camp Association, the City's camps accrediting agency. Your child's safety is of utmost importance to us and decisions will be made accordingly. As more information becomes available, look for updated communication on our website and via email.
Preschool/Youth Camp Email Communication List
If you are interested in receiving the most up-to-date preschool/youth camp information, contact rkeitz@dublin.oh.us to be added to our email list.
School's Out Camp Information
Limited Registration is still available for our School's Out Camp!
Register Now | Parent Handbook for School's Out/Holiday Camp/Spring Break Camp
2020 Summer Camp Information
Preschool Youth Summer Camp information for the 2020 camp season is now available. Click the links below to read detailed information regarding registration and summer camp policies and procedures. Information will be updated after Saturday, March 7th, following the Summer Camp Fair.
Registration Information Quick List:
Summer Camp Information:
Teen Camps:
Registration for all Teen Camps begin on March 30th for residents and school district residents, and April 7th for non-residents. Please contact the DCRC at 614-410-4550 to create or update your account. All activities and trips are tentative and will be updated when new information is available. All camps are held at Grizzell Middle School with the exception of Country Club Adventure Camp held at Safari Golf Course. Extended Care is available for each camp with the exception of Country Club Adventure Camp for $30 for 20 half hours.
Heath Gorden
Interim Teen Program Supervisor
hgorden@dublin.oh.us
614.410.4557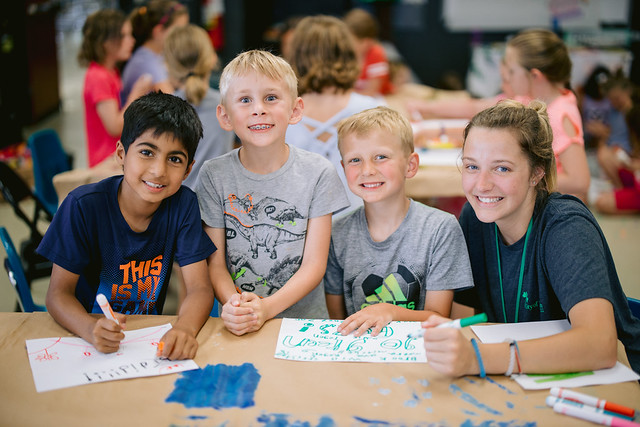 Special Needs Participants
Parks & Recreation Services promotes an inclusive policy for all of our programs. To provide the best overall experience for your child or to carry over IEP/504 accommodations, an appointment must be made for an inquiry of needs. Contact Jodi Shealy, Adaptive Recreation Coordinator, at 614.410.4574. An accommodation plan MUST BE COMPLETED PRIOR TO your child's program or camp registration. This plan is required for each seasonal enrollment.
Questions? Contact the Preschool Youth Team