Current Opportunities:
Community Profile
Dublin, Ohio, USA is a progressive, well-educated and innovative city surrounding the Scioto River in the northwest area of metropolitan Columbus.
Approximately 25 square miles and home to 43,000 people, the City annually hosts Jack Nicklaus' PGA Tour Memorial Tournament at Muirfield Village Golf Club and one of the nation's largest Irish cultural events – the Dublin Irish Festival. In 2014 and 2012, Dublin was recognized as the Most Outstanding Global Festival and Event City in the World by the International Festivals and Events Association.
Dublin also is known as a leader in municipal innovations, including tax increment financing, underground fiber optics, Wi-Fi deployment and green initiatives.
Dublin has long been recognized as a premier community, not only locally, but also internationally. Home to Ohio's largest corporation, Cardinal Health – 21 on the Fortune 500 list, Dublin also is the headquarters of the Wendy's Company, Ashland Inc. and OCLC – the Online Computer Library Center.
Dublin's diverse and sound economic base provides the foundation for the present and future stability of the City. The City's continued economic vitality is the result of quality development, strategic planning and aggressive efforts to attract and retain high-quality commercial development.
All three high schools were named to Newsweek's 2012 list of top high schools in the country. With 25 institutes of higher learning in Central Ohio, including The Ohio State University, the region offers a pipeline to 115,000 college students and 20,000 annual graduates.
Dublin's largest source of funding is income tax revenues, which are allocated 75 percent to the General Fund and 25 percent to the Capital Improvements Program (CIP). Dublin's healthy tax base provides the resources necessary to keep pace with the city's growth and underwrite the high quality of life enjoyed by Dublin's corporate and residential citizens.
The CIP establishes a fiscally sound plan for Dublin's future investment in capital infrastructure and provides financial guidelines that identify available revenue sources, debt capacity and policy for projecting revenues and designating reserves to be maintained.
Dublin's fiscally sound stewardship has earned the City the highest available bond ratings – AAA from Moody's Investors Service and AAA from Fitch Ratings – a distinction carried by approximately three percent of rated cities nationwide.
These ratings reflect the cooperative efforts of private citizens, civic leaders, government officials and business representatives. Such widespread commitment to the community ensures that Dublin will remain one of the most desirable suburbs in Central Ohio and the Midwest.
Government Structure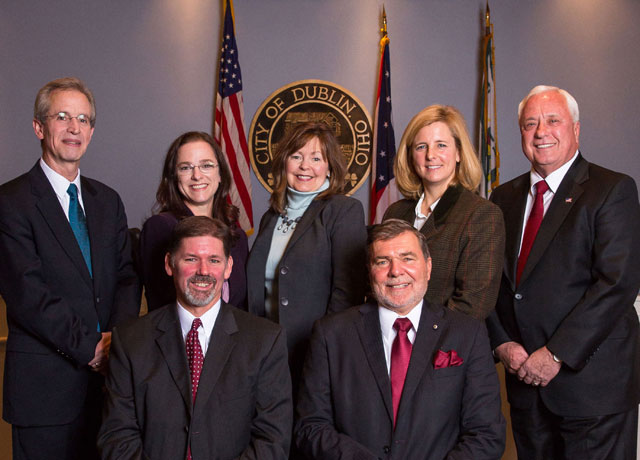 The City of Dublin is an award-winning local government organization known for its professionalism, vibrant spirit, customer service orientation and a strong commitment to distinctive and well-planned community development. We excel in a dynamic, fast-paced, achievement-oriented culture distinguished by our participative leadership style and collaborative working relationships.
The City of Dublin is a "Home Rule" municipal corporation operating under the authority of our own Charter.
Dublin residents adopted the City's original Charter in 1979 and later revised the Charter in 1996. The City's original Charter and Revised Charter have provided for a Council-Manager form of government.
Dublin City Council is comprised of seven members – three elected at large and four elected from each of the four wards of Dublin. All Council members serve a term of four years. As Dublin's governing body, City Council adopts policies and passes legislation, establishes City goals and oversees and approves the annual budget. The presiding officer of Council is the Mayor, who is elected by fellow Council members for a two-year term.
The City Manager is the chief administrative and law enforcement officer of the City and is appointed by the City Council to serve at its pleasure. The City Manager is responsible for day-to-day administration and operations. Dublin City Council annually adopts goals and strategic focus areas providing a blueprint for administrative priorities.
The City Manager is supported by a Management Team that consists of directors, managers and other professional administrators who are accountable for strategic, tactical and operational management of their initiatives and leadership of their employees. The Director of Public Service is a member of the Management Team.
While international recognition and financial security are very important to the growth of our community, what sets us apart is the deep expertise and rich experience of our employees. The City of Dublin has 20 principal organizational units comprised of 368 full-time permanent positions and approximately 232 part-time and seasonal positions. Each day, this dedicated team of public servants is committed to delivering high quality services, fair and transparent governance and stewardship of public funds that maximizes accountability and efficiency in local government.
Financial Close Up
The City's 2015 projected income tax revenue is $81,650,000, with 75% being allocated to the General Fund and the remaining 25% allocated to the Capital Improvements Tax Fund.
The City's 2015 operating expenditures are estimated to be $78.4 million while operating revenue is estimated to be $76.9 million.
Each year, the City prepares an extensive five-year Capital Improvements Program (CIP) to identify capital projects. The 2015 – 2019 CIP represents $255.2 million in major project funding and establishes the City's blueprint for investment in its' capital infrastructure.
Mission Statement
The City of Dublin strives to preserve and enhance the unique high quality of life offered to those who live or work in our community by providing the vision, leadership and performance standards, which allow for managed growth and development. We endeavor to deliver our services cost effectively with an emphasis on quality and innovation. The City of Dublin seeks recognition in the field of local government as being responsive, cooperative and culturally and environmentally sensitive while embracing the highest standards of integrity and accountability to those we serve.
Vision
The City of Dublin, Ohio, USA supports a livable, sustainable and safe community by emphasizing public safety, innovative programs and extraordinary amenities.
Leadership Philosophy
We are members of an organization that succeed because of teamwork, dedication and innovative spirit. Together we build a culture of trust, mutual respect, creativity, diversity and open communication. We hold ourselves mutually accountable to promote and sustain continuous learning and to develop the potential that exists in every member of our team. We are the City of Dublin.
Core Values
Integrity. We are open and honest. We honor our commitments to the community and each other. Our actions are consistent with what we say.
Respect. We treat our coworkers and members of the community with courtesy and dignity. We embrace diversity and acknowledge the needs, responsibilities and inherent worth of each individual.
Communication. We maintain an environment in which employees feel free to share ideas and information. We promote open interaction throughout the organization to ensure knowledge and understanding among all employees and our community.
Teamwork. We create a climate in which all employees work together and support the individual talents and contributions of team members. We celebrate successes and see mistakes as opportunities for growth; we will never willingly let a member of our team fail.
Accountability. We are responsible to our community and each other for our personal and organizational decisions, actions and performance results. We are committed stewards of our City's assets and resources.
Positive Attitude. We focus our efforts on constructive behavior, attitudes and solutions. We promote an environment that people love going to every day – a place where each individual can find a sense of belonging, inspiration, enjoyment and meaning.
Dedication to Service. We pursue innovation and continuous improvement in all we do. We are committed to efficient, effective and responsive service delivery that makes a difference in the lives of those we serve.