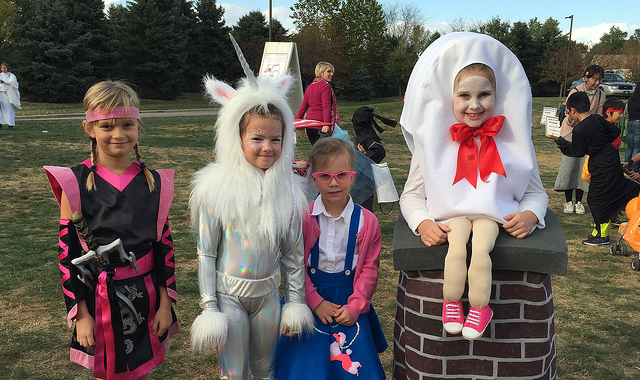 Bring Your Ghosts and Ghouls for Spooktacular Family Fun!
Due to inclement weather the event will be held indoors this year. An updated map has been posted below.
The City of Dublin will host its annual Halloween Spooktacular 30 minutes earlier on Thursday, October 20, from 3 – 8 p.m. at the Dublin Community Recreation Center (DCRC), 5600 Post Road.
New in 2016, reduce your fear of waiting in line! Dublin residents and Dublin school district residents may pick-up FREE Trunk or Treat Trail tickets starting Thursday, October 13 at 8 a.m. at the Dublin Community Recreation Center. Tickets are timed in 15 minute increments. Proof of residency is required with a limit of five per household.
Tickets will be available at the Recreation Center during normal operating hours until 1 p.m. on Thursday, October 20. If any are remaining, they will be available on-site at the Information tent located in Coffman Park at 2:30 p.m. These will be available first come, first served and proof of residency is not required.
Join us for an evening of merry, not scary family-fun for guests of all ages. Come in costume and enjoy a few tricks and a lot of fun treats inside and outside the DCRC.
Event parking is available at the DCRC and Coffman Park. No shuttle service will be provided, but all locations are within walking distance of the event. In addition, Halloween Spooktacular is rain or shine. The event will not be cancelled due to rain, however, some festivities may move inside the DCRC including the Trunk or Treat trail.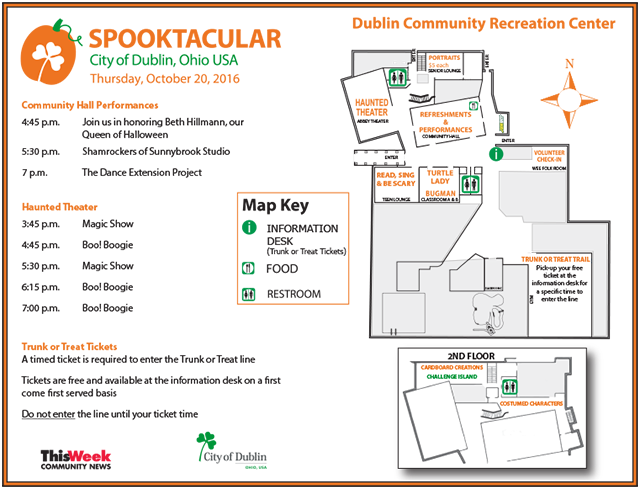 Community Hall Performances
4:45 p.m. Join us in honoring Beth Hillmann, our Queen of Halloween
5:30 p.m. Shamrockers of Sunnybrook Studio
7 p.m. The Dance Extension Project
Haunted Theater
3:45 p.m. Magic Show
4:45 p.m. Boo! Boogie
5:30 p.m. Magic Show
6:15 p.m. Boo! Boogie
7:00 p.m. Boo! Boogie
Trunk or Treat Tickets
A timed ticket is required to enter the Trunk or Treat line
Tickets are free and available at the information desk on a first come first served basis
Do not enter the line until your ticket time
Check out Photos from the 2015 Event
Thank you to our Sponsor