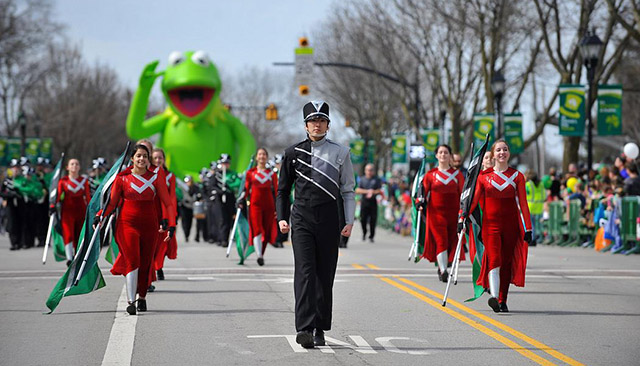 Join us for the 2017 St. Patrick's Day Parade on Saturday, March 18
Parade Application  Nominate a Grand Leprechaun
Nominate the 2017 St. Patrick's Day Grand Leprechaun
The City of Dublin St. Patrick's Day Parade includes many traditions, one of which is the naming of the Grand Leprechaun. This honor will be given to an individual or couple who has made a significant contribution to the City of Dublin through their volunteer efforts and leadership roles. The Grand Leprechaun will lead the parade and serve as a dignitary for the St. Patrick's Day Celebration.
Parade Workshop
Tuesday, February 7 at 6:30 p.m. at the Dublin Community Recreation Center Abbey Theater.
Learn how to create an award winning parade entry that meets the City of Dublin "entertainment value" guidelines. Discover new ways to be creative on a limited budget, where to purchase unique supplies and get advice from expert Rick Benning. Rick is owner of Ambience Events, the company that designed The City of Dublin's President Cup and the new Dublin Irish Festival float featured in our parades.
In addition, you will be entered to win one of two parade packages valued at $250 each for use in the City of Dublin's 2017 St. Patrick's Day and Independence Day parades.
Please share this information with others who may be interested in joining us and anyone who just loves a parade. We look forward to seeing you soon.  For additional information, please contact me at tlackey@dublin.oh.us or 614.410.4506.
Sponsors
2016 St. Patrick's Day Parade