Annual Tree Lighting Ceremony – Thursday, November 30 from 5 to 7 p.m.
The City of Dublin will mark the official start of the 2017 holiday season by hosting its annual Tree Lighting Ceremony on Thursday, November 30, from 5 – 7 p.m. This year, the event returns to Coffman Park, 5200 Emerald Parkway.
Residents will enjoy seasonal activities and entertainment in the Park including caroling on the Candy Cane Stage (West Shelter House), roaming holiday stilt walkers, ice sculpting, and character appearances on the Sugarplum Stage, near the playground (East Shelter House).
In addition, don't miss Santa's reindeer at the Reindeer Rest Stop at Coffman Barn or a visit from Santa himself as he arrives on a horse-drawn sleigh with Mrs. Claus. Santa will officially light the tree at 6:40 p.m. and will be on-hand for pictures after the main event.
Guests will enjoy finding three holiday themed official Photo Stops throughout the park: Reindeer Rest Stop at Coffman
Barn, Elves' Workshop at the Irish Mill, and Garland Gateway at Founders' Bridge.
The Dublin Historical Society will showcase a "Victorian Christmas" in the Fletcher Coffman House and Homestead. The barn will be open with a gaily-decorated sleigh offering the perfect photo opportunity.
The Washington Township Fire Department will be on-site at City Hall taking donations of new or unused toys benefitting Toys for Tots.
Holiday refreshments will be available for purchase, including hot chocolate and other food items from Donatos Pizza, Giant Eagle's Foodie Truck, and Mauger's Donuts.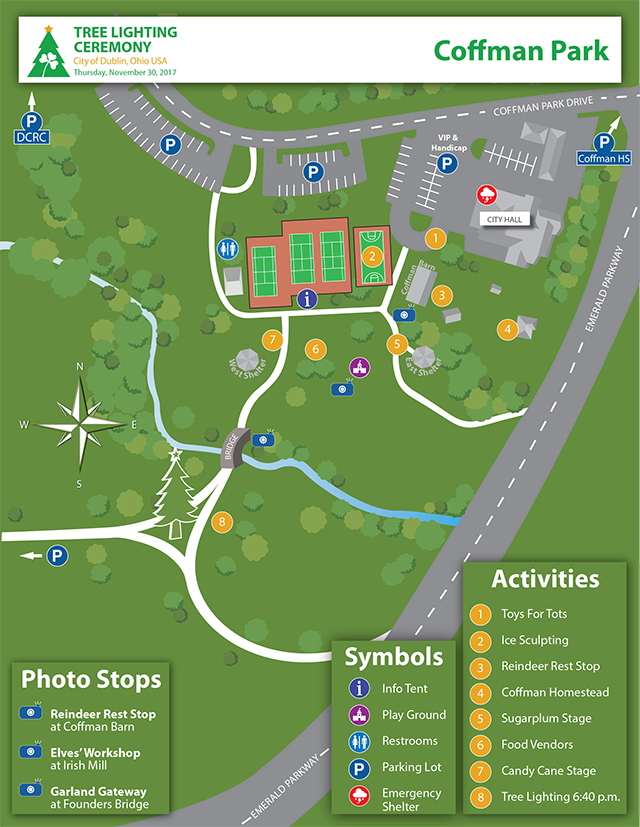 History of Dublin's Tree Lighting Ceremony
The City's history of lighting a Christmas tree has evolved over the past 30+ years, from the Dublin Women's Club Tree Lighting Ceremony that began years ago in Historic Dublin.
Early 1990s: Tree lighting ceremony moves from Historic Dublin to City Hall and incorporates local entertainment and photos with Santa
1997: Ceremony moves to Coffman Park near the Dublin Community Recreation Center
2000: Event is renamed Holly Days and moves within Coffman Park near the pavilion as a result of the DCRC Phase II expansion
2004: Ceremony moves back to Historic Dublin on an empty lot at the northwest corner of Bridge and High Streets
2008: Event moves to Dublin City School property at 62 W. Bridge St. using an established tree
2012: The tree in front of 62 W. Bridge St. is destroyed in the derecho. To replace it, a tree is planted in front of Indian Run Elementary School specifically for the tree lighting event.
2017: Tree lighting moves back to Coffman Park due to declining health of tree and parking issues
Read more:
Changes for the annual City of Dublin Tree Lighting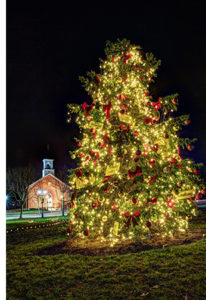 September 29, 2017
He's making a list and checking it twice, and on Nov. 30, Santa will find that the City of Dublin has been extra nice.
The Christmas season will officially arrive in Dublin with a bigger and better version of the annual Christmas Tree Lighting Ceremony at Coffman Park.
"We're very excited for residents to kick off the holiday season with us," says Director of Parks and Recreation Matt Earman.
The City's history of lighting a Christmas tree has evolved over the past 30-plus years from the original Dublin Women's Club Tree Lighting Ceremony in Historic Dublin. The fact that this year's event is moving from Historic Dublin to Coffman Park should not come as much of a surprise. The event has moved quite a bit over the past few decades, including a run at Coffman Park from 1997-2003.