2017 – 2021 Five Year Capital Improvements Program
Dublin City Council approved the Five Year Capital Improvements Program (2017-2021) on Monday, September 12, 2016. The CIP is a five-year outlook for anticipated capital projects reviewed and updated annually by the City. These projects are primarily related to improvements in transportation, parks, utilities and facilities.
In developing the Five-Year CIP, several elements are taken into consideration: City Council goals, both past and present; findings included in the Economic Development Strategy; commitments made by the City in agreements such as tax increment financing/economic development agreements; bi-annual community surveys, input from citizen committees and economic development opportunities.
The 2017-2021 CIP will be available soon.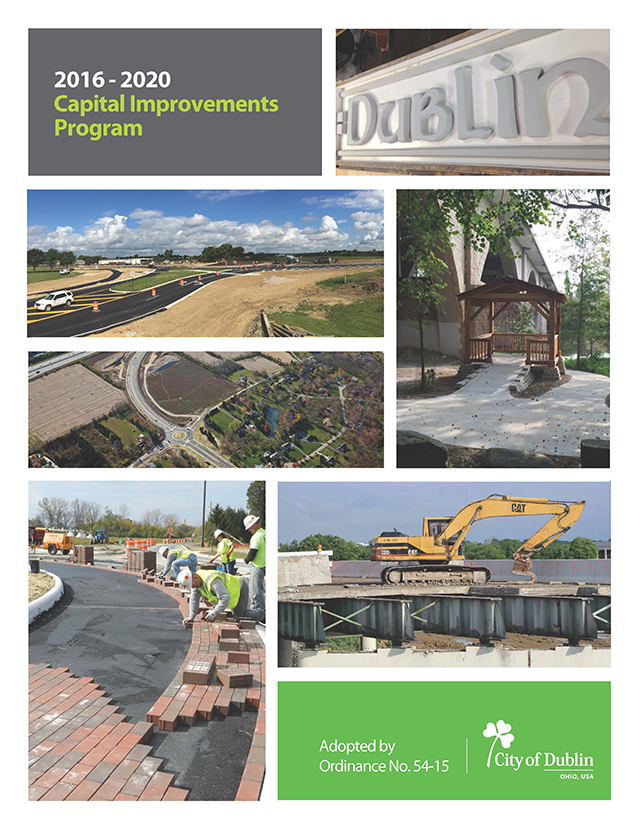 Major Transportation Projects:
Tuttle Crossing Boulevard Extension – Wilcox Road to Avery Road and Avery Road Widening
This project will extend Tuttle Crossing Boulevard from Wilcox Road to Avery Road. It includes the construction of a multi-lane roundabout at the new intersection of Tuttle Crossing Boulevard and Avery Road, and the widening of Avery Road from the extended Tuttle Crossing Boulevard to Rings Road. It will add roundabouts at the intersections of Tuttle Crossing Boulevard and Wilcox Road, Tuttle Crossing Boulevard and Avery Road, and Avery Road and Rings Road. Construction is currently anticipated in 2019.
John Shields Parkway (Phases 1 and 2)
Phase 1 – Construction of approximately 350 feet of roadway. The location is southwest of the intersection of Tuller Road and Tuller Ridge Drive.
Phase 2 – Second leg of John Shields Parkway includes 2,600 feet of roadway from Tuller Ridge Drive to Village Parkway. Construction for the roadway is programmed in 2016.
John Shields Parkway Bridge over Scioto River
This project provides for construction of a new bridge over the Scioto River. The span is approximately 715 feet long. Site acquisition is programmed in 2020, with construction after that. The bridge will connect John Shields Parkway on the east side to proposed John Shields Parkway on the west side of the Scioto River.
Shier Rings Road – Avery Road to Eiterman Road
The existing two lane road will be upgraded to a three lane road, with a roundabout at Eiterman Road and Shier Rings Road. Preliminary engineering is programmed in 2017 with final design programmed in 2019 and construction, utility burial and landscape reflected beyond 2020.
Hyland Croy and Post Preserve Roundabout
A roundabout at a new intersection on Hyland Croy Road for the new entrance to Post Preserve subdivision. Design is programmed in 2017, site acquisition in 2018, and construction and landscape in 2019.
Graham Street – CASTO Tuller Flats Roadway Network
Graham Street will be constructed in the CASTO Tuller Flats roadway system. The project area is south of Tuller Road, west of Village Parkway Drive along John Shields Parkway phase 2. Construction is scheduled for programmed in 2016.
Historic District CM Library Street Network
The City plans to extend some existing streets and build some new ones as part of the re-development of the Columbus Metropolitan Library and the development of Bridge Park West. It is a further advancement of the Bridge Street District roadway network. Construction and utility relocation are scheduled for 2016.
Historic District CM Library Parking Deck
This project provides for a four-story deck parking garage in the Historic District in conjunction with the Columbus Metropolitan (CM) Library's Dublin branch. The Library planned for 210 parking spaces. The City is asking for an additional 200+ spaces to be built at the City's expense. This project is programmed for construction in 2017.
N. Riverview Rehabilitation (Extension)
This project provides for the construction of N. Riverview Street from the Crawford Hoying property line north to Dublin Road and Indian Run Drive. Construction is programmed in 2018.
Avery-Muirfield Drive/Perimeter Loop/Perimeter Drive
Two roundabouts will replace the traffic signals on Avery-Muirfield Drive at the intersections of Perimeter Loop/Hospital Drive and Perimeter Drive. Construction is planned for 2020.
Sawmill Road Third Southbound Lane Addition
Engineers will determine the best option for adding a third southbound lane on Sawmill Road from 270 to Hard Road. The project will also include intersection improvements at the Sawmill Road/Bright Road intersection. This will be studied in 2016, with construction expected in 2020.
Hyland-Croy Road/McKitrick Road
A single lane roundabout will be added to the intersection, along with other improvements including street lights and crosswalks. Construction is scheduled for 2019.
Muirfield Drive and Memorial Drive Alternatives Analysis
A study will be done to examine the intersection of Muirfield Drive and Memorial Drive to improve safety and efficiency. Construction is currently expected beyond 2020.
Avery Road Widening
Avery Road will be widened between Rings Road East to Woerner-Temple Road. The project includes an Emerald Parkway-style four lane boulevard approximately 3,150 feet in length, street lighting, shared use path and a bridge over Cramer Ditch. Construction is expected in 2020.
Avery Road/Brand Road Intersection Improvements
This intersection will be evaluated to determine the appropriate improvements that will be needed. Two alternatives are being considered- the installation of a traffic signal or the construction of a roundabout. Construction is expected in 2017.
Bikeway Connections/Additions:
Dublin Road south shared-use path – from Rings Road to the Historic District – programmed in 2015.
Glick Road shared-use path between Davington Drive and Muirfield Drive in 2015 and between Carnoustie Drive and Muirkirk Drive in 2016.
Perimeter Drive shared-use path – between Avery-Muirfield Drive and Holt Road – beyond 2020.
Rings Road shared-use path – between Frantz Road and Dublin Road – construction in 2017.
Riverside Drive East shared-use path – between Emerald Parkway and Summit View Road and along the north side of Summit View Road from Riverside Drive to Wedgewood Park – construction beyond 2020.
Shier Rings Road shard-use path – between Cosgray Road and just west of Eiterman
Road – construction in 2019.
Concord Road – north of Glick Road to the existing path near Palmer Court – construction in 2017. This will provide a connection from Glick Road north to the Eli Penney Elementary School.
Major Parks Projects:
Darree Fields Development
Shade structures are expected to be added to the dog park in 2016. Funding beyond 2020 provides for two additional ball fields, along with walks and lighting.
Emerald Fields
Funding in 2016 includes design of lighted baseball courts and a small shelter house to be built in 2017.
Coffman Park Expansion
The City will continue the expansion of Coffman Park with the 2017 relocation of basketball and tennis courts to an area adjacent to the Justice Center, located at 6565 Commerce Parkway. The courts will join the new skate park, which is under construction in fall 2015. The current location of the courts will be transformed into a more scenic "central park" campus area, as outlined in the Community Plan.
Holder-Wright Farm and Earthworks
This park is situated on an important archeological and historical site. The plan for Holder-Wright Park will preserve and showcase the ancient earthworks, farm house and natural features that are a significant part of Dublin's history. Funding includes preservation/enhancement of Native American mounds, a path system, house preservation, parking lot and associated site amenities. Funding in 2015 is for design with construction planned in 2016 for a restroom facility, parking lot with entry drive, utility extension, pedestrian bridge, visitor orientation area, shared-use path from Emerald Parkway to parking lot, and internal compacted gravel pedestrian paths.
Riverside Park
This project provides for the construction of a new signature park on both sides of the Scioto River. The park will link to other regional parks and recreational systems through potential bicycle/pedestrian facilities and canoe/kayak access points.
The west side of the park is envisioned as a naturalized area with connections to the Indian Run greenway, water access, and trail systems. The east side of the park will feature areas to allow for assembly space, restroom/pavilion, extensive paths and landscaping, site lighting and river overlooks.
Funding provides for design in 2016, with construction 2017 through 2020.
Scioto River Pedestrian Bridge
Funding is planned in 2017 for construction of an iconic pedestrian bridge over the Scioto River to provide connectivity of the future Riverside Park on the east side of the river as well as adjacent commercial/residential developments to Historic Dublin.
Police Projects
Body Camera Hardware
The City is providing funding in 2016 for a pilot program for body cameras, charging stations and mounting hardware options for patrol officers. The funding will provide a pilot program of approximately 12 to 14 cameras. Body cameras have been recommended by the recent Governor's Task Force on Police/Community Relations.
Next Gen 911 Upgrade
This project provides funding for a Next Gen 9-1-1 capable phone system in 2017. The current 9-1-1 telephone system was installed in 2010 and will be at the end of its useful life in 2018. The Next Gen 9-1-1 system will accept texts, pictures and videos, and it will interface to the statewide Emergency Services Internet network.
Intersection and Crime Prevention Cameras
Funding for traffic cameras at high traffic, high incident locations and add crime prevention cameras at City properties such as parks, parking areas, pools and other open spaces. Locations for these cameras will based on crash counts/rates, traffic counts and crime statistics.
Automatic License Plate Readers
Police will purchase additional automatic license plate readers to be installed on select cruisers. These automated tools read license plates and compare them to a database of wanted and missing persons, amber alerts, stolen vehicles and homeland security alerts and notify the officer anytime there is a match.
Replacement K9
Funding in 2016 for one canine trained in tracking explosives detection. The current canine is nearing the end of his working life (estimated to end in 2015-2016). The new canine will be used to track missing persons and fugitives from justice as well as detect explosives at events, schools and other areas as needed.