Located in the Dublin Community Recreation Center, the Abbey Theater of Dublin offers quality programs at community prices, providing outstanding entertainment variety in an intimate setting. Support the arts in your community.
Tickets are available at the door or in advance at the Dublin Community Recreation Center or by calling 614.410.4550. Checks, cash and major credit cards are accepted.
Address:
5600 Post Road | Dublin, OH 43017
Click here for rental information
Mailing List for the Arts
Join the Abbey Theater of Dublin mailing list to receive additional performance informatio. Call 614.410.4554 or sign up for e-News from Dublin and select Abbey Theater.
January
Toddler Theater
Wednesdays | Jan 13 & 27; Feb 10 & 24; Mar 9 & 23 | 10 – 10:45 a.m.
Performer Marlene Metz plays children's music and is joined by a special costumed character. Enjoy a wonderful, interactive performance designed especially for young ones. Parents are encouraged to bring cameras.
Recommend: For ages 2 – 5
Tickets: $2 per child per visit
Walk On: The Rosa Parks Story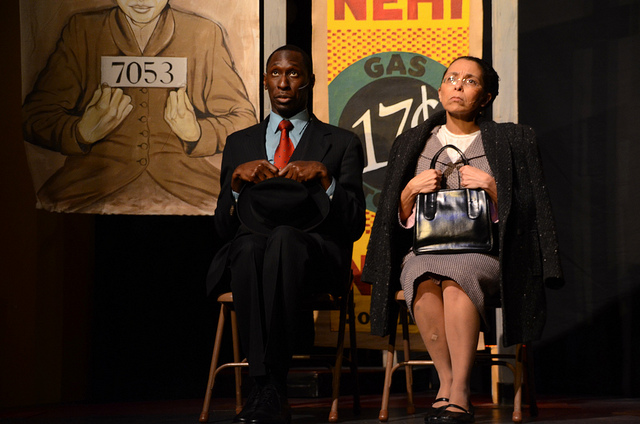 Saturday, January 16, 2016 | 1 p.m.

In Montgomery, Alabama, a determined activist named Rosa Parks refused to give up her seat on a city bus. The resulting uproar launched the Civil Rights movement and changed our country forever. Walk On: The Story of Rosa Parks weaves together period music and drama to tell the story of Rosa Parks from her childhood in rural Alabama to her famous decision to "sit down and be counted." Mad River Theater Works is a professional touring ensemble with roots deep in the flat farm country of the Midwest. They create plays that combine music and drama to tell stories about people from the back roads and small towns of America.
Recommend: For ages 8 & up
Tickets: $10 adults, $7 children and seniors
Magic Man Carroll Baker
Saturday, January 23, 2016 | 11 a.m.
Carroll is back and better than ever, to kick off the Abbey Theater's 2016 season! Please join us as "Columbus' funniest magician" brings an outstanding performance of magic and comedy.
Recommend: For ages 5 & up
Tickets: $7 adults, $5 children and seniors
The Hat
Saturday, January 30, 2016 | 11 a.m.
The Illusion Factory from Akron, Ohio brings us classic tales with comic twists. Peter and his mother are hat-makers who make very rare and extraordinary hats. The most special hat of all is one made by Peter's mother for Mr. Hump – a strange hat that creates adventures for all. Each time Mr. Hump "removes" the hat, another appears in its place! The biggest problem can only be solved by Peter's remarkable dog and of course, through help from the audience. After the performance there is a lively question and answer session with the cast; you can even meet your favorite characters and take pictures.
Recommend: For ages 5 & up
Tickets: $7 adults, $5 children and seniors
February
Dr. Kaboom!
Saturday, February 13, 2016 | 11 a.m.

Doktor Kaboom is an over-the-top German physicist with a passion for science that knows no bounds. Sporting chrome goggles, orange lab coat, motorcycle boots, and wicked cool hair, Doktor Kaboom travels the world, thrilling adults and children alike with an explosive comedic style that is guaranteed to please every crowd. His improvisational skill promises no two shows will ever be the same, and his character-driven comedy entertain audiences of every age. Nothing says science like KABOOM!
Recommend: For all ages 6 & up
Tickets: $10 adults, $7 children and seniors
March
Post Time
Sunday, March 6, 2016 | 3 p.m.

Robert Post's one-man variety show serves up a delightful entertainment feast. Hilarious, poignant, and physically dazzling, his meticulously crafted sketches fill the stage with bumblers, dreamers, and cartoonish heroes of every stripe. Post serves as his own witty master of ceremonies, improvising as he banters with the audience. And when he ducks offstage, video clips chronicle quirky encounters from his travels around the world. You'll roar with laughter and smile in amazement.
Recommend: For for families
Tickets: $10 adults, $7 children and seniors
Chicken Dance
Saturday, March 19, 2016 | 11 a.m.

ArtsPower's newest musical portrays the colorful story of Marge and Lola, two barnyard chickens on a mission to win the barnyard talent contest first prize of two tickets to see the great Elvis Poultry in concert! But first, they must present a performance that will score higher than a flock of very talented ducks who seem to have the contest locked up. Can Marge and Lola face their challengers, against all odds, and win the talent contest?
Recommend: For ages 5 – 7
Tickets: $10 adults, $7 children and seniors