Mosquito Spraying Scheduled for Thursday, July 24
Mosquito traps set weekly throughout Dublin confirmed high mosquito numbers in the north sections of Dublin. In order to reduce the number of adult mosquitoes, Franklin County Public Health will be spraying these Dublin neighborhoods north of Brand Road, from Hyland Croy to the west side of the Scioto River on Thursday, July 24 (weather permitting) starting at 9 p.m. The area to be sprayed can be found below.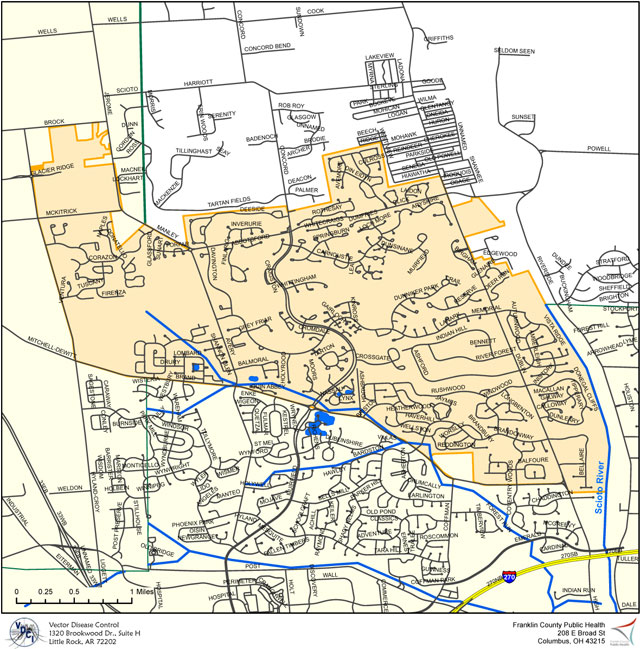 For more information on mosquitoes, safety tips during spraying and the West Nile virus visit www.myfcph.org. Residents can also call (614)525-BITE (2483) to report problem areas in their community.
Mosquito Program
While we realize nuisance mosquitoes are a great inconvenience to our residents and we encourage ways to minimize breeding sites on their properties, our primary focus is on prevention, education and surveillance of disease-carrying mosquitoes," said Ron Burns, Director of Streets and Utilities.
Franklin County's services include larvaciding to kill immature insects before they develop into biting adults. The county also performs trapping and testing of adult mosquitoes, takes customer calls, performs spraying if necessary and provides information to the City about its activities. Spraying is only used as a last resort. This method eliminates only adult flying mosquitoes and is not as proactive as other methods.
Residents who have questions, want to report a complaint or need additional information about mosquitoes should call Franklin County Public Health's Mosquito Bite Line at 614.525.BITE and leave a message; your call will be returned. Residents also can also visit www.myfcph.org to ask a question or submit a complaint.
"We believe the best thing residents can do to prevent mosquitoes is to eliminate breeding sites on their properties."
While Franklin County's tactics are effective, the best weapon against the spread of mosquitoes is knowledge.
Residents can prevent mosquitoes on their own properties by eliminating breeding sites:
Empty, remove, cover or turn over any container that has the potential to hold water.
Repair leaky pipes and outside faucets.
Make sure gutters and downspouts are free of blockage and are properly draining.
Change the water in wading pools weekly and store indoors when not in use.
Properly dispose of old tires.
Empty planters that hold water twice each week.
Empty bird baths twice weekly.
Empty your pets watering dishes daily.
Use sand to plug holes in trees where water can collect.
Drain or fill low areas on your property that hold water for more than three days.
Remind or help neighbors to eliminate breeding sites on their property.
Did You Know…
A single water-filled bucket can produce hundreds of biting mosquitoes.
Most disease-causing mosquitoes spend their entire lives near their container-breeding site.
While the adult mosquito's life expectancy is not usually more than a few weeks, the female may lay several batches of eggs each containing several hundred eggs during its life.
What can you do?
Take a few minutes to go outside and look around your yard. Anything that holds water could be a potential breeding site for mosquitoes. It doesn't take much water and it doesn't take much time. Why raise mosquitoes in your own back yard? Dump those containers; turn them upside down; or better yet put them inside your garage or basement. It is such a simple, but very effective way, to protect your family from mosquito-borne diseases like encephalitis and West Nile virus.
Detailed information about the mosquito program and a form to request service or report an area of concern is available on the website. Visit www.myfcph.org or call Franklin County Public Health's Mosquito Bite Line at 614.525.BITE (2483).