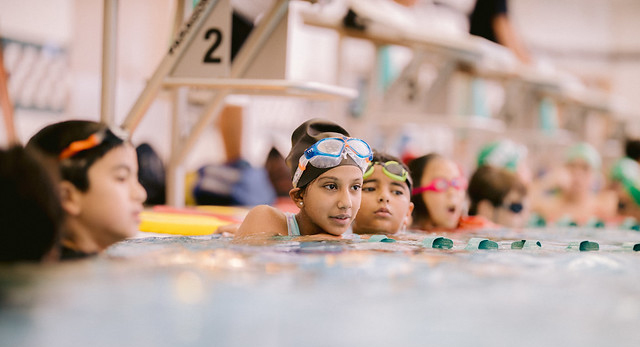 ---
Leisure Pool
The Dublin Community Recreation Center (DCRC) Leisure Pool, featuring the lazy river, is open to those with advance reservations.
In addition to the leisure pool, the recreation center offers water fitness classes and private leisure pool parties (for 10 or fewer; additional information at the bottom of this page).
Special pool features are unavailable for use to maintain social distancing and ensure cleanliness. These include the spa, frog slide and double-helix slide. Please come dressed and ready to swim – the locker rooms are open for changing and limited locker use only. Showers remain unavailable at this time.
We understand that while free swimming, you might surface next to a person who is not in your physical distancing group. If this happens, we ask you to respect their space and move back to your area. Please be mindful of others and maintain distancing both in the water and on the pool deck.
In order to adhere to physical distancing guidelines set forth by state and local officials, and Centers for Disease Control and Prevention (CDC) recommendations, the leisure pool will operate under a limited capacity. Visit the City of Dublin's Advance Sign-Up page to pre-register for the 90-minute time slots. DCRC Members can reserve a time slot beginning 36 hours in advance. You may also cancel your reservation online under "My Account." Time slots will show up as unavailable (in blue) until 36 hours before.
If you have any trouble accessing your account, staff are available to assist Monday through Friday from 8 a.m. to 9 p.m. or Saturday and Sunday from 8 a.m. to 8 p.m. by calling 614.410.4550, or by emailing dcrcfrontdesk@dublin.oh.us. The Recreation Services team is ready to help walk you through the sign-up process should you need assistance.
Lap Pool
Due to the high demand for access to our lap pool, we have been continually reviewing guidelines and guidance from local health officials. Under the guidance of Franklin County Public Health, we are now allowing two lap swimmers per lane for the first two time blocks every day.
Protocols include:
Upon arrival, swimmers will select a designated wall (aka "home base") starting on either end of the pool.
Swimmers must start and stop their work-out on the same wall they entered the pool on.
Swimmers will split the lane while swimming and must stay on the right side of the lane when resting at their designated wall.

If you prefer to do circle swimming, you must communicate that with your lane partner upon arrival.

Lanes will be designated for advanced, intermediate and beginner swimmers primarily using the below designation:

Lanes 1-3: Advanced
Lanes 4-6: Intermediate
Lanes 8-10: Beginners

Swimmers should use their best judgment when choosing their lane based on their individual skill level.
*These protocols are subject to change dependent upon programming within the pool, signage will be posted on deck to identify lanes.
In addition, Open Exercise is available for those wishing to water walk or perform water aerobic exercises. We strongly encourage members and guests to register for open exercise time blocks, which will be offered weekdays from 9:15 a.m. to 3 p.m., to allow lap swimmers easier access to a lane. Open Exercise registrants must maintain physical distancing in and out of the pool.
If you have any questions please contact Aquatics Supervisor Stacey Tighe at stighe@dublin.oh.us.
---
Rentals
| | |
| --- | --- |
| 2021 Indoor Pool Rentals | Resident / Non-Resident |
| Leisure Pool | $275 / $410 (150 maximum capacity |
| Leisure Pool with Slide | $300 / $450 (150 maximum capacity) |
| Lap Pool | $275 / $410 (200 maximum capacity) |
| Lap Pool and Leisure Pool | $400 / $600 (300 maximum capacity) |
| Lap Pool and Leisure Pool with Slide | $425 / $635 (300 maximum capacity) |
| Leisure Pool and Diving Boards | $300 / $450 (150 maximum capacity) |
| Leisure Pool, Slide & Diving Boards | $350 / $525 (150 maximum capacity) |
Pool Parties
The aquatic center pools are available for private rental by groups on Saturday evenings from 8:15 to 10:15 p.m. You must book your rental at least 30 days in advance of desired date. The fees include the use of Classroom C which is adjacent to the pool area and may be used to serve food and beverages during your rental. Please remember that no glass containers or alcoholic beverages are permitted. For additional information and to book your rental contact a reservation specialist at 614.410.4550.