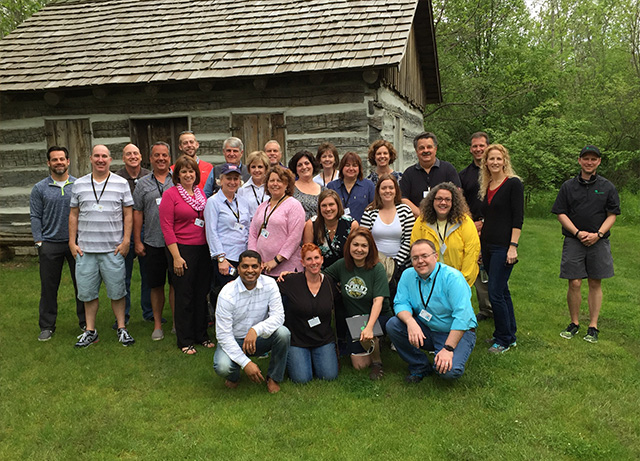 Dublin residents are invited to get an inside look at the dedicated effort it takes to maintain Dublin's world-class services, entrepreneurial spirit and outstanding quality of life with Citizen U. Participants age 18 and over will learn about all aspects of the City of Dublin's operations in this immersive experience
The interactive class series takes place on Wednesday evenings for nine weeks.
City staff will lead classes focusing on everything from financial practices, to engineering, to law enforcement, leaf collection, economic development, recreation practices, event management, planning and more. Participants will leave the experience with an improved understanding of Dublin's government operations and the talent it demands of its public servants, as well as a sense of their own civic engagement responsibilities as residents.
The 2022 application deadline has passed. Check back spring 2023 for the next opportunity to apply.
For questions email Christine Nardecchia at cnardecchia@dublin.oh.us.
Citizen U 2022 Class Schedule

Class 1 • Wednesday, April 6 @ 6-9 p.m.
Overview
City Manager
Finance
Human Resources
Communications and Public Information
Class 2 • Wednesday, April 13 @ 6-9 p.m.
Planning
Economic Development
Building Standards
Class 3 • Wednesday, April 20 @ 6-9 p.m.
I.T.
Performance Analytics
Class 4 • Wednesday, April 27 @ 6-9 p.m.
Courts
Dublin Police
Class 5 • Wednesday, May 4 @ 6-9 p.m.
Engineering
GoDublin
Class 6 • Wednesday, May 11 @ 6-9 p.m.
Recreation Services
Facilities
Community Events
Class 7 • Wednesday, May 18 @ 6-9 p.m.
Streets
Fleet
Sign Shop
Class 8 • Wednesday, May 25 @ 6-9 p.m.
Parks
Nature Education
Class 9 • Wednesday, June 8 @ 6-9 p.m.
Legislative Affairs
Outreach and Engagement
City Council
Dinner