(Dublin, Ohio) — The City of Dublin is launching a Styrofoam recycling program in partnership with the City of Hilliard starting Thursday, Sept. 15. This new program will help keep unwanted Styrofoam out of the landfill while also increasing Dublin's diversion rate.
Dublin community members can now recycle Styrofoam at the 24/7 drop-off site located in the City Service Center parking lot, 6555 Shier Rings Road. There, residents can also drop off organic waste in the green compost bins. E-waste collection bins are available inside the Service Center, which serves as Dublin's centralized recycling hub.
What Styrofoam Can Be Recycled?
We CAN accept: packaging material and foam coolers
We CAN'T accept: foam peanuts, construction grade foam (insulation) or food-grade polystyrene. This includes cups, food containers, meat packaging, plates, egg cartons, etc., unless it is new and has never contacted any food or beverage.
All materials must be clean and free of tape, stickers/labels, paper, metal/plastic fasteners and any other contaminants.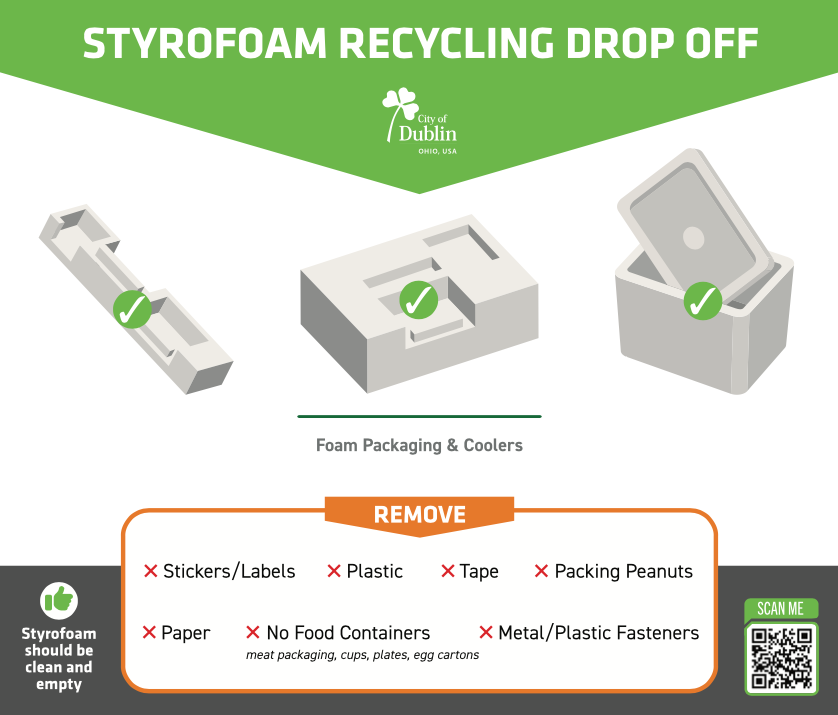 "The City of Dublin continues to look for ways to provide sustainable solutions to its residents," Public Service Operations Administrator Michael Darling says. "Our community is very conscientious about ecofriendly disposal options, and this will be a new way to divert Styrofoam from the landfill."
Expanded polystyrene (EPS), also known as Styrofoam or plastic foam, is a white foam plastic material made from solid beads of polystyrene. EPS is composed of 90% to 95% air, which makes it extremely lightweight. It is commonly used because of its rigid and insulation properties. Its low cost is also ideal for packaging and shipping goods around the world. However, EPS is not recyclable through traditional methods, and its feather-like weight causes the foam to escape from trash receptacles and collection trucks, making it a culprit for unintended litter and pollution.
According to the Solid Waste Authority of Central Ohio (SWACO), nearly 7,000 tons of plastic foam went into their landfill in 2019.
Residents should not include Styrofoam in their curbside recycling, as Rumpke does not currently accept expanded polystyrene products. Styrofoam can only be recycled at the designated drop off location at the Service Center, 6555 Shier Rings Road.
Drop-Off Events
The Dublin community will also have the opportunity to recycle Styrofoam during drive-thru events. As details are finalized, information will be provided at DublinOhioUSA.gov/Styrofoam-Recycling.
What Happens to the Recycled Foam?
While plastic foam is not recyclable through traditional methods, EPS can be recycled through densification. Densifiers remove the air from the Styrofoam, condensing it down to a fraction of its original size. Recycled Styrofoam is commonly used for insulation, picture frames, park benches, coolers, infant car seats and for added protection in sports and motor vehicle helmets.
Partnership with the City of Hilliard
The City of Dublin has partnered with the City of Hilliard to recycle the Styrofoam collected at the Service Center, and Dublin City staff will deliver the materials to Hilliard for densification.
In 2021, the City of Hilliard received a grant from SWACO to purchase Central Ohio's first densifier. The Runi-brand equipment shreds Styrofoam and then compresses out the air, reducing the volume of the foam by 1/50th of its original volume. Put into perspective, a stack of Styrofoam the size of an SUV can be compressed to the size of one concrete block.
At the City of Hilliard's first Styrofoam recycling event, more than 250 cars dropped off an estimated 1,800 pounds of EPS; at the City of Hilliard's Earth Day collection event, they collected more than 4,000 pounds of EPS. Dublin has a diversion rate of 48% of organic and recyclable material, which is significantly higher than the state average of 30%.
The overall goal for both cities is to divert Styrofoam from the trash, saving valuable space in the landfill for material that can't be recycled or reused. Dublin's larger vision is to be the model for sustainable community design, zero waste, carbon neutral efforts and supportive of its natural environment while providing diverse living, entertainment and recreational experiences attractive to all.
For more information about Styrofoam recycling, visit DublinOhioUSA.gov and follow the City of Dublin on Facebook, Twitter, Instagram and LinkedIn.
About the City of Dublin, Ohio, USA
Dublin is a city of nearly 50,000 residents located just northwest of Columbus, Ohio. It offers residents and corporate citizens responsive services, attractive housing, superior public education, direct regional highway access, abundant park space, thoughtful and strategic planning, innovative ideas and technology and a dynamic community life. Dublin is ranked the number one small city in Ohio and is consistently ranked one of the safest cities in the nation. It is home to more than 20 corporate headquarters, an entrepreneurial center, 4,300+ businesses, world-class events and the urban, walkable Bridge Street District. For more information, visit DublinOhioUSA.gov or call 614.410.4400.
#
Media Contact:
Madi Kregel
Public Information Officer
614.410.4509
mkregel@dublin.oh.us
Newsroom: https://dublinohiousa.gov/newsroom/