Mount Carmel Dublin will provide new emergency services, operating rooms, diagnostic suites, primary care, and other services to patients in northwest communities
Mount Carmel Health System is proud to announce the groundbreaking of its newest hospital in Dublin, Ohio. The new hospital will be located near I-270, Sawmill Road, and Emerald Parkway, and is expected to be completed in 2025.
"We are excited to break ground on our new hospital in Dublin. This state-of-the-art facility will allow us to provide exceptional care to even more patients in the Central Ohio region," said Lorraine Lutton, President and CEO of Mount Carmel Health System. 'Mount Carmel has always been committed to growing along with the communities we serve, and Dublin is one of the fastest-growing areas in central Ohio. We look forward to offering this convenient location to our patients and expanding the offerings we can provide to all in this vibrant and growing community."
To mark the occasion, a ground blessing ceremony led by Earl Fernandes, bishop of the Diocese of Columbus, was held on Monday, March 13. The event was attended by community leaders, Mount Carmel Health System executives, and members of the Dublin community.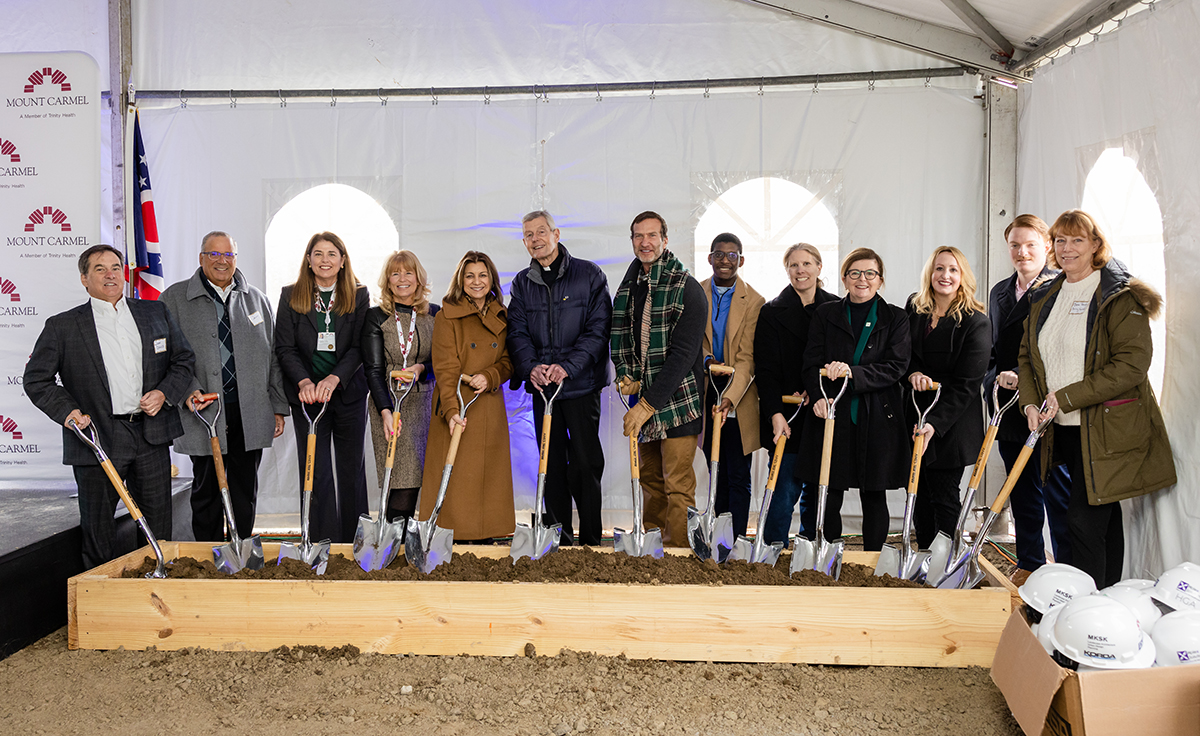 The project is projected to be a $250 million investment, creating more than 200 healthcare jobs. The construction site is on 35 acres, and the new campus will be more than 240,000 sq ft upon completion. It will create 700 construction jobs during the construction period.
"For many years, the City of Dublin has been proud to offer our residents the best in healthcare with providers and services that administer a continuum of care," says Dublin Mayor Jane Fox. "The addition of a Mount Carmel hospital, ambulatory center and medical offices on our eastern border will skillfully complement the health care services in Dublin and beyond."
"We celebrate this health care partnership between the City of Dublin and Mount Carmel Health System, which will bring innovative, patient-centered care to our community and provide a critical health care access point for our residents," says City of Dublin City Manager Megan O'Callaghan. "Medical investments have long been part of Dublin's growth, and this project plays an integral role in furthering the City's position as a leading health and wellness hub."
The new hospital will include a full range of services, with the latest technology and equipment, including:
Emergency department with 14 bays
Hospital with 30 inpatient beds and 10 additional observation beds
Operating and procedure rooms
Full imaging suite
Diagnostic cardiology and neurology
Primary and specialty medical care
Outpatient lab
Community health and well-being space
Flexibly designed to accommodate future growth and the addition of new services as the market demands
ABOUT MOUNT CARMEL HEALTH SYSTEM
Mount Carmel Health System, a member of Trinity Health, has provided high-quality, comprehensive healthcare services in central Ohio for more than 130 years. Our team of more than 9,000 colleagues, 2,300 physicians and 550 volunteers provide compassionate, people-centered primary and specialty care at its four hospitals—Mount Carmel East, Mount Carmel Grove City, Mount Carmel New Albany and Mount Carmel St. Ann's, as well as Diley Ridge Medical Center, an affiliation of Mount Carmel and Fairfield Medical Center. The health system is also comprised of Mount Carmel Medical Group and Mount Carmel Health Partners, along with surgery centers, emergency and ambulatory care centers, and hospice and home care services throughout the region.