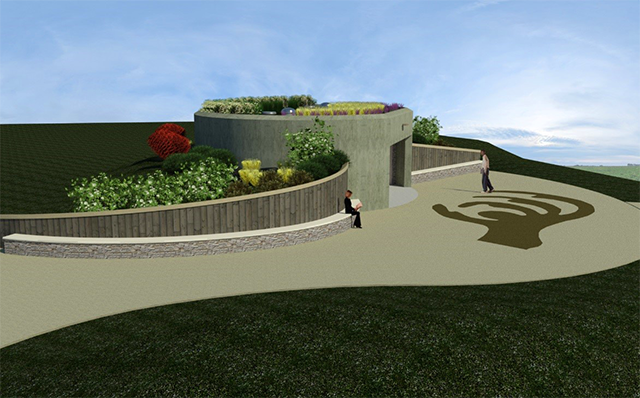 Construction of the new Ferris-Wright Park began January 2018 at the northeast corner of Emerald Parkway and Riverside Drive.
Drivers will experience periodic traffic impacts in late spring/early summer. Beginning July 2, eastbound lane closures are possible between Riverside Drive and Bright Road from approximately 9 a.m. to 3 p.m. for installation of the turn lane into the park. Traffic will be maintained in both directions.
By Fall 2018, this phase of construction will include:
Road Extension (from Emerald Parkway)
Emerald Parkway Turn-Lane Addition
New Parking Lot (on road extension)
New Restroom Facility with iconic Hopewell/Adena Culture symbol
Pedestrian Bridge over waterway dividing north and south sections of the park
Earth Mounds with Landscape Plantings
Informational Signage
Improving and preserving historic sites and adding passive parkland to the City of Dublin is an investment in quality of life, and provides educational opportunities for residents.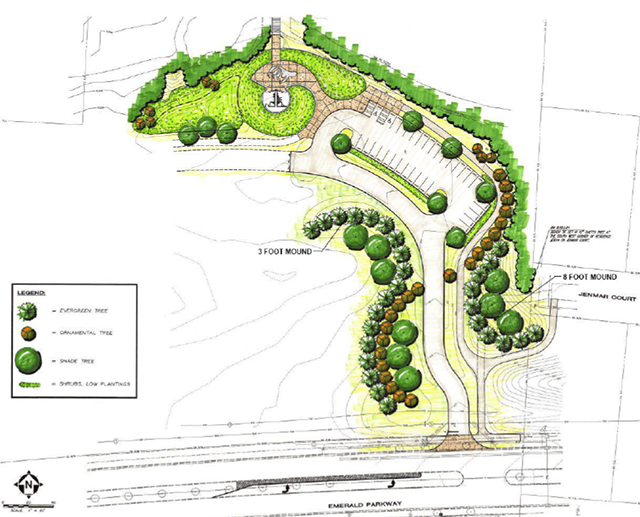 Located at the northeast corner of Emerald Parkway and Riverside Drive, Ferris-Wright Park will preserve and showcase the ancient earthworks, farm house and natural features of the space that are a significant part of Dublin's history.
August 2017 Public Meeting Presentation
The land surrounding the park has been home to many over the years, from indigenous peoples thousands of years ago to some of Dublin's first settlers and 20th century residents. Ferris-Wright Park will feature an interpretive center for visitors located in the farmhouse, honoring the past through interactive stations that tell the stories of inhabitants through the years.
The Hopewell Culture
The indigenous peoples of the Hopewell era represent tribes known for building earthworks – precise geometric shapes that hold meaning and purpose – in the Ohio Valley. "Hopewell" was the name of the family on whose land these earthworks were first noticed in Ross County, Ohio, in the 1800s.
The Hopewell People lived, hunted, fished and farmed in what is now Ohio and other parts of eastern North America around 100 B.C. to A.D. 400. They were an advanced society with an extensive trade network that ran from the Great Lakes to the Gulf of Mexico and out west to the Rocky Mountains.
They had a sophisticated understanding of geometry and astronomy, and these principles were demonstrated in their ceremonial spaces known as earthworks, which provided places for gatherings of people, just as American Indian people continue to do today.
The earthworks were places for ceremony, for marriages, to honor relatives and neighbors who died, to make alliances, for celebration, feasting, and sacred games.
Today, few of these ceremony spaces remain intact. Many have been damaged or cleared away for farming and development.
The earthworks at Ferris-Wright Park are the northernmost earthworks in the Scioto valley. Many groups of tribes are represented at this site, with the oldest dating back to Clovis times, or about 12,000 years ago.
The park contains three earthworks (two circles and a square) and five burial mounds. The tallest mound once stood five feet tall and the others were approximately three feet tall.
Uncovering the Past
The earthworks were explored by local farmers and villagers for many years before being professionally excavated in 1890, 1922 and 1961. The artifacts retrieved during these digs helped archeologists better understand the people of the Hopewell culture.
The Ohio State University Department of Anthropology led archeological digs at the site in 2013, 2014 and 2016, discovering fascinating artifacts such as prehistoric stone tools and debris from making such tools, as well as historic pottery.
They also uncovered modern debris from a few years ago, to their oldest find, a Clovis point – a type of prehistoric tool made by native peoples of North America – dating to around 13,000 years ago.
Ohio Valley Archaeology led geophysical surveys in and around the site, creating a clearer picture of the earthworks.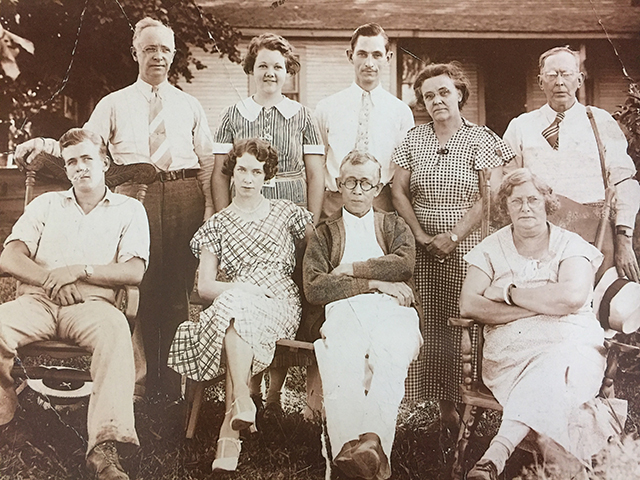 Members of the Ferris-Wright family seated outside the farmhouse circa 1930
Ferris Farm
Early settlers explored the Ohio region in the 1800s, drawn by rich soil and abundance of natural resources, water and game.
The first farmers in the Dublin area tilled and plowed the land by horse-drawn iron equipment. Wheat and hay and perhaps alfalfa were among the first crops to be planted, but corn, potatoes, beans and other vegetables provided annual sustenance for a farm family.
Wright Run Creek, which runs through Ferris-Wright Park, irrigated early farms. Rivers, like the nearby Scioto River, were used for milling and other industries that brought prosperity to Dublin.
Joseph Ferris came to Ohio in 1818, eight years after Dublin was platted as a village. Ferris cleared the land for farming and built his farmhouse in 1820. It is said that his house was the first frame house in the area. The others were all log houses or log cabins.
The restored home still stands today and will welcome visitors to the park in fall 2018, 200 years after Ferris came to the area.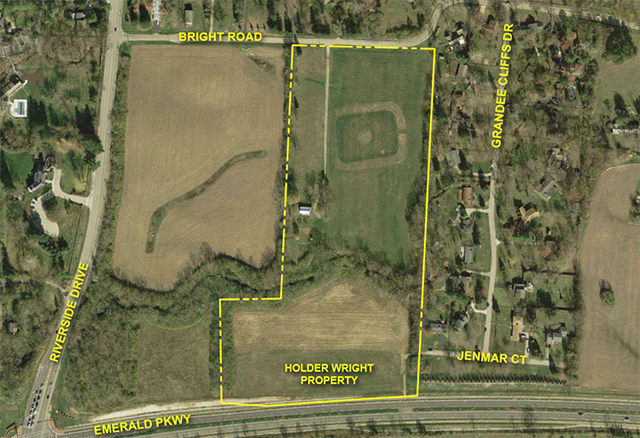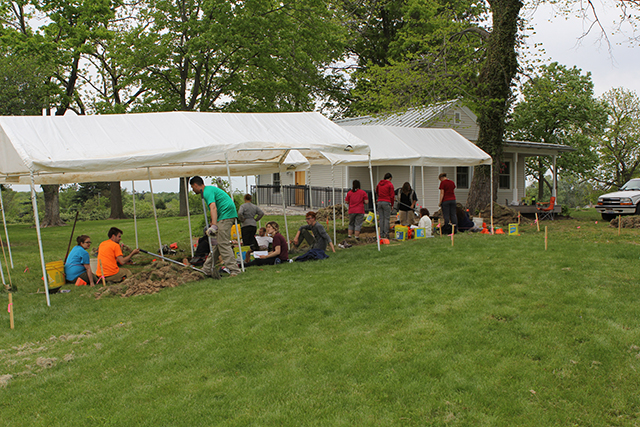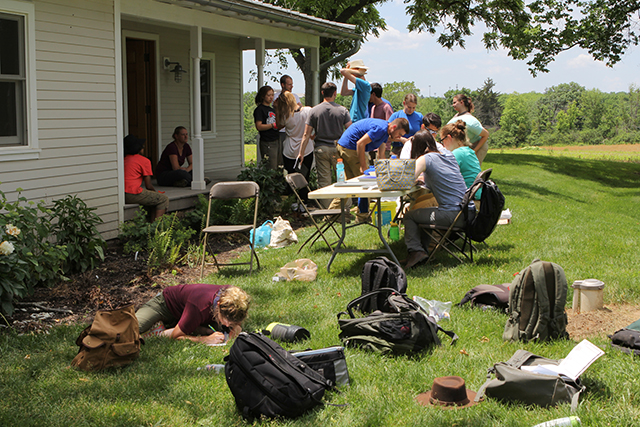 Farmhouse excavation photos courtesy The Ohio State University Department of Anthropology