Getting Started
The application guide will help familiarize you with the process and necessary materials for a complete submission. However, the City highly encourages interested neighborhoods to meet with City staff prior to submitting their applications. These meetings are designed to assist with application procedures, explain financial considerations, address plan/design issues, and identify any potential roadblocks or issues that may be present and how to resolve them.
All completed application must be submitted by Friday, February 28, 2020 for consideration. Applications can be submitted to the Planning Department at 5800 Shier Rings Road. New for the next award cycle is the opportunity for potential applicants to meet with staff prior to application submission to receive design assistance.
For more information contact, Chase J. Ridge, Planner I | 614.410.4656, cridge@dublin.oh.us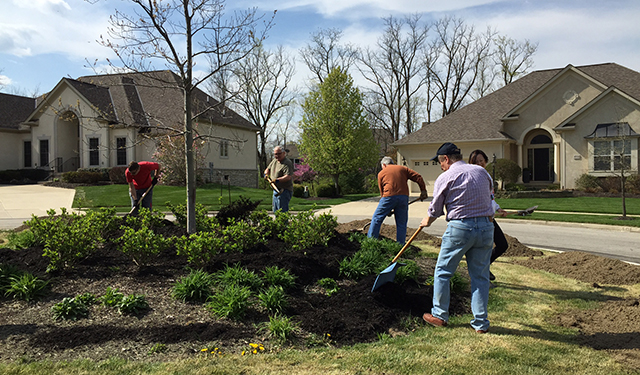 About the Program
The Beautify Your Neighborhood Matching Grant Program was established to provide funding assistance to support Dublin Homeowners Associations and Civic Associations in enhancing their neighborhood with high-quality, sustainable beautification projects that benefit and enhance the Dublin community.
The first grants were awarded in 2011, and since then, City staff has worked with numerous associations to identify possible beautification projects and assist in application preparation. Potential projects include entry features enhancements with new signs and lighting, updated landscape beds, benches, removal of invasive species and art installation among others.
Program Guidelines
To qualify, the projects must be clearly visible from the public right-of-way. Beautification projects are required to be new or a rehab of an entry feature such as a sign, stone wall, fence, landscape area or other neighborhood amenity.
Individual grant awards will range between $500 and up to $5,000, unless otherwise approved by City Council. An individual association is limited to no more than one grant award every three years.
Each grant requires at least an equal match from the Association. The City will reimburse the Association with the grant amount awarded upon successful completion of the project and conformance with all standards of the program.
2019 Grant Awards
The Beautify Your Neighborhood Grant for 2019 awarded beautification funds to seven Dublin neighborhoods.
Bishop's Crossing was awarded $5,000 in funds to install trees to preserve & enhance the aesthetic integrity of the neighborhood.
Braelinn Green Condominiums was awarded $1,897 in funds for replacing all plantings along front tree, removal of a dead pine tree, installation of LED lights, and painting of the front entry sign.
Cramer's Crossing Homeowners Association was warded $5,000 in funds for enhancement of entry-way monuments.
Cramer's Crossing Village Condominium Association was awarded $2,600 in funds for rehabilitation of existing landscaping around the neighborhood pond.
Killilea Homeowners Association was awarded $5,000 in funds for improvements to landscaped neighborhood entrances.
Muirfield Greene Homeowners Association was awarded $5,000 in funds for improvements to the entryway of Muirfield Green Boulevard.
Shannon Park Civic Association was awarded $1,340 in funds for repairs to the stone walls located along the neighborhood entrance.
In 2018, the city awarded a total of $27,023 and provided beautification funds to six Dublin neighborhoods.
In 2017, the City received six completed grant applications requesting a total of $24,175 in grant funds.
In 2016, the City received five completed applications requesting a total of $18,510.78 in grant funds.
In March of 2015, three grants were awarded totaling $14,592.  In August of 2015, four grants were awarded totaling $16,453.The total awarded grant funds for 2015 was $31,045 out of a budget of $32,000.