Cemetery Database
The City of Dublin has online views of the cemeteries located in Dublin.  This allows visitors to search by last name.  The search engine gives viewers a listing of all those buried who match the search criteria, along with the deceased military service and if the veteran served in war time.
To access the online service go to: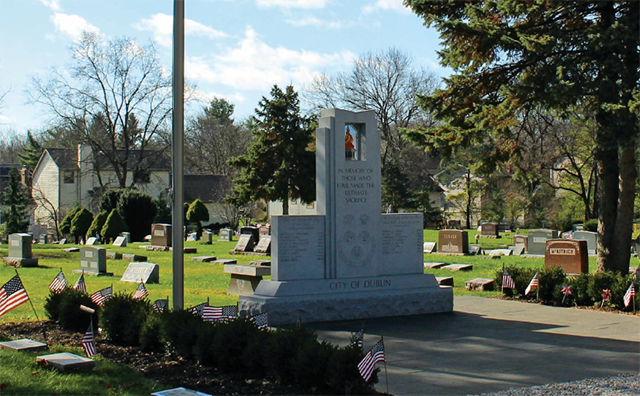 The Dublin Cemetery is an example of the fine suburban cemeteries which appeared around the Midwest in the 19th century, and has its roots in Europe, in the grand, elegantly landscaped grounds of Paris' Pere la Chaise Cemetery. Literally translated, a cemetery is "a place of repose," and cemeteries of this type exemplify the ideas of the time, which began to move away from the grim images of strife and suffering which characterize the 18th-century graveyards of New England and toward a more peaceful image of restful, eternal slumber.
The suburban cemeteries were created to be parks where people could come to pay their respects to the deceased, walk the tree-lined avenues, and enjoy the peace and quiet.
This guide has been created to help maintain the beauty and serenity of the cemeteries of Dublin, and to ensure their continued enjoyment for generations to come.
A complete list of burials in the Dublin Cemetery and the smaller cemeteries is available in the cemetery office. For more information, please contact the Cemetery office in Parks Operations: 6555 Shier-Rings Road, or by phone: 614.410.4700.
Visitor Information
Cemetery is open from dawn until dusk.
Please show respect and consideration for other visitors and gravesites.
City Ordinance #96.17 requires that all handlers clean up after pets. Pets must be restrained on a leash.
Plantings and decorations that appear neglected may be removed by staff.
Mobile assistance accessing gravesites within the Dublin Cemetery can be provided with prior arrangement.
For more information, please contact cemetery office at 614.410.4700.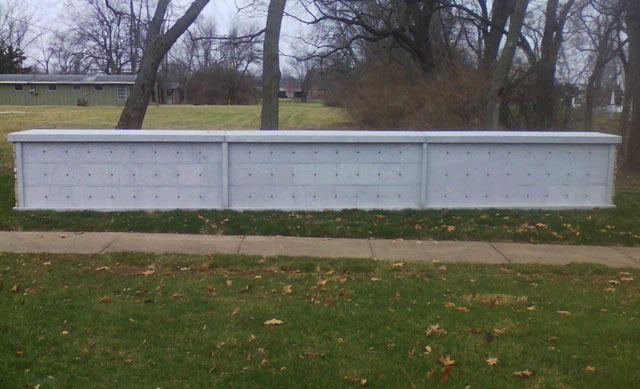 Columbarium at The Dublin Cemetery
The Dublin Cemetery now has a columbarium available to serve as a final resting place for cremated remains and a place of remembrance for the deceased.
The granite, above-ground structure is located adjacent to section 4A, which is at the entrance off of Monterey Drive.
The columbarium has 81 niches. Each niche is 12 inches by 12 inches and can hold up to two urns.
Many relatives and friends of the deceased wish to express their feelings by recognizing the niche of their loved ones. The City acknowledges this and asks that you do so with respect to the surrounding niches. In order to maintain the beauty of the cemetery and columbarium the City must enforce a few regulations on what can be permitted on and around the columbarium itself to prevent the abuse of this privilege.
All funeral flowers placed around the columbarium will be removed after five days.
Please be respectful to others. Do not adorn or hang items on niches that are privately owned or unoccupied.
Flowers may be placed on top of the columbarium in accordance with our Dublin Cemetery Guidebook. City staff will monitor the overall appearance of the Columbarium and will remove items that are unappealing or inappropriately displayed.
The fee structure is as follows:
Service
Fee
Columbarium Niche
$1,915 Resident

$2,630 Non-Resident

Interment Service
$510 M-F 8 a.m. – 3 p.m.
$750 After hours/weekends
Niche Inurnment Service
$130 M-F 8 a.m. – 3 p.m.
$200 After hours/weekends
Monument
Foundation Service
$1.80 per square inch
Columbarium Niche Engraving
$425 each occurrence
Veterans Marker Service
$0
Cemetery Lot Ownership Transfer
$115
*All engravings will consist of a name, date and religious symbol if desired. Certain non-religious symbols are also available.
Cremation has historically been a widely accepted means of burial among most religions, and continues to gain acceptance and popularity. It is generally considered more affordable and environmentally friendly than a casket burial.
Niches can be purchased by contacting the City of Dublin Parks Operations at 614.410.4700.