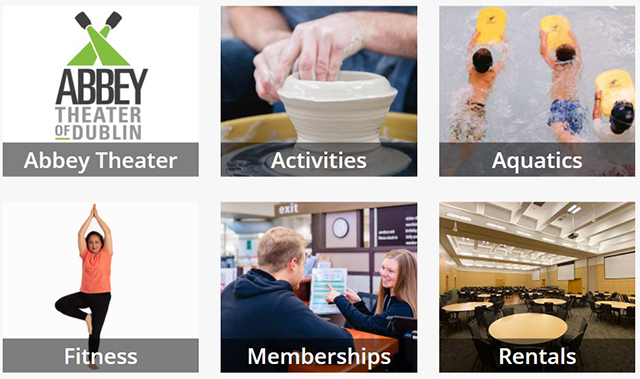 Fall Registration Schedule
Tuesday, Aug. 23
6 a.m. Online registration for Dublin City (CR) and Dublin City School District residents (SDR)
Tuesday, Aug. 30
6 a.m. Online registration for non-residents
Tuesday, Sept. 6
10 a.m. Walk-in and phone registration open
Current Customers
If you are a current or past member or have taken DCRC classes you are in our database and can register at www.DublinOhioUSA.gov/Recreation-Services. Please enter your User ID (usually a 10-digit telephone number with no spaces or punctuation) and case-sensitive password (the household's primary member's last name). A Visa, MasterCard, Discover or American Express is required for payment and class confirmation.
New Customers
If you have never been a member or taken a DCRC class, you may create an account online. Accounts created online are activated immediately under Non-Resident status. To have your residency status changed, stop by the DCRC during operating hours or snap a photo of your driver's license as proof of identification and upload it under My Account, Upload ID/Proof of Residency. If your license does not have your current address listed, you will also need to upload a utility bill as proof of residency. Staff will review and approve any residency changes to your household within 1-2 business days.
Security Options
Changing your username and password is easy. Select Change Login Data under the My Account tab. Once you've made your changes, click Save changes and your new login information takes effect immediately.
If you provided an email address as part of your household information, you can click on the Forgot Your Password? link. Fill in the information requested, and the system will send two emails — one with your username and one with your password.
Registering In Person, By Mail or Phone
In person at the DCRC
Weekdays
Saturdays
Sundays
8am – 9:15pm
8am – 7:45pm
8am – 7:45pm
Phone
614.410.4550
City Resident, School District Resident, Non-Resident Fees Explained
Dublin City Council recognizes that the facilities and programs offered by Recreation Services should provide beneficial pricing and priority to the residents of the City. City Council's current financial policy is to keep fees for residents participating in recreation classes and other recreational amenities at a moderate level. These financial policies have been implemented to benefit residents and to encourage a healthy community. School District Residents and Non-Residents do not receive the tax-subsidized pricing received by the residents of the City of Dublin.
Fees for recreation center annual passes, seasonal passes and program registrations are determined by where people live. You are considered a City Resident if you reside within the City of Dublin corporate limits. School District Residents reside in the Dublin School District, but not within the City of Dublin corporate limits. Anyone not fitting into one of these two categories is considered a Non-Resident. Your mailing address or school district is not always an accurate indication of your City of Dublin residency status. You may research your residency status on the State of Ohio's website at http://tax.ohio.gov/divisions/employer_withholding/index.stm under "The Finder."
CR = City Resident | SDR = Dublin City Schools District Resident | NR = Non-Resident