Trash and recycling are collected on Wednesdays. Collection can occur any time between the hours of 7 a.m. and 7 p.m. so please have your bins out to the curb by 7 a.m. The schedule may change during a holiday week. See the Holiday Schedule for exact weeks.
Please note: yard waste is collected on Mondays. Visit the curbside yard waste collection page for information on that service.
Trash collection guidelines include:
Containers should not weigh more than 50 pounds when full.
Refuse of a commercial nature (generated by businesses, contractors hired to perform services for homeowners, etc.) will not be picked up by Rumpke.
Bulk materials such as boards, fencing, paneling or carpeting should be cut into 3-foot lengths with all nails, staples and screws removed to prevent puncture wounds.

 

Please tie in 18-inch bundles weighing no more than 50 pounds.
Loose materials such as sod, dirt and sand must be placed in trash cans and weigh no more than 50 lbs.  Cardboard boxes used as receptacles will not be collected if they have become wet.
Not sure what to do with your pumpkins after Halloween? Since they are organic matter, Rumpke will pick them up with your regular trash. You can also place pumpkins in your gardens for composting. Composting is a great way to give your garden the nutrients it needs to thrive when the growing season begins. There is also a 24/7 compost site in the parking lot of the Dublin Service Center located at 6555 Shier Rings Rd. Do no put pumpkins with your yard waste.
Recycle furniture and appliances by donating them to a charity of choice. Rumpke will collect these items during regular pick up if they are placed at the curb. All upholstered items such as mattresses and furniture must be wrapped in plastic when placed at the curb.
The cost for disposing large appliances such as refrigerators is $65 per appliance. Chlorofluorocarbons (CFCs), typically found in appliances that use a refrigerant (i.e., air conditioners, refrigerators, freezers, dehumidifiers), must be removed before the appliance may be recycled or disposed. Contact Rumpke directly at 800.828.8171 to make arrangements for disposal of CFC-containing appliances. This charge and protocol only pertains to appliances that contain CFC material such as refrigerators, freezers, and dehumidifiers.  All other non-CFC containing appliances such as stoves, ovens, grills and microwaves may be called into the Dublin Service Center as regular bulk pick up items.
Additional resources on recycling and repurposing available through the City's Off the Curb! Program – Recycle/Reuse Ideas
Acceptable containers for non-recyclable refuse include:
Sealed plastic bags or sealed paper bags with a mill thickness of at least 1.5 and a maximum capacity of 30 gallons.
Metal or plastic cans or barrels with two handles and a tightly fitting lid.
Cardboard boxes for bulky or loose material other than garbage. Overloaded or wet boxes are unacceptable containers.
Curbside Recycling Collection
New Items Being Accepted – Paper, Plastic and Aluminum Cups 
Effective February 1, 2022, paper, plastic and aluminum cups will be accepted for recycling in Franklin County. This includes poly-lined paper cups such as disposable "to-go" coffee cups. The paper sleeves frequently added to these cups are also accepted but their plastic lids should be thrown away. 
Plastic fast-food cups are also accepted. Empty them, remove straws and place the plastic lids back on. Please avoid throwing the lids loosely into the cart.  
Finally, aluminum cups such as those used at many stadiums and some dedicated outdoor refreshment areas (DORAs) are now accepted. Again, these items should be empty when put in with recycling.  
With the addition of cups, Franklin County's current list of acceptable materials includes the following items: Paper and cardboard, plastic bottles, tubs and jugs, glass bottles and jars, metal cans, cartons and disposable cups.
What to Keep Out of Your Recycle Bin
In order to recycle these items correctly, it's important to know which items are still not accepted for recycling in Franklin County's curbside and drop-off recycling programs. Items on the 'no-no' list include disposable plastic party cups ("Solo" is one common brand), Styrofoam cups, K-cups, plastic coffee cup lids, straws, take out containers and clamshell containers like those used for strawberries and blueberries.  
Unfortunately, if you aren't able to avoid using these items, the only current options for disposing of them are to either reuse them (look for someone in your local Facebook Freebies group who may use them for a craft, to organize art supplies or a school project) or put them in the trash where they'll be safely disposed at the landfill.  
To learn more about all of the materials accepted as part of Franklin County's recycling program, visit RecycleRight.org.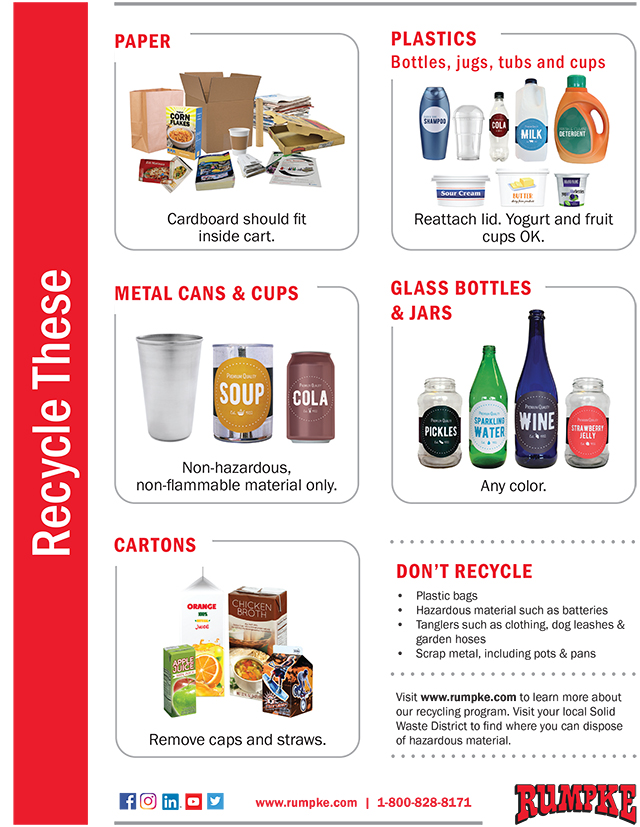 Sharps collection
Residents who use the sharps collection service for hypodermic needles and other items can now place sharps containers directly into their trash container rather than dropping them off at the Dublin Service Center. Residents can still pick up their sharps containers at the Service Center, 6555 Shier Rings Road.
Electronic waste recycling available in Dublin
Dublin residents now have electronic waste recycling available for free, nearby and five days a week.
In partnership with Accurate IT, the City is providing an e-waste recycling site at the Dublin Service Center, 6555 Shier Rings Rd. Items can be dropped off Monday-Friday, 8 a.m.-5 p.m. More information go to https://dublinohiousa.gov/dev/living/its-greener-in-dublin/
Refuse and Recycling Bins
Trash and recycle bins should be removed promptly after pick-up and kept indoors where possible. If kept outdoors, they must be properly screened from view. If you are in doubt as to what screening may be needed contact us at 614.410.4750 for assistance.
Per Dublin's contract with Rumpke, residents have two options regarding refuse containers.
Option 1 is for them to provide their own container. When doing so, there is a weight limitation of 50 pounds. There is no longer a 30-gallon limit. As long as the container weighs less than 50 pounds, it should be collected.
Option 2 for residents is to lease a container from Rumpke at $3.32 per month. Residents do not have an option to purchase a container from Rumpke.
Yard waste, trash or recycling collection running behind?
Please leave your containers/carts at the side of the road for collection the next day.
If it is not collected the next day, please submit a request using GoDublin to notify us. Please report missed collections between 3 p.m. on collection day to 3 p.m. the day after collection day. This will ensure that your request is received by the City and communicated to Rumpke in a timely manner. Using the smartphone app or web portal, click "Request" and then "Create a Request," which takes you to all of the options, including "Refuse, Recycling & Yard Waste." From there you can select which option is appropriate for your situation.
Another tip: Check to see if your neighbors' waste has been collected. If the whole street has not been serviced, this is likely a Rumpke delay. If yours is the only missed collection, you should enter a service request using GoDublin right away, as this was likely a mistake.