Voting in Dublin, Ohio, USA
You are qualified to register to vote in Ohio if you meet all the following requirements:
You are a citizen of the United States
You will be at least 18 years old on or before the day of the general election. (If you will be 18 on or before November 7, you may vote in the primary election for candidates, but you cannot vote on issues until you are 18)
You will be a resident of Ohio for at least 30 days immediately before the election in which you want to vote
You are not incarcerated (in prison or jail) for a felony conviction under the laws of this state, another state or the United States
You have not been declared incompetent for voting purposes by a probate court
You have not been permanently disenfranchised for violations of the election laws.
You are eligible to vote in elections held in your voting precinct more than 30 consecutive days after you are duly registered to vote in Ohio.
The City of Dublin is located within three Ohio counties: Franklin, Delaware and Union. Dublin residents residing in any of these counties may register to vote by mail, by calling the Secretary of State's office, at the Dublin Library, with a Deputy Registrar or with the respective County Board of Elections. Dublin residents living in Franklin County also may register to vote at the Dublin Municipal Building. If you move within the county in which you currently reside, address changes can be made at any location in which voter registration is accepted.
Voters will have prior notification by mail of voting location from the County Board of Elections. Poll hours are 6:30 a.m. to 7:30 p.m.
Absentee ballots are available by calling the appropriate County Board of Elections.
2017 View Sample Ballots
Candidates Running for Dublin City Council
Ward 1
Mark Koogler
Gregory Peterson
Ward 2
Jane Fox
Victoria L. Newell
Ward 4
Cathy DeRosa
JD Kaplan
Tim Lecklider
Council Candidate Mandatory Campaign Finance Disclosure Reporting
Voting Wards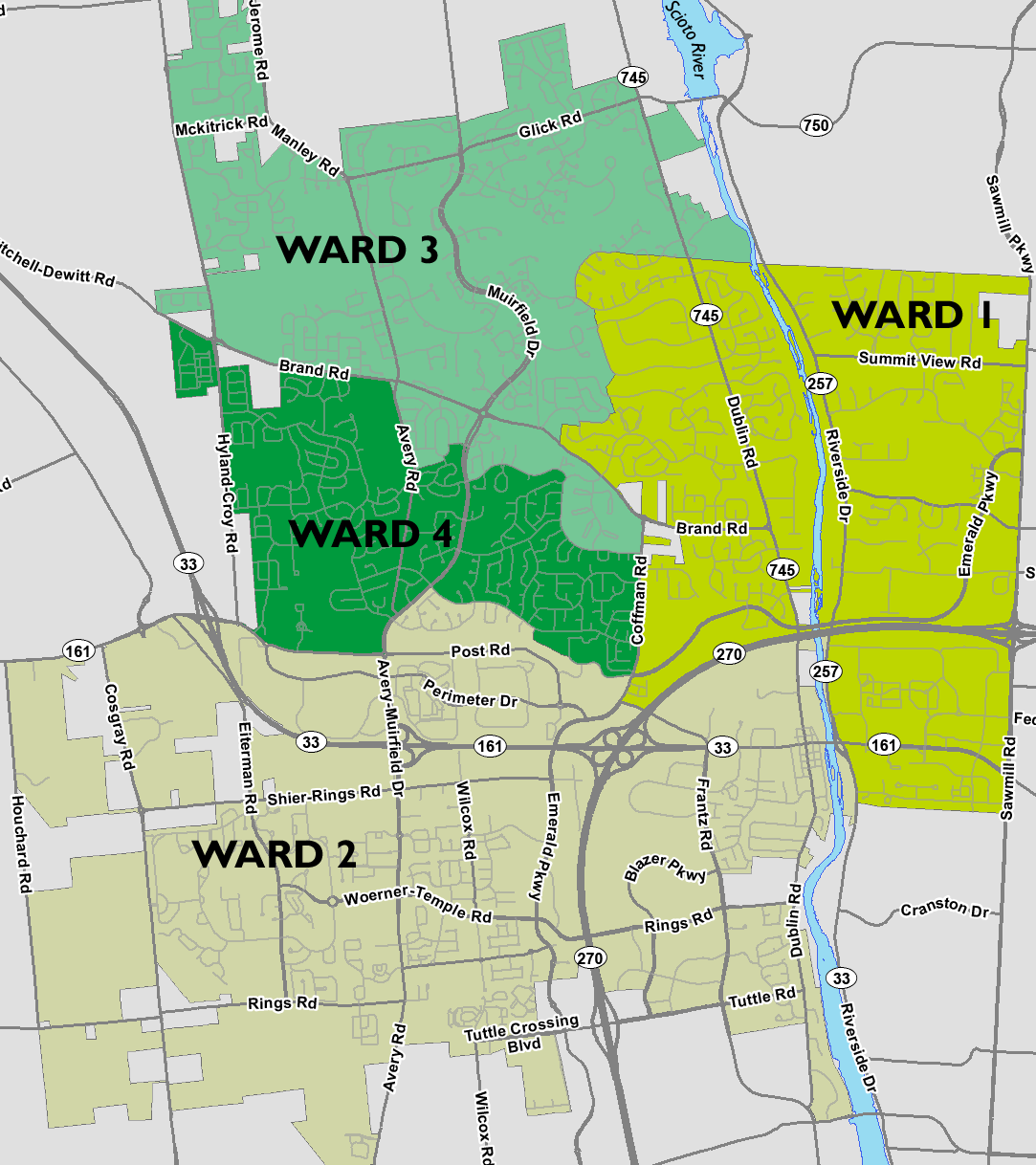 Ward Council Members (Term ends December 31, 2017)
Mayor Greg Peterson – Ward 1
Amy Salay – Ward 2
Vice Mayor John Reiner – Ward 3
Tim Lecklider – Ward 4
At-Large Council Members (Term ends December 31, 2019)
Christina A. Alutto
Chris Amorose Groomes
Michael Keenan
Board of Elections
State of Ohio
614.466.2585
Toll Free:1.877.SOS.OHIO
Franklin County Board of Elections
1700 Morse Rd
Columbus, OH 43229
614.525.3100
Delaware County Board of Elections
2079 U.S. Highway 23 N
P.O. Box 8006
Delaware, OH 43015
740.548.7313
Union County Board of Elections
835 East 5th St.; Suite A
Marysville, Ohio 43040
937.642.2836
Election Signs
As the November election year approaches, residents are asked to remember City ordinances regarding election signs. There is no longer a 30-day limit on the number of days an election sign can be displayed.
Temporary signs for candidates, public issues or similar matters may not be more than six square feet and may not have any artificial illumination.
Finding the right location for your signs is important. Signs may not be affixed to any public utility, pole, tree, street signs or natural object. They cannot be located within a public right-of-way, public park or public property, including tree lawns.
Signs may not create a safety or visibility hazard for motorists and pedestrians.
When placing signs on private property, permission must be obtained from the property owners.