Raise a Glass All Week Long!
The City of Dublin is excited to welcome you to the downtown Dublin DORA.
When to Visit the DORA
Monday – Wednesday • 4-8 p.m.
Thursday – Friday • 4-10 p.m.
Saturday • 1-10 p.m.
Sunday • 1-8 p.m.
There may be extended hours and days outside of these times for special events with approval from Dublin City Council.
Explore Downtown Dublin's Designated Outdoor Refreshment Area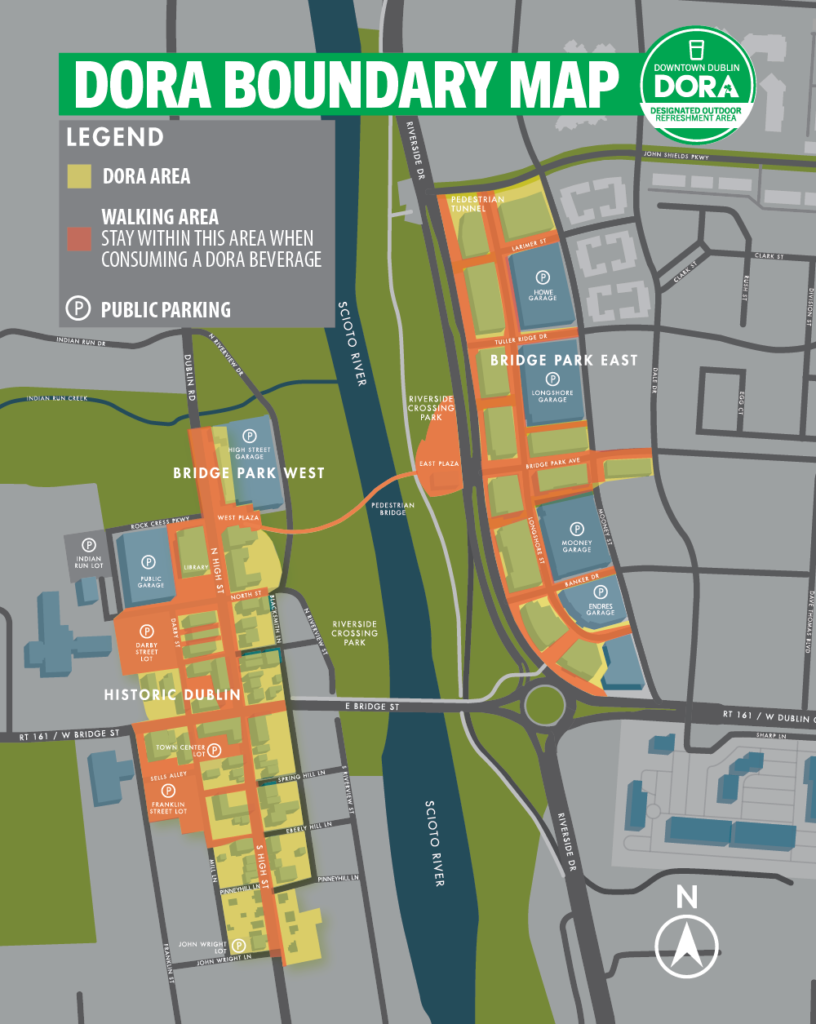 AC Hotel/VASO
Cap City Dublin
Coast Wine House
Condado Tacos
Donatos
Dublin Village Tavern
Fado
Frank & Carls
Fukuryu Ramen
Getaway Brewing
J. Liu
Kitchen Social
Kona
Local Cantina
Market Bar
Mezzo
Modern Male
Mr. Sushi
North High Brewing
Oscars of Dublin
Pins Mechanical
Rebol
SpringHill Suites Dublin
The Avenue
The Exchange
The Pearl Dublin
Tucci's
Urban Meyer's Pint House
Z Cucina
Are you a Downtown Dublin business owner participating in the DORA? Visit the DORA Business webpage.
What is a DORA?
A Designated Outdoor Refreshment Area (DORA) allows patrons ages 21 and older to purchase an alcoholic beverage from an approved, liquor-permitted establishment, then sip, stroll, shop and explore within the designated boundaries.
Dublin City Council has approved two DORAs for Downtown Dublin: one in Historic Dublin and one in Bridge Park. See map for boundaries.
The State of Ohio approved the DORA concept in 2015, and many cities in Central Ohio have an active DORA, including Delaware, Grove City, Hilliard, Powell, and Worthington.
The creation of the DORA is intended to enhance the outdoor dining and entertainment experiences in downtown Dublin, while encouraging more business for participating restaurant and retail establishments in the area.
DORA Guidelines
No exploring outside the DORA boundaries with your beverage.
Please note that you may not sip and scoot. Open containers are not permitted on motorized scooters.
Recycle cups before entering the next liquor establishment.
No BYOB. All beverages must be purchased at a participating establishment.
Patrons must be in the 21 or older club to participate.
Look for the Signs
Each downtown Dublin business will display one of the following window clings at the establishment's entrance.
Look for these signs to know how a business chooses to participate in the downtown Dublin DORA.
As you leave the DORA boundaries, you will encounter "No alcohol beyond this point" signs. You will then need to responsibly dispose of your drink before proceeding, and please recycle your cup.

FAQs
Won't a DORA encourage congregating and gathering, which is not safe due to COVID-19?
Contrarily, a DORA expands the space for patrons of downtown Dublin businesses, giving people more room to physically distance. As the DORA will take effect while COVID-19 restrictions are still in place, all health restrictions and guidelines will be strictly adhered to and promoted through appropriate signage and other forms of communication. Additionally, it is important to note that the DORA has been considered long before the COVID-19 outbreak started.
Is the DORA active all the time or only during specific hours?
The DORA hours are set as from 4-8 p.m. Monday – Wednesday, 4-10 p.m. Thursday – Friday, 1-10 p.m. Saturday and 1-8 p.m. Sunday. There may be hour or day extensions granted for special events, as approved by Dublin City Council.
What areas are included in this proposed plan, and can it be expanded or restricted in the future?
The areas shown on the downtown Dublin DORA map are approved by the State of Ohio. Working closely with City staff, City Council also approved the permitted area. To expand beyond the map boundaries, the City would have to file a new application with the state.
How will I know the DORA boundaries?
The DORA boundaries will be clearly marked on the public pathways with ground decals. You can also review the DORA boundaries using the interactive map.
Can I take a drink from one restaurant into another or into a shop?
You cannot take a drink from one establishment into another that serves alcohol. If an individual store allows it, you can take an alcoholic beverage inside. Each store can make their own determination.
Would there be extra security and trash patrol during the DORA?
Yes, the State of Ohio requires all DORAs have a safety and sanitization plan. The City's Public Services staff will clean the area, and Dublin Police will have a presence in the area for added security. You can also now recycle your DORA cup. Thank you for helping to keep Dublin clean!
Can I bring my own alcohol to drink in the DORA?
Cans, bottles or alcoholic beverages purchased from non-DORA establishments are not permitted to be brought into the DORA area.
What sort of research did Dublin City Council base its decision on to approve the DORA pilot program?
In July 2020, the City of Dublin developed a survey to gauge residents' sentiment on Dublin creating a DORA. From that survey, the City received more than 4,000 responses with 85% of respondents saying they supported the creation of a DORA. Of the remaining 15%, 9% stated that they did not support the creation of a DORA, 4% were neutral and 2% had not yet formed their opinion. Review the March 3, 2021, DORA public meeting for more information and to hear feedback from the community. Download the DORA public meeting presentation.
Are the DORA cups recyclable, compostable or reuseable?
City staff researched recyclable, compostable and reusable cup options when planning to implement the DORA.
The designated DORA cups are recyclable! The City of Dublin contracts with Rumpke for curbside recycling and they now accept plastic cups. You can find two recycling bins at Riverside Crossing Park each on the West and East plazas just before you cross The Dublin Link bridge. You can also check with local establishments about their recycling containers. Thank you for recycling.
Staff reviewed the option for a compostable cup and have heard that other municipalities with DORAs are looking into this option. It would be difficult to implement compostable cups as Dublin does not currently have a composting program in Downtown Dublin, which would require new trash cans, pick-up processes and processor.
Reusable cups are problematic for a variety of reasons. Particularly since people are not allowed to take drinks from one establishment to another, retailers would need to ensure that all cups were empty before coming in. City staff met with some of the bar/restaurant representatives and they were strongly against going to a reusable cup for this reason.