Designated Outdoor Refreshment Area (DORA)
The City of Dublin is considering establishing Designated Outdoor Refreshment Area (DORA) districts in Downtown Dublin. The DORA designation would allow patrons age 21 and older to purchase an alcoholic beverage from an approved, liquor-permitted establishment, then sip, stroll, shop and explore within the DORA boundaries.
The State of Ohio approved the DORA concept in 2015, and many cities in Central Ohio have an active DORA including Hilliard, Powell, Worthington, Grove City and Delaware.
The creation of the DORA is intended to enhance the outdoor dining and entertainment experiences in Downtown Dublin, while encouraging more business for participating restaurant and retail establishments in the area.
Comments collected now will be considered along with the feedback received during the community survey conducted in 2020.
DORA Public Input meeting – Wednesday, March 3, 2021
At the March 8 City Council meeting, Council discussed and voted to move forward with submitting a formal application. The next steps are as follows:
March 12: Formal DORA Application submitted to City Council
Two weeks of advertising the application before Council can vote on and the Resolution to enable the DORA
April 26: Council Meeting — Council considers Resolution to enact a DORA
May – August 2021: DORA implemented
August 30: City Council meeting — Council evaluates the DORA's implementation and performance
*Note: This schedule is subject to change depending on Council's direction.
Below are some frequently asked questions about DORAs.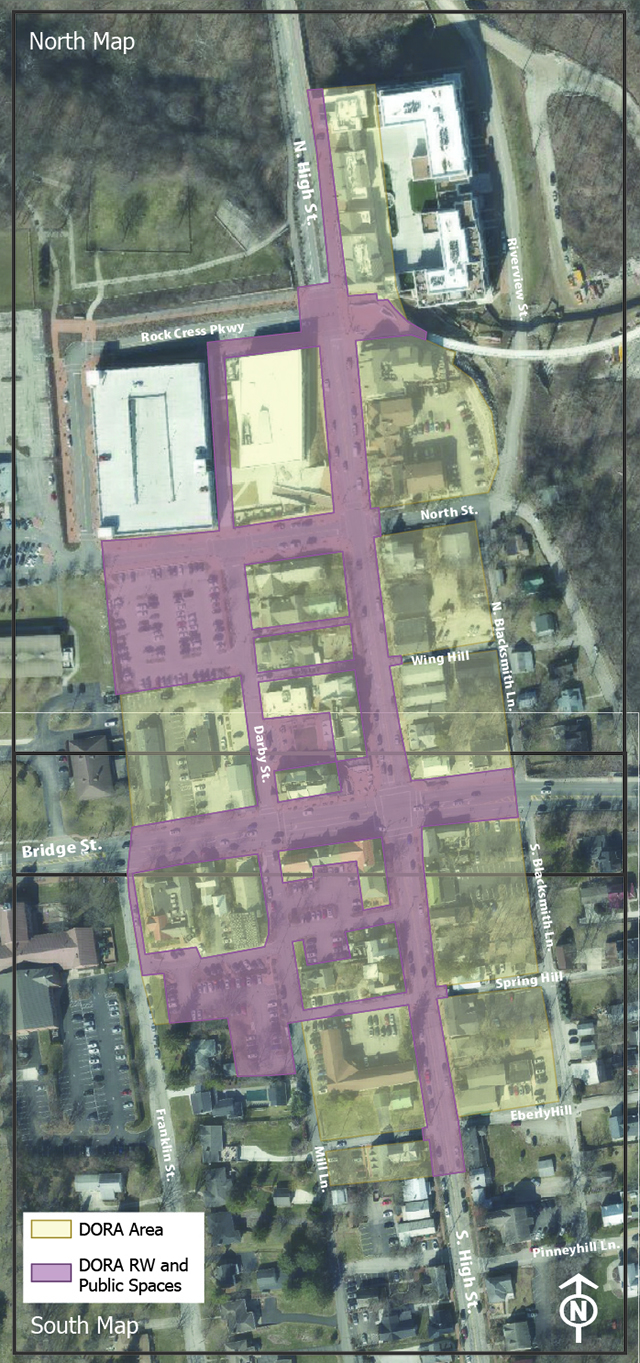 FAQ
Won't a DORA encourage congregating and gathering, which is not safe due to COVID-19?
Contrarily, a DORA expands the space for patrons of Downtown Dublin businesses, giving people more room to social distance. Should a DORA take effect while COVID-19 restrictions are still in place, all health restrictions and guidelines would be strictly adhered to and promoted through appropriate signage and other forms of communication. Additionally, it is important to note that the DORA has been considered long before the COVID-19 outbreak started and would be a policy change in Dublin for years or decades to come. As you are taking this survey, please try to think about it in the long-term context.
Is the DORA active all the time or only during specific hours?
There are many different models that are in place in central Ohio, from a 24/7 model to specific days and times or just available during special DORA-designated events. Dublin City Council would set the days and hours for the DORA to be active. Should the DORA be approved, the City would likely start with limited days and hours and then review for possible expansion in the future.
What areas are included in this proposed plan, and can it be expanded or restricted in the future?
The City of Dublin is tentatively proposing the areas shown on the map above in an application to the State of Ohio for approval. City Council can then choose to include or exclude locations within the permitted area. To expand beyond the map boundaries, the City would have to file a new application with the State.
How quickly could the City of Dublin set up a DORA?
There are timelines set up by the State of Ohio; it could be set up in as little as two months.
Can I take a drink from one restaurant into another or into a shop?
You cannot take a drink from one establishment into another that serves alcohol. If an individual store allows it, you can take an alcoholic beverage inside. Each store can make their own determination.
Would there be extra security and trash patrol during designated DORA times/area?
Yes, the State requires a safety and sanitization plan in the application. The City will work on those details. Costs for these additional services may be raised with an additional charge on beverages as those who create the need for additional services could bear that cost. This would be considered by City Council as part of the DORA process.
Can I bring my own alcohol to drink in the DORA?
No cans, bottles or alcoholic beverages purchased from non-DORA establishments, are permitted to be brought in to the DORA area.